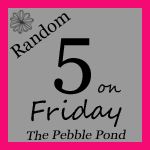 This is my first time participating in the Random 5.....Here are some random moments from this past month.
A few back yard campfires....who needs a fork!
Lydia playing with my camera, pretending to be Laura Ingalls.
Joey with his favorite newscaster!! Melissa Voetsch at the Give Autism the Boot Fundraiser in Perrysburg.
Caty playing with dolls right in the aisle while I was waiting for some mat board to be cut.
Apparently he stayed up too late, hiding his iPad playing.
The girls and I went to the Neil Armstrong Space Museum with some friends.
And firefly hunting.
This post could've been much longer, was really trying to keep it at 5...but went over.