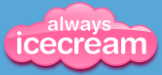 All the kids have their programs that they like to play on the computer. They love LEGO, Cartoon Network, American Greetings, Zoodles, but I really don't think any of those are truly educational. I am always looking for fun programs that have an underlying educational value on subjects they really need to improve on....math, geography, etc. The key is to make them feel like they are playing, and not really learning.
Always Ice Cream
is a new online program that is definitely a wonderful learning option for Girls. It's recommended for girls Ages 7-12.
Always Ice Cream
provides a fun alternative with games that include skills for keyboarding, geography (both world and state), math (from simple addition to fractions and decimals), English/Spelling, science (human body), and even foreign language. When the child is done playing each game, they can earn ice cream scoops for their progress in answering questions or completing the tasks. This currency can be used in various ways such as watching fun videos or taking care of Pets in Pets World or even building up their homes and community in Mini-World.
Parents also have the ability to reward Scoops for real-life experiences that the child has gone through. By setting up the Free parent account to go along with your daughter's program, you can even control whether they can communicate with others online in the program. I really liked this option since Lydia is only 6 and she would sometimes play while I was in the room but not really paying that close attention to what she was playing in the game. This is a wonderful security option for parents to look at to protect their children.
Lydia enjoyed the colors on the game. She and I had to play almost all the games together. Since she is not reading yet, she could not understand the steps for playing most of the games. Although she really enjoyed playing the typing game.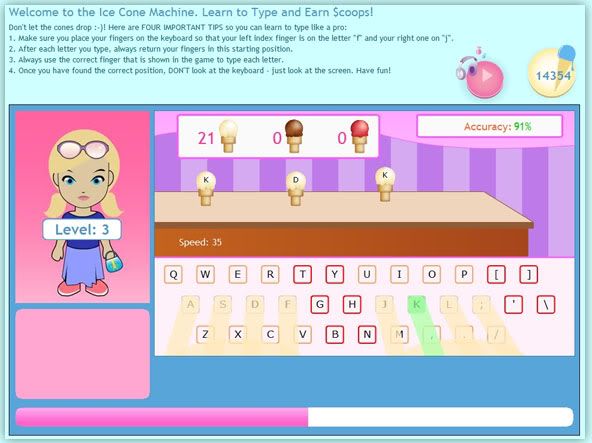 Her favorite section though was the art. She was able to create drawings for her "home" or allow other users purchase the creation with their scoops. She loves to sit and use the mouse to color pages online. So this was right up her alley.
This is a sample of US Geography (State location). This is was great to play together since we are working on US Geography part-time this year.
In Pet World, your child can purchase eggs and hatch new pets. They need to provide their pets with food, love and fun to keep them healthy. The scoops they earn from playing the games are used to purchase items needed for their pets. Lydia's really liked this part of this program. I liked that she was getting drawn into to an educational program that wasn't requiring me to buy a bunch of stuffed animals to get codes. (Don't get me wrong...not against those, just trying to hold off as long as possible on them.) She is always asking...Did my egg hatch yet? What animal is it now?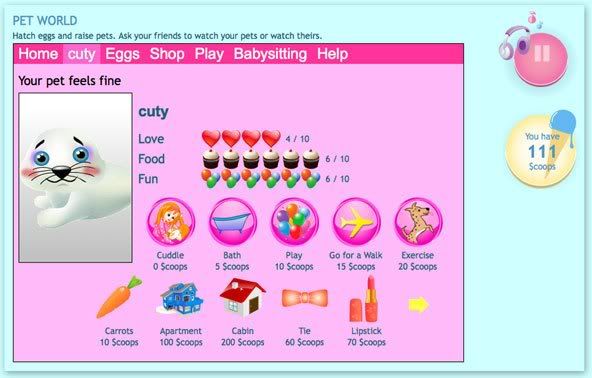 The age recommendation of Ages 7-12 definitely is a great range to look at. Lydia does not have strong reading skills yet, so needed a lot of hands-on to read game instructions and commentary of characters. If you have a child who is struggling though, these games are an excellent reinforcement tool. Great for practicing math facts or geography. The word guessing game was great for history and critical thinking skills.
I really cannot say enough wonderful things about this program. I found myself getting wrapped up in the word guessing History game, and I lost several times. [Yes....I sadly would not make it on Who is Smarter than a 5th Grader? But I may if I keep using this software.] The human body section also had wonderful games. I even found myself helping Lydia feed and take care of her pets.
A little about
Always Ice Cream
:
Who created Always Icecream?Dr. Johannes and Swenja Ziegler, co-founders of Always Icecream, have three young daughters and two sons. Both Johannes and Swenja were educated in Europe, Asia, and the United States and highly value a solid education for their children. With their own children they gathered a wide range of educational experiences ranging from homeschooling to various forms of traditional and alternative education. They came up with the idea for Always Icecream when they watched the enthusiasm with which their daughters were playing online games At the same time Johannes and Swenja were concerned about the safety and the educational value of existing sites. Being the CEO of Miaplaza Inc., a company with extensive experience in creating social websites, Johannes assembled a team of educational experts and award-winning software developers to create Always Icecream.

What is the educational philosophy behind Always Icecream?
The core idea behind Always Icecream is that children learn more when they are motivated and in a positive mood. Therefore, Always Icecream "packages" drills in academic core subjects in the format of fun games. Rewards are given at all levels, including recognition of creative artwork by their peers.
Is my daughter safe on Always Icecream?User safety is our most important concern. Always Icecream is using multiple methods and processes to ensure user safety and privacy. The site's content is continuously scanned for inappropriate content using both software and manual reviews. Users can also report any concerns or problems they encounter to Always Icecream staff. Furthermore, self-policing mechanisms are in place to encourage proper behavior and etiquette. Lastly, parents receive regular email reports about the activities and learning progress of their daughter.
If you (lol) or your daughter would be interested in joining
Always Ice Cream
, they offer tiers of $4.99 per month, $29.99 per year or a Lifetime membership for only $99.00. Gift Subscriptions can also be purchased, and what a great gift to put on a wish list when relatives are out buying gifts, and one less thing for you to trip over!!! You can also have a free trial by just visiting
Always Ice Cream
.
Check out what other Crew members experiences were with
Always Ice Cream
.
Now for the legal jargon:
*****We were provided with a Lifetime Membership for Always Ice Cream free of charge in exchange for an honest review. I was not required to write a positive review. The views I have expressed are my own and are real experiences with my family. I am disclosing this is accordance with the Federal Trade Commission's 16 CFR, Part 255
http://www.access.gpo.gov/nara/cfr/waisidx_03/16cfr255_03.html>:"Guides
Concerning the Use of Endorsements and Testimonials in Advertising."