I am the princess......I am going to marry Justin Bieber, he's sooooo cute (that's my 6 year old by the way)......I am going to marry a man who will buy me lots and lots of stuff that I want. I like to shop....He needs money!
Whether you are searching for the perfect mate or looking for the secrets to a successful marriage, this family book is for you!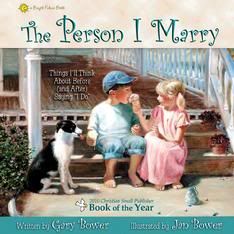 The beautiful illustrations reminds you again and again why you chose the person that you married. Was it all physical appearance, or did you really look at the person on the inside? Do you still remember why you fell in love with your mate? This story has a wonderful way to remind you about the traits that drew you to your mate.
I loved every single page of this book. The illustrations and beautiful writing style made me smile and brought tears to my eyes.
One of my favorite pages....since our life can be very turbulent with the kids special needs:
Whenever we happen to face, by chance,
a less-than-perfect circumstance
the person I marry won't act like a grump,
at every little snag or bump.
My friend might have to count by ten.
But then we'll cast our lines again.
Oh, it might take us both a minute,
but soon we'll see the humor in it.
I need to remind myself of this more...try not to act like a grump at times. I really think that this is the most romantic book....What a fun way to remind each other of how much your care for the other.
And if you have been talking with your children about marriage......it is also about the reality of choosing a marriage mate. Not the stuff that you see in the movies. Love should be based on the inside more than the outside.
From the book:
"The person I marry will be the sort
that's by my side to lend support,
share the burden, and help me stand.
by offering a caring hand."
We love this book and it would make a wonderful engagement, wedding or even anniversary present. I plan on stocking up on copies of this wonderful title for those occasions!!!
Here's a short video from the authors about this book. Look at the beautiful illustrations and hear just a bit of the wonderful poetry.
The Person I Marry
from
Bower Books
on
Vimeo
.
From their
Website

:
The Person I Marry
Things I'll Think About Long Before Saying "I Do"
$11.99
Respect, kindness, honesty, faithfulness, thoughtfulness, patience - qualities like these make strong marriages. Created by award-winning author & illustrator team
Gary & Jan Bower

(married 32 years),

this adorable book warms the hearts of all ages in its celebration of commitment,purity & true love!
Reading level: Ages 4 and up
Hardcover: 31 pages

Publisher

: Storybook Meadow Publishing (April 2008)
Language: English
Now for the legal jargon:
*****I received this DVD and book from Bower Books free of charge. I was not required to write a positive review. The views I have expressed are my own and are real experiences with my family. I am disclosing this is accordance with the Federal Trade Commission's 16 CFR, Part 255
http://www.access.gpo.gov/nara/cfr/waisidx_03/16cfr255_03.html>:"Guides
Concerning the Use of Endorsements and Testimonials in Advertising."