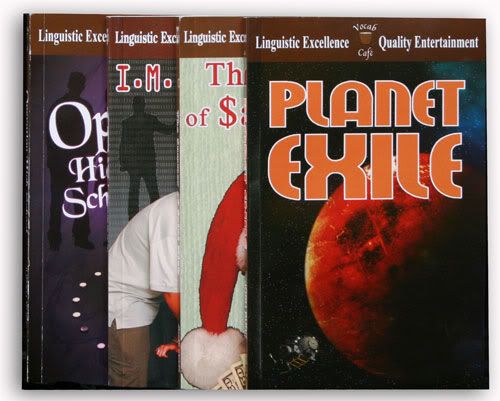 "What does that word mean?" "Can you give me a word that would mean this?" I hear those phrases a lot from both the kids and even the hubby sometimes when he is trying to write a paper. I love to read, and thought I had a fairly extensive vocabulary. That is until I read these books. I can without a doubt, that this series for young people, is an AWESOME way to prep vocabulary skills. I was challenged on every page with new words. So these were great books for me.
Each book guarantees to introduce you to up to 300 new vocabulary words. Each word is used throughout the story. At the bottom of each page, the word is then displayed with its definition. You see the word in use, and if you cannot decipher the meaning through word context, then you can check the bottom of the page.
The stories (which are written for SAT prep for young adults) are fiction stories that are written for young people. You will not find inappropriate material in this series, and it is written for modern times.
From the
College Prep Website
:
Complete Vocabcafe Series Special
Get all 4 Vocabcafe series books for the price of 3:
Order now and you will receive:
IM for Murder
Operation High school
Planet Exile
Summer of St Nick
VocabCafé books help students easily learn SAT-level words while reading an original wholesome story.
These modern novellas contain no foul language, no illicit sexual themes, and no sorcery!
Based on a three-step approach to increasing vocabulary, each book highlights 300 advanced words by using DEFINITION, REPETITION, and REINFORCEMENT.
Readers find the definition of every highlighted word at the bottom of the page -- a word review and appendix complement the learning process!
STOP wasting your time on fiction books that don't enhance your knowledge.
BUILD YOUR STOREHOUSE OF WORD POWER WITH VOCABCAFÉ!

Product information

:
Publisher: Maven of Memory Publishing
Cost: Set of 4 -- $51.80, individually they sell for $12.95 each.
Ages: Middle/High School age (or even mom and dad!)
Authors:
Operation High School by Judah Burk
The Summer of Saint Nick, Planet Exile, and I.M. for Murder by Josh Burk
Check out what other
Crew Mates
thought of these products.