"But mom I can't make my letters that way!! I just can't....it's hard!!!"
I usually get this alot from our oldest son. He has always had trouble with handwriting. He is diagnosed with visual perception delays. This has really affected his handwriting. At 11, he is still struggling with proper letter formation and print. So needless to say, introducing cursive has been very difficult.
I was so excited that we had the privilege to try out Barchowsky Fluent Handwriting iPad app. Both boys, and the girls, love the iPads that we have. They have all really enjoyed using this program.
Our girls are 3 and 6, and Caty is working on letter recognition and Lydia is working on basic print. This program has been great for them. It is definitely helping Joey with basic letter formation also.
This program helps to teach kids how to print by the use of phonics.
You can choose a specific letter to work on: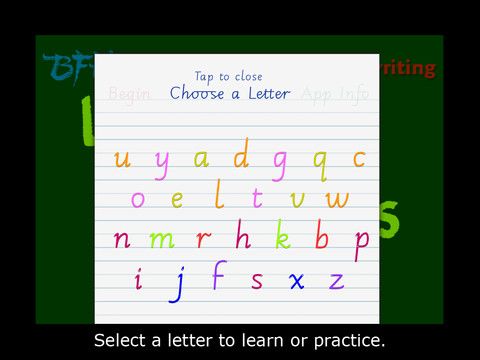 And then it works to show them how to connect and how so many letter shapes are connected together. So if you learn the shape of one, you can easily continue to learn more. A coach guides them how to start by teaching them a rhyme to say while tracing the shape.
They also trace the letter individually.
You can tell if you are tracing properly. The letter highlights at varying degrees of color depending on if they are tracing properly. I love this feature, because the kids are getting instant feedback. The can see if they are doing it write....without it being verbally pointed out to them.
I really.....really.....really like this application!!!
All the kids will be using this daily for handwriting practice. Each lesson takes mere minutes, so there is not massive amount of time needed for those students with attention issues (like ours). This program is good for not only young ones, but those with special needs to improve or even start their printing. Even adults with learning delays or who may have experienced fine motor skills issues due to illnesses caused by strokes could benefit from this program.
You can purchase this app for

iPad from the iTunes store

. The cost is $2.99.
Publisher:

Swansbury, Inc

.
Check out what other

Crew mates

thought of their apps.

*****I received Letters Makes Words
free of charge for the sole purpose of this review. I was not required to write a positive review. The views I have expressed are my own and are real experiences with my family. I am disclosing this is accordance with the Federal Trade Commission's 16 CFR, Part 255
http://www.access.gpo.gov/nara/cfr/waisidx_03/16cfr255_03.html>:"Guides
Concerning the Use of Endorsements and Testimonials in Advertising."