Reading is one of the most important skills we can teach our children or learn ourselves. I am sure someone can argue with me about that statement, but I would argue back that if they would not have learned to read...could they have even known my statement. In our house, I was being too much of a panicky about Lydia learning how to read. It has been a slow process.
So I was pretty excited to get to try
All About Reading Level 1
. This program is a completely laid out program for parents and children to learn their phonics and reading skills. The program is multi-sensory program that is perfect for those special learners who learn through all their senses. Each new concept taught is used right away and children feel successful as they see their continual progress.
Lydia really liked putting her stickers up at the end of each lesson. She really felt a sense of accomplishment and could see her reward every time she opened the fridge.
This series lays it all out for the parents. I could literally just read the script to work with Lydia. My only real prep was making sure that I had her review and new sounds cards ready and the letters that we would be using that lesson handy. I liked that part of the series.
The activity book that goes along, provides a wonderful reinforcement resource to go along with almost every lesson. Lydia actually enjoyed doing these activities. The one thing she did not enjoy was using the letters that came with the set. We just found a substitute that worked well for her and used those for the same activities. She actually progressed pretty quickly through lessons. And she was so proud as she applied each skill learned and read the stories. I felt so happy for her.
These are really cute and super easy stories. I only wish they were published individually instead of in volumes. Lydia had trouble holding the heavier book open while she was trying to read. She is used to lighter books, so she got just a bit frustrated. She did like using a bookmark though.
You as the parent and teacher can decide when you feel the child has mastered each lesson. The nice thing about this program, nothing is left out. There are no gaps in reading skills being taught. Each lesson builds on the next, just as the All About Spelling program works.
All 5 key components to reading are covered:
Phonological Awareness
Phonics and Decoding
Fluency
Vocabulary
Comprehension
Two different packages can be purchased:
All About Reading Level 1
: $99.95
and the
Deluxe Reading Interactive Kit
$48.95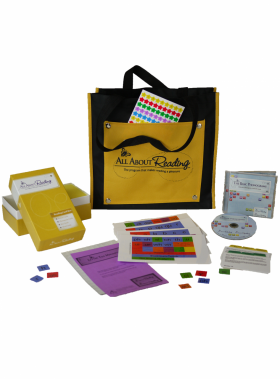 Items can be
purchased individually
, including extra student consumable workbooks.
Plus......From the
All About Reading
Site:
Our Guarantee

You'll get our "Go Ahead and Use It" one-year guarantee.
You have one full year to try out our programs. If you find that any of the curriculums do not meet your needs, simply return the materials at any time within one year of purchase for a full refund of your purchase price, no questions asked.
In addition, you'll get lifetime support. If you ever have a question, we're here to help!
This is really a great program for kids who are multi-sensory learners. I highly recommend it!!
You can view examples at the
following link
.
If you have a little one that is not ready to actually begin reading,
All About Reading
also offers a
Pre-reading program
, which we are going to try with our 4 year old.
Check out what other
Crew Mates
thought of All About Reading.