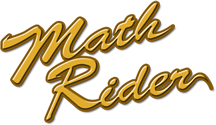 Math Rider is a totally new and innovative math game for kids to practice their number facts.
Flashcards are so boring. I agree the repetition is beneficial, but no amount of cartoon characters, glitter or stickers make flashcards any more fun. I have tried every way possible, and Joey is just not learning his math facts using plain old flashcards. So I was pretty excited to get the opportunity to review

Math Rider

math facts game.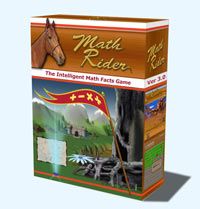 This

math facts

game for kids combines learning math facts with the feeling of playing an online game. Kids get to go on quests, which they complete by answering their math facts. They can practice their addition, subtraction, multiplication and division.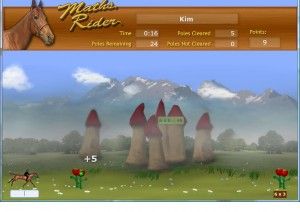 I really liked that I could set the facts that Joey needed to practice. So if he needed to work on 0-5 facts, that is what I set for. I could adjust this for each quest. So if he was getting frustrated, I could easily make it a bit more manageable for him.
Each quest can be adjusted for easy, medium or advanced users. And the story line for each quest makes them feel like they are going on noble missions. I so prefer this type of "quest" compared to some of the online games that he has been playing.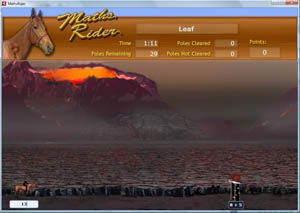 Lots of feedback is given to the student so they know how they are doing. The game "learns" what your student knows and continues to adjust the review with what they still need to learn. This allows each "rider" to have a personally tailored program for their learning.
There is a "statistics" page that allows you to track what they are learning.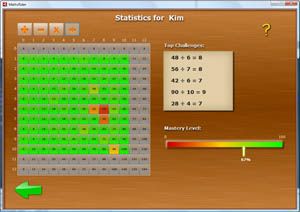 From the

Math Rider

site:
Have your child master addition, subtraction, multiplication and division all for the cost of less than 1 hour professional private tuition!
You will know when your child has completely mastered an operation. And more importantly, your child will know it, too!
This is the fastest way to mastery of all four math operations. The artificial intelligence rehearses what is needed most, at a rate that is tailored to each player.
The game recognises and rewards math improvement, not just perfection. This builds confidence and propels children naturally towards complete mastery.
Noble quests exemplify positive values such as family, caring, honesty and kindness.
We really liked this program. It was not the same old math program. If your child enjoys animals (or like ours who love horses), this program is a real benefit for math fact practice. Joey enjoys the time he plays and actually loses track of time because he wants to see what the how he is advancing on his "quest".
My only downside with this program, is the price. But when you figure the cost of printing practice worksheets, flashcards or even hiring a private tutor to help a child, the price really is reasonable. This program will definitely stay in our weekly lesson plans.
Program information:
Designer: Thomas Brand, Developer and Founder, MathRider
Cost: $47.00 (Instant Download)
Where to buy:

MathRider
See what other

Crew Mates

thought of

Math Rider

.
*****I received a trial of Math Rider
free of charge for the sole purpose of this review. I was not required to write a positive review. The views I have expressed are my own and are real experiences with my family. I am disclosing this is accordance with the Federal Trade Commission's 16 CFR, Part 255
http://www.access.gpo.gov/nara/cfr/waisidx_03/16cfr255_03.html>:"Guides
Concerning the Use of Endorsements and Testimonials in Advertising."