Should I be teaching my child with Aspergers how to argue with respect. Well not arguing with me, or an outright shouting match that I am referring too. But I would call it really good negotiation skills. Fallacies are everywhere around us. We are all fallable because we are human. So what is the best way to help children learn to interact with these arguments on a daily basis.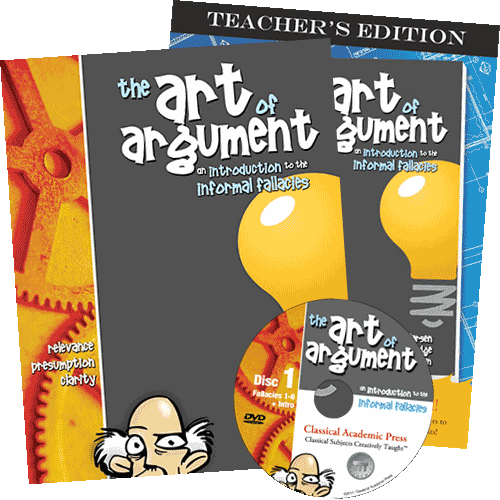 The Art of Argument
was designed to teach the argumentative adolescent how to reason with clarity, relevance and purpose at a time when he has a penchant for the "why" and "how". It is designed to equip and sharpen young minds as they live, play, and grow in this highly commercial culture.
I was pretty excited to review this material with Joey. I actually thought this would be a wonderful resource for Joey since he is very argumentative due to his Aspergers. He gets very upset when he feels that items or people are misrepresented due to wording or an image flaw. He can usually get into some pretty good rants.
The Art of Argument provides a wonderful resource to allow children to discuss, explore and apply fallacies that we see in our culture. The set that we received included a teacher edition, student workbook and DVD set sample.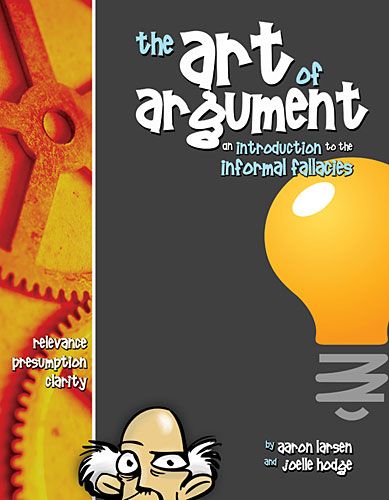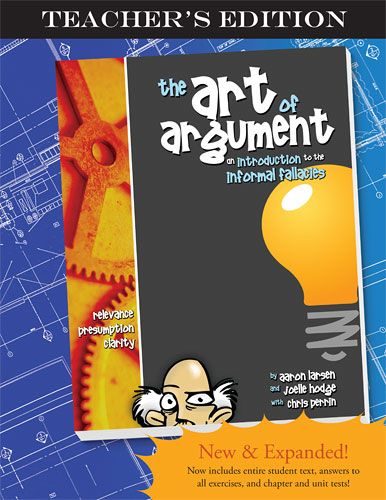 Students master 28 fallacies (such as begging the question, the straw man, ad hominen, et al) by studying many pertinent examples. The text features a variety of:
Dialogues

Worksheets

Real-World Applications

Phony Advertisements

Dialectic Discussion Questions

Tests

Fun extras such as a humorous skit for students to perform, and the famous short story,

Love is a Fallacy

by Max Shulman
We received

DVD Disc 1

to review with our set. And let me tell you that this is a wonderful resource. We will be purchasing the full set for Joey and I to watch together. We were able to sit down and watch a student and teacher discussion on the fallacy. This helped because it wasn't just me talking to him, but he was able to watch others discuss the material in each section. (Sometimes it just works better when they don't always hear it from mom...lol)
We have started out pretty slow moving in this set. Even though he will slowly learn how to argue his points more effectively, this program seems to be a bit over his head yet. He has gotten a bit frustrated trying to understand. He is at the minimum age recommended of middle school, since he is 11. But Joey does have some learning delays that attributed to him being a bit confused during some of the discussions. Unless your student is advanced, I would stick with the recommendation of Middle School age. Don't try to introduce this in elementary. But I think even high schoolers who have not been introduced to a program of this topic would benefit very well. I only wish we would have had a class like this when I was in high school. I know myself as an adult will continue to learn from this set also.
Did I mention to those who are learning Latin...you'll find lots of opportunity to review your vocabulary using this!!
I would highly recommend this program to any family striving to prepare their kids for the world. It is one that you can easily go through several times, and each time that they study it with you...they'll learn even more. This is an excellent program to encourage advancing critical thinking skills. We will continue to work our way slowly through this program and then repeat it to help him learn how to protect himself from the inevitable personal attacks that he will receive. And hopefully this will help him to think twice if he wants to verbally attack someone also.
You can view sample chapters

here

.
Here is a sample from the

video series

:
Check out what other

Crew Mates

thought of this product.

*****I received the Art of Argument from Classical Academic Press
free of charge for the sole purpose of this review. I was not required to write a positive review. The views I have expressed are my own and are real experiences with my family. I am disclosing this is accordance with the Federal Trade Commission's 16 CFR, Part 255
http://www.access.gpo.gov/nara/cfr/waisidx_03/16cfr255_03.html>:"Guides
Concerning the Use of Endorsements and Testimonials in Advertising."