We are really getting into reading for our lessons. We have turned a couple subjects into learning through literature. One of our favorite subjects to "read" is history. So we were pretty excited to get a chance to try out Heroines of the Past Bible Study by
Amy Puetz
.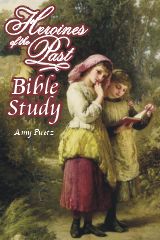 This 13 week study encourages the noble and courageous acts of women through daily stories and scripture. Some stories build on to each other over a few days and other days are a story in itself. They are meant to be a book about feminine, virtuous, and courageous heroines. Each daily lesson could be adjusted to your child's attention span and abilities very easily.
Lydia and I would read our daily story or part of a story, and then I would verbally ask her questions about what I had read to her. But you can have your child either answer the questions on paper (if they are older) and include some writing skills into this study also. Included also is a weekly bible verse to memorize that encourages virtuous behaviors for your child and even yourself to remember.
The lessons are really laid out in an easy to use format. There was very little "work" for me to do ahead of time, except to quickly "skim" over the material to see if I needed to reword any of the Old English style language in some of the stories.
From the
Amy Puetz site
:
Two Books in One!
This book is both a Bible study and a collection of stories about historical women and girls. Each chapter has a story about a righteous lady from the past, and then a study that digs into God's Word concerning the virtues demonstrated in the story. In this book, girls ages eight and up will meet servant-minded women like Mary Slessor, who worked for Christ as a missionary in Africa. Kindhearted women like Florence Nightingale, who served the sick. And truth-seeking women like Katherine von Bora Luther, who boldly left a convent to follow Christ. Well-known historical women are accompanied by the stories of some lesser-known virtuous women who also impacted history. This thirteen-week study features five daily lessons that could be used as a home study or for a Sunday school class. It would also be a great study for moms and daughters to do together!
This is meant to be a Bible study, but you can easily use this without the bible text to learn the same virtuous and courage acts of these heroines. If you are a Christian and study the Bible, the scriptures are a plus and give plenty of extra areas to speak with your children. You can view sample pages from
Heroines of the Past Bible Study here
.
I was taking a chance that Lydia would be able to grasp this material. She just turned 7 and reading comprehension she is barely meeting a 1st grade level. Some of the stories, the way they are written in the style that could be considered Old English, were a bit confusing to her. If she didn't understand, she would ask me to re-read a paragraph. Or I would rephrase a section that I was reading to make it more understandable for her.
In the end, she shocked me with how much she really understood. I have to admit though, due to the complexity with Lydia, we did not do a daily lesson. We spaced them out every couple days. Caty was unable to understand. The age recommendation is late elementary to middle school. This is a good range. Although, like I said, Lydia shocked me. She is at a Grade 1-Grade 2 level and she was answering the questions at the end of each reading. She did enjoy the princess feel to the stories that we read, and I also loved that we could take those "princess" stories and apply them to scriptures and how to apply all the information into our daily life.
I really have enjoyed using this product. In fact, I am looking at purchasing another historical title from
Amy Puetz
to go with our study of the American Revolution. We are going to study heros and heroines of the Revolutionary War, and their title Heroines of the Past - Patriot seems like a perfect book to highlight the women's contribution to the War.
You can purchase the title
Heroines of the Past Bible Study
for only $27.00 for the ebook. This is the version that we were given to review, and I was easily able to print materials to take with us to read at the doctor...park....or where ever we were going to be schooling that day. A
printed version
is available also for $27.00, plus shipping costs.
I would highly recommend this addition to any household, especially those who are big fans of a Charlotte Mason style of learning. There are wonderful examples for your children and inspirational stories for them.....and for you also. This is definitely one of those titles that can inspire both parents and children and reminds us as adults that we still have plenty to learn and we have forgotten a lot too. And as I mentioned earlier, we will be including more of these titles along with our
history studies
.
Check out what other
Crew Mates
thought of Amy Puetz books.
*****Disclaimer......I received Heroines of the Past Bible Study
free of charge for the sole purpose of this review for Schoolhouse Review. I was not required to write a positive review. The views I have expressed are my own and are real experiences with my family. I am disclosing this is accordance with the Federal Trade Commission's 16 CFR, Part 255
http://www.access.gpo.gov/nara/cfr/waisidx_03/16cfr255_03.html>:"Guides
Concerning the Use of Endorsements and Testimonials in Advertising."