I love history....in fact that was my major in college. I so wanted to become a History Teacher for Middle schoolers. I am not upset about the way my path was changed....in fact now I am grateful due to a lack of employment opportunities and I wouldn't be allowed to do as much cool stuff in a classroom as I can at home with the kids.
We are currently working our way through American History since the kids did not enjoy our study of Ancient History. So we'll tackle that again next year. We are going with a 'reading our way through History' style this year with lots of movies and fun activities...including recipes. So I am always looking for supplemental material.
I was really excited to get a chance to review
Revolutionary Ideas
- A Once-a-Week Unit Study by Sharon Gibson. We only do history one day a week....so what a wonderful opportunity to see how another person would lay out a unit study, versus what I have been doing. I am always looking for ways to improve.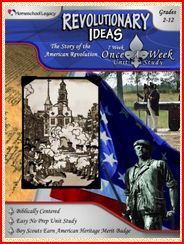 I do not mind prep time when it comes to certain subjects, history being one of those. We include all the kids in history, so we are doing history for Preschool through roughly a 6th grader. I try to keep it to one day a week, but there are times when we do two days. We do reading and watching documentaries and "fictional" movies to follow the topic we are reading about. Since both the boys and Lydia are really loving Magic Tree House right now, I had decided to use the Magic Tree House Research Guide on the American Revolution as a loose outline for our study, along with book suggestions to follow the Revolutionary War. With this approach, I can adjust material to cover both older ones and younger ones in a discussion with this book.
So I was curious to see how much extra work was going to be required to go with the
Revolutionary Ideas Unit study
. A lot of extra research just would not fit into the schedule right now, but I was still wanted to expand out the material I already was planning. When I opened up the
Revolutionary Ideas Unit Study
, I was happy to see so much information in each lesson. This program can be used as a stand alone curriculum/unit study or right along with the curriculum you are using. There is no extensive prep work required! It is designed to be an open and go unit. In fact, it's so easy to use that the library list is even written alphabetically and includes the Dewey decimal numbers so if your library does not have that specific title, you can find one that will work for your family just by visiting that section of books. So really, a quick trip to the library and you are almost set!
Each week's lesson gives you a selection of:
Library books to go with each week's theme
Movie suggestions for either during the school week or for a family movie night
Documentary ideas
Game suggestions (either board or fun things to make)
A supply list (usually stuff you already have or something very simple to pick up cheap...even at GoodWill)
Family read-aloud ideas
Family devotional suggestions and discussions
Timeline ideas
Geography ideas and map activities
Trivia questions to stump your family with
Music ideas
A suggested daily schedule/timeline to help you complete the unit study in the suggested time frame
There was more information provided each week than I could possibly stuff into our weekly history time. In fact, our study of the American Revolution has been stretched out longer than I had planned initially, but the kids are enjoying all the little activities....that I just can't seem to rush through. We carry over and have spent a couple weeks on a one week study. It has caused me to take an, 'they are loving learning, so leave it alone' approach to history. I know at 7, I couldn't tell you the reasons that the American Revolution took place....but Lydia can tell you the reasons.
Homeschool Legacy unit studies
were written by Sharon Gibson, who is a fellow homeschool mom of 16 years, who much like all of us, really wants their child(ren) to enjoy learning and get the most out of every experience that they can. We have been provided with such a wonderful planet to learn about and enjoy, that we sometimes forget to take advantage of that. Life moves at such a quick pace, that we need to slow down and 'smell the roses'. And this curriculum does remind you to stop and show all there is out there, because our world has been so wonderfully made.
Homeschool Legacy Once-a-Week unit studies
were written with this flexibility in mind, as well as encouraging creativity and fun! They can be adjusted for multiple level teaching, and allow for the whole family--including Mom and Dad---to participate. Another added benefit, if you have any Boy Scouts or American Heritage Girls in your family, several of these activities count toward their patches. That is a huge time saver for anyone who has children trying to earn their merit badges.
I had no problems working with this program, in fact I found it to be a great help as we are making our way through the American Revolution. The game ideas help the kids to see how much fun learning is. We played a ring toss game similar to Quoits (week 2) and attempted to roll hula-hoops the way kids in in the 1700s would have played (sorry...due to memory card error I lost tons of pictures, these included).
The kids have been able to retain more information than just staring at a textbook, because we can have some great discussions brought on by the books that we are reading. The movie suggestions have been very family friendly, and the kids have been enjoying watching them with us. In fact, I have enjoyed re-watching some classics that I would have forgotten about and would not have even gotten them from the library if not for the reminder in our
Revolutionary Ideas
curriculum. When everyone is enjoying themselves and is relaxed, isn't there so much more learning taking place?
Be sure to see what other Crew Mates thought of not only
Revolutionary Ideas
, but also some of the other wonderful
unit studies by Sharon Gibson
. Visit the
Schoolhouse Review Crew Blog
.
Product information
:
Title: Revolutionary Ideas - The Story of the American Revolution
Written by: Sharon Gibson
Cost: $19.95
*****Disclaimer......I received Revolutionary Ideas
free of charge for the sole purpose of this review. I was not required to write a positive review. The views I have expressed are my own and are real experiences with my family. I am disclosing this is accordance with the Federal Trade Commission's 16 CFR, Part 255
http://www.access.gpo.gov/nara/cfr/waisidx_03/16cfr255_03.html>:"Guides
Concerning the Use of Endorsements and Testimonials in Advertising."