We all do it. We homeschool, so we sit around the kitchen table staring at our textbooks. We have our little whiteboards out with our students sitting politely and answering questions in unison......Oh wait a minute...that was a episode of my dream world.
Reality is, we live in our mini-vans. Trouble in our lives is over-scheduling, which we do all the time. Like most homeschool families we do not have a lack of activities to join in on around here. The hard part is narrowing down what they need to do and what you can afford to sign them up for. I am always trying to fit some formal schooling into our days between this club or that club or this lesson or that lesson.
What about the opportunity to teach music in your living room....without expensive lessons! No leaving the house. No gas money needed????
That is exactly what we had the opportunity to do with this wonderful product, Teaching Kids to Sing with Chris and Carole Beatty. Lydia who has taken a love of singing along with the radio and writing her own songs, was able to sit at home and learn how to train herself to sing. No commute or extra gas money.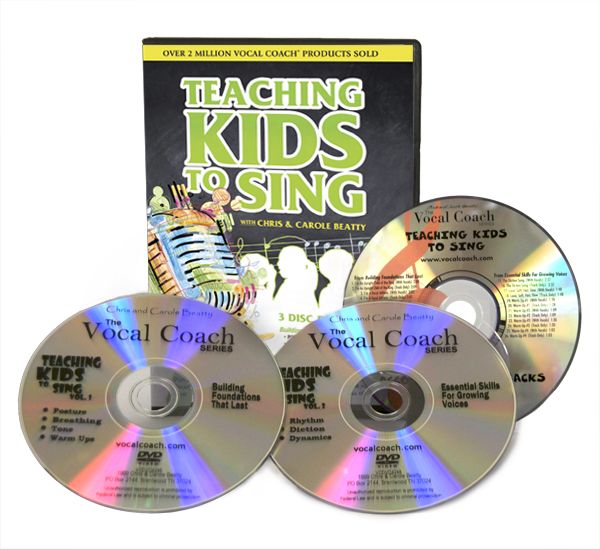 Teaching Kids to Sing 2-DVD/1-CD Set ($44.99) is the perfect way to teach your children and their leaders about the child's voice. All the foundations from Posture, Breathing, Tone, Rhythm, Diction and much, much more is explored and demonstrated. The cast includes Chris & Carole Beatty and a group of children ages 5 to 13. The CD contains all the music used on the two DVD's in two versions: With vocals and track only. This allows your young singers to learn, then perform the songs.
Set Contains:
Building Foundations That Last DVD
Essential Skills For Growing Voices DVD
Accompaniment Tracks CD
Each DVD in the series was easy to pop in either the laptop or the DVD player depending on what part of school we were in. The fact that there is a group of children in it that appear to be close to her age helps to keep her attention. She is able to speak up and practice her breathing and singing right along with them. And she can rewind as much as she wants to practice or learn that technique...no extra charge of course.
The DVDs contain lessons on:
Warm Ups

Posture

Breathing

Tone

Rhythm

Dictation

Dynamics
We were able to bring the Music CD along with us in the van to practice after we had watched the techniques on the DVD at home. So a great activity to keep learning while we are on the go.
This also worked in well with her American Girl studies. We included the program there also. We were studying Marie-Grace and Cecile who both took singing lessons. So Lydia was able to pop the DVD in the laptop and take singing lessons also.
Is the product working for us? Actually yes. I was a little skeptical, but Lydia loves to sing. (She asked me not to try to upload the video I took of her singing.) Her guitar teacher has encouraged her to write songs, so she is always creating. So I am always hearing new songs about things she has seen or done. Teaching Kids to Sing has fit into her life really well. In fact she saw a microphone and stand at the store a couple weeks ago and asked if she could buy it to practice with. So I say this program has helped to encourage her love of music.
The lessons are short and very interactive, which is awesome for short attention spans. Chris and Carole Beatty really speak to the kids, almost as if they are interacting on a web cam. In fact at one point, Lydia asked if he was listening to her.
If you are looking for a music program that children can use to lay a great foundation for further musical education, Teaching Kids to Sing is a great addition to your homeschool. And considering the cost of lessons, the 3 disk set is a low price of $44.99.
Chris and Carole Beatty have been teaching the art of singing for 40 years. They are the creators of the Vocal Coach line of products. Be sure to visit The Vocal Coach. If you live in the Brentwood, Tennessee area he offers personal lessons (I may have to check that out the next time we are there with Joe). Or he does online lessons also. They offer a full line of singing products.
The Schoolhouse Review Crew has the privilege of trying out both the Teaching Kids to Sing and the Vocal Coach series. Be sure to visit the Schoolhouse Review Crew blog to see how other homeschool families used these products fit into their lives and daily schedules.
*****Disclaimer......I received Teaching Kids to Sing
free of charge for the sole purpose of this review. I was not required to write a positive review. The views I have expressed are my own and are real experiences with my family. I am disclosing this is accordance with the Federal Trade Commission's 16 CFR, Part 255
http://www.access.gpo.gov/nara/cfr/waisidx_03/16cfr255_03.html>:"Guides
Concerning the Use of Endorsements and Testimonials in Advertising."