I have a child who is really good in math, but doesn't enjoy it. She picks up on things very quickly. But doesn't enjoy math. I get a lot of eye rolling and come on mom!! I have been searching for an interactive program for her to use that encourages her to make progress, but that she didn't consider boring. We have finally found an interactive program that has met her needs!!!
A+ TutorSoft, Inc. is a multi-sensory math program that makes math fun for students. It uses audio and computer animation to draw out your children and keep their attention.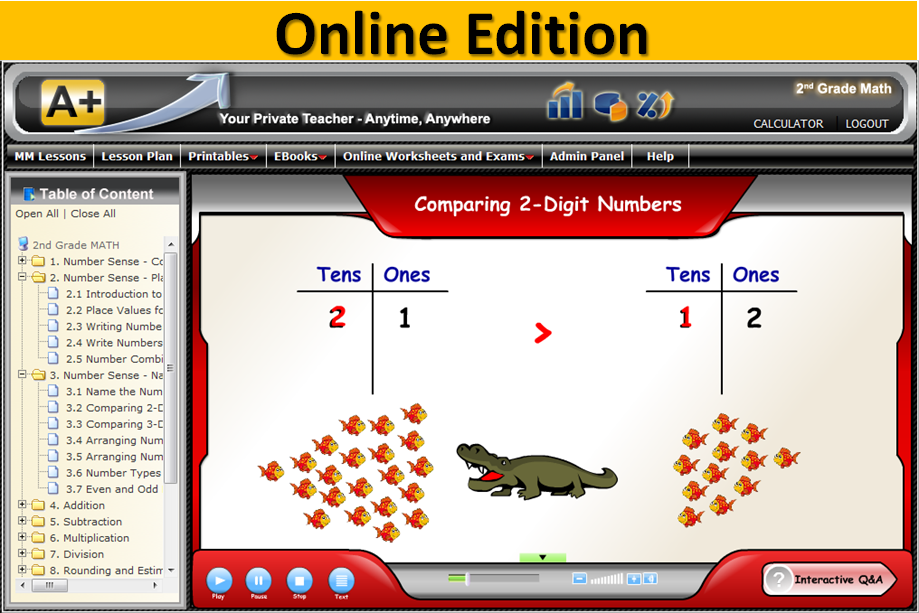 Step by step directions are given to students as they work their way through problems. They are given a chance to correct if they figure the problem wrong. At the end of each lesson they are given list of areas they did well in and at the end of each unit they can print a certificate showing they have passed that section.
From the A+ Tutorsoft Inc. site, this is what the program includes:
Student Features:
* Concise and to-the-point lessons with all three learning modalities (Audio, Computer Animated Visuals and Text) to increase understanding of concepts.
* Interactive Review helps identify and close learning gaps immediately as it automatically re-teaches concepts with audio, visuals and text.
* Enhances student learning by allowing them to practice problem solving with real-time feedback and step-by-step instructions.
* Automatically generated worksheets and exams that can be completed online with instant automatic grading.
* Review each question for online worksheets and exams with step-by-step solutions.
* Progress reports allow student to track their own progress.
* Printable worksheets and exams allow flexibility to practice problem solving in a more "traditional way" with pen & paper.
* Curriculum Book provides easy access to lessons in eBook format.
* Worksheets and Exams Solution Guides provide step-by-step solutions to each printable worksheet and exam.
* Reference sheets provide easy access to facts and formulas.

Parental Features:
* Recommended Lesson Plan
* Instant online grading
* Parental controls allow parents to lock solution guides
* Progress reports identify areas of strengths and weaknesses
* Ability to print worksheets/exams and enter students' scores to track progress for all work completed offline.
We have been using the homeschool online program with Lydia, and she is doing awesome with this!!! I am so excited at how well she has been doing. You can easily use this program as an entire math program, but I am currently using it with her other math program to reinforce what we are learning. So she is doing two-three lessons a week. This program she is willing sitting down and using. She likes the immediate feed back from the little frog when she submits her answers. I like the simplicity of the program for her to use on her own. I also really like the ability to travel with this program. I do not have to pack a disk and worry about losing it.
Cost for the online program is:
Monthly only $19.95, Quarterly only $49.99, Full Year only $124.99.
You can also purchase the actual full year cd for $99.00.
I only had one issue with this program. I normally use Google Chrome for my browser, and I was unable at any point to use this browser for our online program. I easily used it in Safari though. But this is not the only program that I have run into this issue with. This has also not deterred us from using this program. In fact we are looking at using this program with Joey, since it has helped Lydia so much. And of course we will continue the 2nd grade program that Lydia has been using!
The wonderful people at A+ Tutorsoft, Inc have offered our readers a huge discount. Until the end of March 2013, if you use the word SPOFFER50, you will received 50% off your order!!
Several members of the Schoolhouse Review Crew were privileged to use A+ Tutorsoft, Inc. in their homes. Please take a few moments to visit the Crew Blog and see how it worked for their families.

You can also visit A+ Tutorsoft, Inc. on Facebook.
*****Disclaimer......I received a one year subscription to A+ Tutorsoft, Inc.
free of charge for the sole purpose of this review. I was not required to write a positive review. The views I have expressed are my own and are real experiences with my family. I am disclosing this is accordance with the Federal Trade Commission's 16 CFR, Part 255
http://www.access.gpo.gov/nara/cfr/waisidx_03/16cfr255_03.html>:"Guides
Concerning the Use of Endorsements and Testimonials in Advertising."