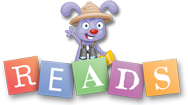 I was so happy when our oldest read early. He picked that up right away! I wanted to brag to all my friends that Joey was reading and he was had just turned 5. That was a big deal in our parent group. We bragged about every milestone. Little did I know that even though he could read the words, he wasn't comprehending what he was reading. So we begun the long journey of working on Reading comprehension skills, 8 years ago...I really wish I would've have had this program from
EGM - Reads Reading Comprehension
program by
EGM Educational Systems, LLC
.
With my previous experience, now I am very cautious with the girls to concentrate on Reading comprehension skills. We were very excited to get the opportunity to review the
Reads Parent/Child Reading Comprehension Program ($19.95)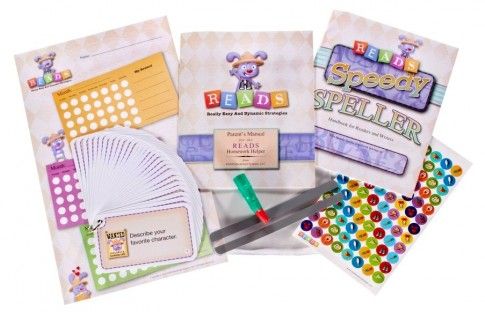 The
Reads Parent/Child Reading Comprehension Program
is written for Elementary Age students in Grades 1-4. It works with any reading material, and with students who read at grade level or above. It encourages open dialogue between parent and child. It also works with any reading material, whether for learning or just for fun.
Our set came with the READS Parent's Manual, READS Speedy Speller, Question Cards and Ring, Rewards Chart and Stickers, Reading Stick Guide, and Magic Finger. It also has a nice resealable pouch to keep everything in. It all easily fit in my planning binder for Lydia, which is who I used this the most with.
It is recommended that you select a card and give it your child. Encourage them to get comfortable and set a timer for them to read. After they have read for that amount of time, you quiz them about the information that they were to be looking for on their Question Card. The Question cards range from "
Who is the Main Character?
" to more
Robust Questions
like "
Identify two details that do not need to be included when retelling the main events......
"
You can set goals for your child, and use the enclosed reward chart to track their goals. For children who are still struggling with reading or need help following along, enclosed is a Reading Stick Guide or the child can use the Magic Finger to keep track of where they are on the page.
The Speedy Speller Guidebook is great for beginning spellers as they continually build their vocabulary. It contains 1400 words, abbreviations, symbols, and more to help students continue their progress.
How did it work for us:
Since Lydia is still learning how to read, and she has trouble tracking the lines she is reading we used the Reading Stick Guide to help her following along.
The magic finger was not something that she liked. She tried it for about 1 minute and then took it off. She did not like that it looked like a witches finger. I do wish it was different, because the concept is a great idea. But maybe something not as "creepy" looking as Lydia said. An animal "finger" instead would have been a good choice for her.
I would choose a card and read it to her, so she would know what information she needed to be looking for. We would do our reading together, either in a read together book or even just in her reading lessons. And I have saw improvement while using this product. She really listens for the information that she is looking for to answer the questions. Of course the prospect of getting a sticker and earning extra privileges also helps. What kid doesn't enjoy incentives?!?!
But I have had success with Joey using this program, even though he has a high reading level. I have incorporated many of the questions as he finishes his reading. He has made great improvements in this area in the past couple years, so this has helped him to continue fine tuning these skills in a fun way. I had added the Speedy Speller to his desk, since he is the one that is at that level in writing. Unfortunately, with the use of Spell check on all computer programs, this isn't something he uses a lot. But I am showing him how to quickly use this aid while working on his assignments.
I plan to start incorporating the
Reads Parent/Child Reading Comprehension Program
($19.95) with both Brayden and Caty. This is really a great program, and very easy to use, and I think a very reasonable price considering what reading therapy can potentially cost.
This program works well with both independent and and not-so-independent readers. It's a fun way to "change" reading comprehension up, and super easy for parents to use.
You can visit the
READS site
to view all their products and they are also on Facebook at
Reading and Homework Helper.
Several members of the Schoolhouse Review Crew got a chance to review the
Reads Parent/Child Reading Comprehension Program
, be sure to check out the
Crew blog
to see how it worked for them: