Geography is a favorite subject in our house. I really love to learn about new places, cultures and landforms. I go out of my way to make sure the kids want to know about the amazing geographical features of our planet and why countries are able to survive in the areas where they are. So I was really excited to get the opportunity to try out the
Geography I curriculum
($48.00) from
Memoria Press.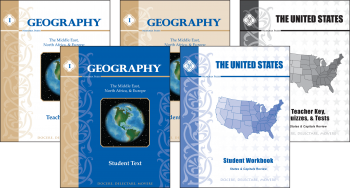 Geography I curriculum
(recommended 4th - 8th grade) helps students to learn more about the Middle East, North Africa and countries in Europe. Included is a student textbook and workbook and a teacher's guide for answers. The student text provides a historical viewpoint as well as a modern view of the country. There is also a Fast Fact section that includes information on capitals, languages, population, religion, etc. Opposite page provides a map, and does include geographical features such as mountains and rivers. At the top of the text is a flag which the student can color in, requiring a bit of research to help those skills improve also. You can view more samples of the
textbook by visiting this link at Memoria Press.
The workbook was a little difficult for Lydia (who was using this book set with me and at a First Grade level), so she and I did a lot of exercises verbally. The workbook allows students to take the information from the textbook and answer review questions about each area. There is also a section to help with map skills.
This material was easy to read and understand. Without adding too much extra....ok I cheated, we did do some culture study too....our World Geography was maybe 1 1/2 hours each week. That doesn't count the meal we would plan and cook for either dinner or lunch. So the material was not time consuming and require a lot of extra work.
While Lydia and I were working on the World Geography side of
Geography I
, Joey was working on
The United States States & Capitals
(also for Grades 4 - 8) review books. We have been gradually working our way through a study of the United States the past couple years. So I thought this would be a great review for him.
At his retention level, he could work partially independently to complete many of the assignments.
The work in the
United States - States and Capitals
review centered around regions, state locations, and obviously their capitals memorization. It is meant to be used after you go through the
States and Capitals student text units
. Even though we did not go through those books, we were still easily able to use this along with our own maps and books we used to work our way through the U.S.
Did I like
Geography I
......yes. It was a little basic for what I usually plan out when doing World Geography. There was great information included on each country, but we usually go a little more in depth with each country/culture. As a base to expand our geography, this is great. I like the simplicity, and the fact that Joey will easily be able to do this work independently in the next few month. So we will continue to use
Geography I
as our base and continue to encourage research into the culture/habits of each country.