Hey mom...I can we study about zebras and where they live? Hey mom....can we learn about space? One of the benefits of homeschooling....flexibility!!! Unfortunately though, that flexibility can cause some extra time researching, looking for extra links, and just plain planning for the kids projects. What does a homeschool mom do????
Well a go to for me, especially when I am so short on time, is
In the Hands of a Child
.....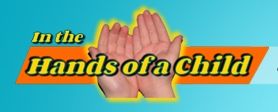 We are not new to lapbooking, the boys are not huge fans. They are not into cutting. Lydia on the other hand, loves creativity and learning new things on a whim. So we were pretty excited to get the opportunity to try out
In the Hands of a Child
Doctors and Nurses
($10.00, Grades K - 3rd)
Lydia really would like to be a vet, but she really wanted to learn about nurses and doctors. So she was super excited to get the opportunity to do this project pack.
Doctors and Nurses project pack
was super easy to use. I simply downloaded the link, and the PDF opened and I was ready to go.
In the Hands of a Child
has everything ready to go for you. You can simply print and start teaching. No extra research is required!!
Full instructions are given on how to assemble your folders....
Instructions are even given on each lapbook component....
If you would like to supplement, they even include a list of both non-fiction and fiction reading to help you out.
The lesson plans are also already written for you.
Doctors and Nurses
suggests 5 days to complete the study. Each day is broken down into what vocabulary to cover each day and what lapbook activities to cover. We covered this book in the suggested time frame. But other units we have purchased from
In the Hands of a Child
, I have stretched out a couple weeks by adding videos and crafts. You can choose whatever supplemental material you want, and the time frame you would like it done in.
One of my favorite parts of these easy to use lapbook studies, the research is done and all typed up. All I have to do is read it to the kids!!
This is a picture of Lydia's finished lapbook. She really enjoyed this unit. If you have a child that is a little fearful of doctors, this would be good for them. One of the activities includes a check-up checklist. Your child can do it on you or a sibling. It's a fun way to prep a child for a physical. This study unit timed out well with Lydia's annual physical. She's not afraid of doctor's, but loved being able to ask questions and understand what he was doing.
In the Hands of a Child
features reasonably priced, complete lapbooks. They are easy to use. Full of information. You can use them as full curriculum or as an extra fun on just about any subject. T
In the Hands of a Child
has lapbook studies made on science, math and literature/language arts. They also cover ages PK through high school. With hundreds of choices, there is something for every family.
They also are budget friendly....
In the Hands of a Child
offers a weekly $5.00 lapbook choice. You never know what there will be, but can stock up on future study units! You can also order pre-printed lapbooks, so half the work is completed for you.
Several members of the
Schoolhouse Review Crew
has the opportunity to try out
In the Hands of a Child
, take some time to see how their products worked for their families. There were a wide assortment of project packs tried from pk through high school.