It has been several years since I took Spanish in High School. Dora just doesn't cut it for an 8 year old. Lydia has been wanting to learn a foreign language. I have been hesitant because she does have some speech issues we are working to overcome. I was assured by her doctor to go ahead and try. I was worried about having a frustrated little girl.
We were given the opportunity to try out
See It and Say It Flip Flop Learning Spanish
(Ages 3 - adult) created by Senora Gose and published by
Flip Flop Learning
. In the back of my mind I was still skeptical about introducing a foreign language to a child who has marked delays in reading due to her visual perception. I mean if she isn't getting that, how is she going to handle picking up another language.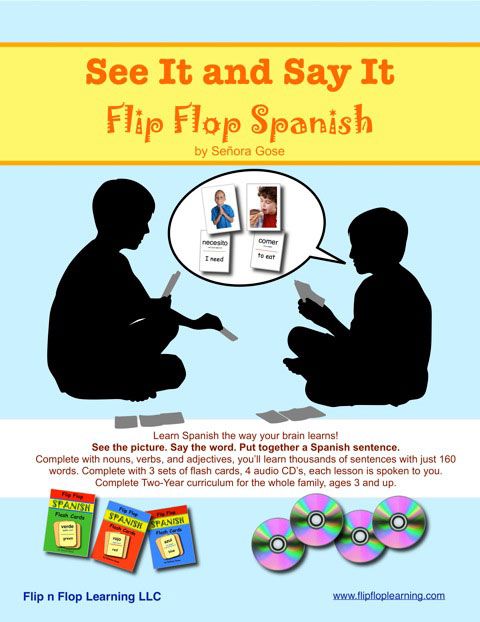 See It and Say It Flip Flop Spanish
($99.95) is a two year curriculum that teach ready to use Spanish. In your first lesson you will learn to create your own sentences. Included in
See It and Say It Flip Flop Spanish
are 4 audio cds (for use with each lesson), a dry-erase paddle, lesson plans that are broken down into 45 weeks...including breaks, a white board paddle for visual learners, and 3 sets of colored flashcards.
The lesson plans are completely broken down. Senora Gose has included recommendation about what to cover on certain days, how many days of the week to have Spanish and even has breaks built into the schedule. It is so easy to plan this into our schedule. I really spend a few minutes reading over that weeks lesson and gather the flashcards needed for that week. I paperclip them to the lesson page and I am ready to go.
We start our lesson by listening to our track and I flip the cards as they say the words.
Next we play with the flashcards. Lydia totally caught me off guard one lesson by copying the flashcards into her notebook. She insisted matching the words up. This was huge for her, since she has trouble copying from a book or board due to her visual delays. She is actually more excited about learning another language.
The lessons in
See It and Say It Flip Flop Spanish
are short, and not only does planning take no extra time, but the lesson itself is as long as we want to make it. Since she is working at improving a few speech sounds, I have not been pushing the foreign language with her. But she is making improvement and loving it.
I really like the flashcards. They are durable and bright colored. Each include a nice picture on one side and the Spanish and English translation on the other. With Lydia's reading delay, by seeing the picture first she does not seem to be feeling as frustrated about practicing her Spanish words. She really liked creating her own sentences using these flashcards.
See It and Say It Flip Flop Spanish
is so much more than I expected. It is not just learning words to use in Spanish, but it's learning how to speak conversational Spanish. Included are grammar lessons along with the vocabulary.
See It and Say It Flip Flop Spanish
could easily be adapted for multi-level teaching. Older students could be given harder writing assignments (depending on their ability levels) to help reinforce what they are learning. Younger ones can still learn without writing too much, or actually any at all.
We have been moving a slight bit slower than is recommended by Senora Gose.
See It and Say It Flip Flop Spanish
can also be adapted for special need learners or even those who may be gifted. You can simplify or increase the difficulty level of any of the lessons to adapt the program to your specific child's needs.
I have been extremely happy with
See It and Say It Flip Flop Spanish
and we will continue to use it. I will also recommend this program to our friends and readers. It is a little costly if you are on a budget, but it is very much worth it. I am leaning toward purchasing the French program after Lydia has progressed through the Spanish program. I will also be encouraging Joey to attempt Spanish again using
See It and Say It Flip Flop Spanish
.
Several members of The Schoolhouse Review Crew were given the opportunity to review
See It and Say It Flip Flop Spanish
. If you are not sure how this program will work for your family, please take some time to go through the the Schoolhouse Review Crew blog to see how they were able to use it in their homes.