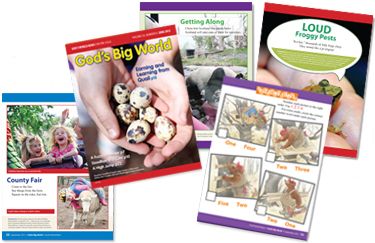 How many remember those little newspapers in elementary school? I remember feeling so cool getting my "newspaper" and pulling out my Ticonderoga yellow pencil and doing the activities and answering the questions. It was one of my favorite things. I thought my kids would enjoy this....I mean...hey it's their own newspaper. Trouble is, I did not really like what those magazines have become and since they are gearing toward common core, I have opted not to order them last year. I still wanted something similar to what I remembered.
God's World News
has been the answer to what I have been looking for. We have had the opportunity to use the Preschool/Kindergarten level,
God's Big World
($28.00 for a 10 month (one year) subscription).
Our first full color magazine came in, and I was in love. The pictures were bright and got my attention. The magazine format made it more economical than 2 pages a week, like what I was originally looking at. The 24 page magazine includes interactive puzzles and activities that Caty and I can do together while reading the articles.
At the bottom of each page, parent information is provided. It gives a few extra "conversation starters" about the article and a little more indepth information, as well as a scripture verse that you can read with your child that goes along with the topic.
Included also is a large full-color world map.
As you read each article, you and your child can find the location where the event takes place. We chose to mark our locations with stars.
Caty really enjoyed finding the countries when we marked them. It was a game we would play to remember where the countries were.
I would include our "Caty news" during our school time each day. The articles were short and fit into Caty's attention span. There are plenty of articles to allow you to read for several days. We usually covered 2-3 articles and then would include time at our World Map. This was only about 10-15 minutes maximum a day.
Along with our subscription to
God's Big World
,
God's World News
also includes unlimited access to their online content. You can even read the magazine digitally on various tablets and digital devices. By visiting the online resources, you can download digital copies of previous magazines, access to extra lessons and activity ideas to go along with the articles you are reading, and biographies to go along with the people you are reading about. I love that you CAN SHARE digital content with friends in your network. You also have access to other levels of the magazine to read digitally.
I know we are in a lower edition, but I have been very happy with the way that the current events are presented. They were presented in a way that Caty was easily able to understand.
The stories also left me able to very easily include extra projects to go along and explore topics further. Such as the above pictured article on goats. We read about goats in
God's Big World
and then we went online and looked up pictures of goats, watched videos on goats and read more about them. I can't say I would've looked up any information if we hadn't been prompted by this article. Along with finding Washington DC on the map (for geography), we were able to get in a little science.
Question is, will I renew our subscription or get another subscription for the older kids? Yes!
God's Big World
has been a lot of fun to read with Caty, since she is in Kindergarten/PK level it is perfect for her. The articles are written for children and include more than "what is going on in your classroom" type items. It's full of information from goats that clean a park to save the environment to the oldest living man in Bolivia. I will be renewing her subscription next fall.
God's Big World
will remain part of our weekly work!! The ease of use, the access to extra lessons is wonderful.
Several members of the Schoolhouse Review Crew were able to try the various levels of
God's World News
. Follow the link below to see how they were able to use these Current event magazines in their homes.