All children learn differently. All four of our children have slightly different learning styles. Lydia is a visual and auditory learner. So I was very excited to get the opportunity to try the new
Spelling You See
, Jack and Jill
program from the creators of Math U See.
Spelling You See provides a 5 step developmental system for spelling that will allow all children to succeed in their spelling. Students need to go through all the steps to gain mastery of their spelling skills.
The 5 steps they follow are
:
Stage I: Preliterate - introduce print
Stage II: Phonetic - auditory, listen for sounds
Stage III: Skill Development -
Stage IV: Word Extension - focuses on syllables
Stage V: Derivational Constancy - exploration of related words and their spelling
This might seem like a lot, but all the Spelling You See lessons are broken down into short and easy to use lessons. So it's perfect for those with short attention spans.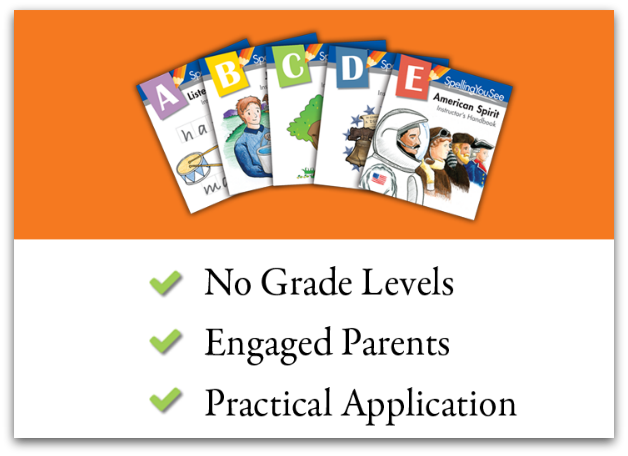 There are several levels to choose from that range in grade level of Kindergarten through late elementary school:
Listen and Write
Jack and Jill
Wild Tales
Americana
American Spirit
Just because your child reads well, doesn't mean they should be in a spelling level equal to their reading level right away.
Placement suggestions
are given so that you can make sure your child is placed at the right level.
We had the opportunity to try out
Jack and Jill
for the past few weeks. The Jack and Jill level focuses on phonetic spelling. They write the individual sounds for each word. Each lesson is based on a nursery rhyme. There are 36 lessons, and each lesson is broken down into 5 parts.
How we used
Spelling You See
?
It was super easy to use. We actually received the PDF version of the program. So I printed the
workbook for Lydia. There is a teacher book also with a layout of how to present the lesson. There is also a daily dictation list for lessons. The answer key is also included, just in case the parent needs an extra reminder about topics covered in that lesson.
Each lesson took us make 15 minutes a day, and that is giving us extra time for Lydia to be distracted by a cat while she was copying her words. Super short and fit her attention span well.
How did Lydia like
Spelling You See
?
Lydia is the type of child to stretch boundaries. So unlike most children, she can spell words she cannot read. It's something she is working on in Reading therapy, but it gave us a unique perspective of the Jack and Jill lessons. She got a little bored with the nursery rhyme approach. But she is a little older than most of the kids that would use this level.
We did use
Jack and Jill
as her spelling program exclusively for the past few weeks. She is not a child who loves repetition. So she was a little bored with the daily nursery rhyme, but we did change that up a bit to make it more fun for her also. The extra directions to do things each day a little different also made a big difference for her.
She was very proud of the fact that she was spelling so well. The boxes for her daily dictation really helped her to slow down and think about the sounds. I wish I would've thought of that before this program. It helped not only with her letter structure, but also forced her to slow down and break up the words that she needed help with.
Will we continue using
Spelling You See
?
We will definitely be continuing with
Spelling You See, Jack and Jill
. I am very happy with Lydia's confidence that is growing. The program is not only helping her with her spelling, but also her reading skills. I love that!! In fact, I am already looking at ordering Listen and Write for Caty to start this summer after we finish with her beginning phonics lessons.
I really liked the copy work aspect of the program. Lydia has a visual perception delay, so her brain doesn't always click with what she is seeing. Copying words forces her brain to work with her hands, and it's really beneficial for her therapy. This program has been working really well with her reading therapy also. So we will be continuing with Jack and Jill and working our way to Wild Tales.
You can purchase the newly released program by visiting:
Listen and Write
- Teacher Guide ($14.00) and Student Pack ($20.00)
Jack and Jill
- Teacher Guide ($16.00) and Student Pack ($30.00)
Wild Tales
- Teacher Guide ($14.00) and Student Pack ($30.00)
Americana
- Teacher Guide ($14.00) and Student Pack ($30.00)
American Spirit
- Teacher Guide ($14.00) and Student Pack ($30.00)
Check out
Spelling You See on Facebook
.
The Schoolhouse Review Crew was given the opportunity to try out various levels of Spelling You See. Be sure to stop by the blog and find out how the various levels worked for them in their homes.