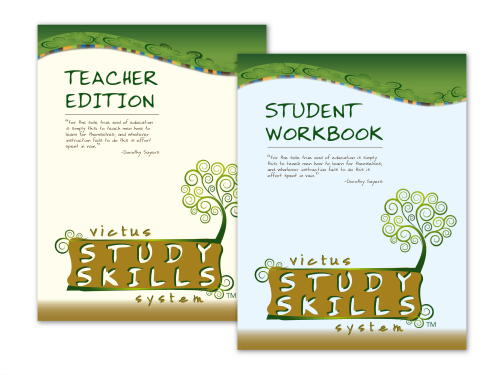 Victus Study Skills System
Teachers Edition
- $40.00
Student Workbook
- $20.00
I have wondered how to encourage good study habits in Joey. He has a diagnosis list as long as my arm and unlike what people feel is typical for autism, he does not retain information well. We have tried various settings to see what works best for him. But as I soon learned, it takes more than the setting to prepare him for good study habits. We were excited to have the opportunity to use the
Victus Study Skills System
.
In my mind, I know having a good quiet place to study is the ideal setting for studying. Having all of your materials next to you is also important. We encouraged Joey to find where he felt comfortable. I provided him with a list of tasks that needed completed. Now what do I do?
Victus Study Skills System
provides parents and students from 5th grade through 12th grade a foundation which they can build good study skills on. It helps introduce students to the 3 foundations of study skills.
Where am I now?
Where do I want to be?
How do I get there?
The easy to use program can be completed in as little as a week or take about two weeks to complete and get the student on their way to better study skills.
The program can be done both student-led and parent-led, whichever option you choose. We actually did the parent-led option so that I could see where Joey was at.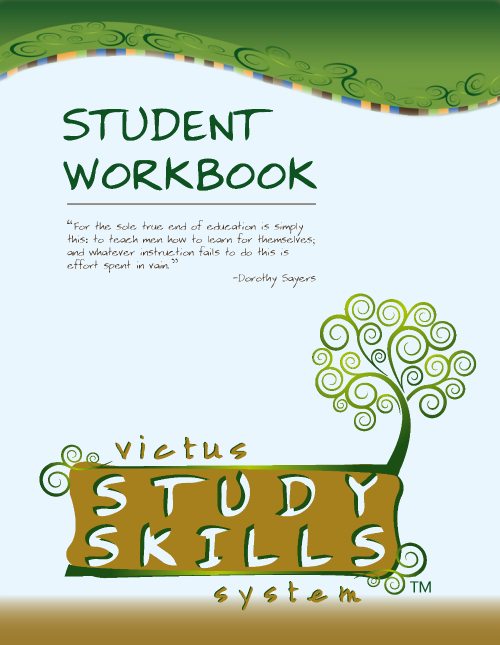 I really liked how the
Victus Study Skills System Student workbook
was laid out. Each foundation was laid out and broken down into smaller study sessions. Children are encouraged to fill out checklists and figure out their learning strengths. It shows how to set goals, not just for the day...week...or month.....but for a year. It encourages time management skills also. The workbook really forces children to look at themselves and learn more about themselves.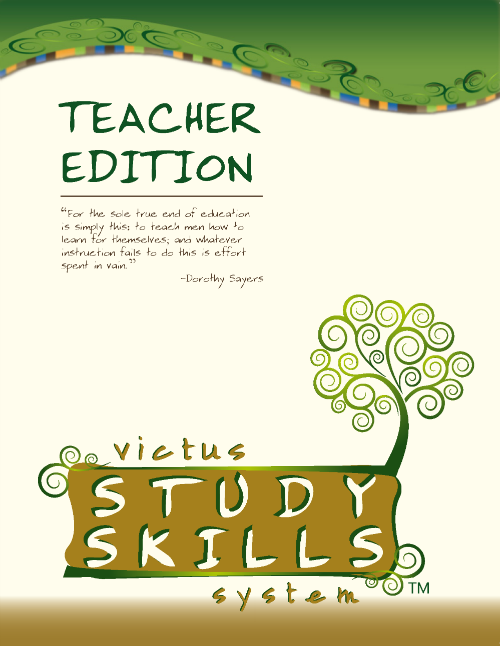 The
Victus Study Skills System Teacher Guide
was a great resource to use. It includes a full layout to help the parents teach each lesson. There is information on how to prepare the lesson for your student and even suggestions on how to present it. It also explains in further detail why each section is important to keep building on to help with those study skills. This is a great resource, even if you child is doing the student-led approach. It would really give you suggestions to help draw out your student during casual conversations after each lesson they complete.
We actually have been using this about a month now. Joey has discovered that he does learn differently (a reason he loves homeschooling, the flexibility for him). He is also on the 4th -5th grade level of the suggested grade range. So he did have trouble understanding the information being presented. But I actually expected that.
We switched it up just a bit for him, and we went with the approach of discussing the information from
the Teachers Guide
. We talked about his study habits and how we can incorporate the material we are reading to help him remember more material that he is working on. He said he never thought that doing better in school would require "that much thought ahead of time."
We have to keep lessons and discussion to about 15 minutes, or he is unable to retain much. Which we knew already. But now with the help of
Victus Study Skills System
, Joey and I can work together to make sure that we can make the most of the short bursts that he uses to do his work currently.
We actually will continue to use the
Victus Study Skills System
with Joey by reviewing material that we have read frequently. (It's also helpful for mom to keep reminding herself.) It will help refresh Joey. I also plan on using this with Lydia when she is old enough, because I am very impressed that the program really empowers children and encourages them to take hold of their education.
Whether you homeschool or not, this is a great program for your children and even yourself if you are going back to school to use. It really does encourage and show students how to build good study skills to get the most out of the important information that they are reading.