I have been looking for a little extra help lately. When teaching 4 kids with special needs that are all different grade levels, sometimes you are stretched a little thin. Group subjects just are not a great option for us, I have tried. I am trying to push Joey to reach his full potential, and I just feel science is a weak subject for me. So I was excited to get a chance to try out
Fascinating Education
-
Biology program.
Joey reads very well, but he doesn't always remember or read to understand. So even though he reads fiction books very well, he struggles with textbooks or reading to learn. He does to reading comprehension activities, but to be honest they are not helping as quick enough as he needs to get to his grade level. So I seek out learning that involves him listening to the subject.
Fascinating Education
has been a great tool for his science education.
Fascinating Education
approaches science not from the textbook approach, but from a visual approach. Each easy to read slide is read to the child that makes learning easier for those right-brain kiddos (and adults). They are brightly illustrated to keep attention also. I cannot tell you how beneficial that is for Joey. They keep his eyes focused where they need to be.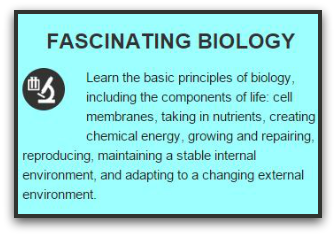 Joey is not a fan of reading comprehension "activities", so I was very grateful to have one less thing for him to complain about, because he doesn't even realize that the frequent questions that they ask during each lesson is helping him further develop these skills. So it is really set up to make sure students who are struggling can succeed.
Unlike other science curriculums,
Fascinating Education
doesn't assume you have had previous
Biology
(or Chemistry & Physics). It is set up as if the child knows nothing of these subjects.
Fascinating Education
takes them through a subject as slow or as fast as they need to go. If it is a topic that he can work through easily, he can move through it quickly. But if he is struggling, then we can move through it more slowly.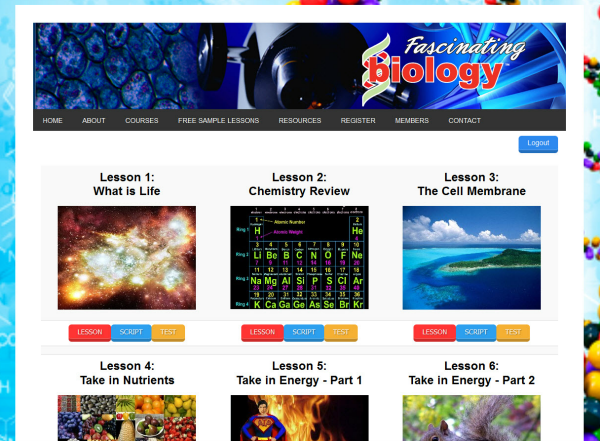 I really like the break down. If I need to print a lesson, I can. The test can be printed or taken online. Making it easy for students.
There are 19 lessons in the
Biology course
. They range from the building blocks of life to learning how we adapt to our environment. The age range for the Fascinating Education Biology course is from middle school through high school. Joey is working at a 6th grade level in Science and some of the topics were a little hard for him. So I would say 7th grade level and up. Also you do need to have internet connection to use
Fascinating Education
. This is not a downloadable program. Like I mentioned earlier, you can print a script for each lesson, but they do not include pictures. So in order to get the most from each lesson, you will want to watch them. After all, like the site mentions, a picture really is worth a thousand words.
I really LOVE the simplicity of using
Fascinating Education
. I do need to do a little extra work. If he is struggling with a topic, I do sit down and help him out. Also if he needs even more of a visual with a topic, such as an experiment, I do need to do that with him also. So it's not totally hands-off for me, which is fine because I like to see where he is at and what he is working on.
Several members of the
Schoolhouse Review Crew
were given the opportunity to try out the Fascinating Education program. See how it worked for them in their homes. Visit the Crew blog link below.