Putting together a unit study that is very in-depth for an older child can be time consuming and difficult. We recently had the opportunity to review a product that made me rethink creating my own materials. We have used many materials from
Memoria Press
. We have found them all to be wonderful additions to our homeschool.
The Book of the Ancient Romans
set has been included as a great addition.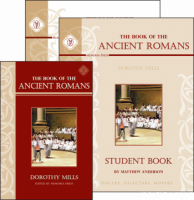 Created for Grades 6 - 12,
The Book of the Ancient Romans
($39.95) includes a paperback textbook, student workbook and teacher's guide. Written by Dorothy Mills in the 1920s,
Memoria Press
has proudly re-published her wonderful writings to preserve them for students to continue to learn more about this ancient time period that has had so much of an influence on our lives today.
Starting with the legend of the founders of Rome, Romulus and Remus, Mills teaches about the rise and fall of Ancient Rome. How the government became what it was, what principles and influences that we still see today and also goes through and teaches about many of the wars and famous Romans that most textbooks leave out.
The Student workbook provides comprehension questions for each section of the Student textbook. Students are encouraged to take notes about highlighted topics in the reading, and also a section is included on vocabulary that is read. This is wonderful since we see so much influence in our own language from the Ancient Romans. Activities are also suggested with each assigned reading section that include making maps and creating timelines. The Teacher's Guide includes the answers for the Student Workbook to make grading easier for parents.
How have we enjoyed using
The Book of the Ancient Romans
? It is wonderful. If you are looking for an indepth study, this is definitely the textbook that you need to add to your curriculum. I see the grade range to be 7th through 10th grade for sure. Joey and I started out doing it together, and he did struggle some since he is roughly 4th to 5th grade level in comprehension activities.
It is very easy to plan with. There are 31 lessons, including 5 review lessons to complete along the way. The student workbook breaks down the lessons and includes the page numbers for the assigned reading from the student textbook. The only planning you need to do is simply add the lessons into your weekly lesson planner/agenda. You can also double check any materials your student might need to create a map or work on their timeline.
The Book of the Ancient Romans
could easily be done independently for students that are already working independently. For upper high school levels, you could assign a lesson a week and also have your student write up extra research on some of the comprehension questions.
This is definitely not your everyday history textbook. Out of any public school materials I have seen and examined the last couple years,
The Book of the Ancient Romans
goes above and beyond normal curriculum.
We are working our way slowly through
The Book of the Ancient Romans
with Joey. The Student Textbook has made a good history read aloud as we finished up our school year on the ancients.
I would highly recommend
The Book of the Ancient Romans
for upper level history studies. There is no extra work for parents for planning, and your student is getting a very in depth education.
Memoria Press
has definitely delivered again with this classical curriculum. I have learned so much more about Ancient Rome that I never had the opportunity to learn while I was in high school.
Several members of the Schoolhouse Review Crew were given the opportunity to review products from
Memoria Press
. Be sure to visit the Schoolhouse Review Crew blog to see how they used
Latina Christiana I Complete Set
,
Famous Men of Rome Set
, or
The Book of the Ancient Romans
in their homes and how they liked these materials from
Memoria Press
.