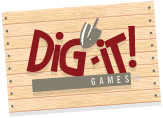 We are a computer family. The kids should probably just walk around with power cords sticking out of the legs of the shorts, they are always on a tablet, laptop or game system. I do manage to get them away at times, but I gave up the fight already. I figured if technology was their friend, then I needed to find a way to use it to my advantage. So I started encouraging educational opportunities online. If you can Beat them, Join them. We recently got the opportunity to review two educational games from Dig-It Games, Roman Town and Mayan Mysteries.
Dig-It Games strives to provide educational computer games and apps for families that help to bring history alive to children. Reading history in books can be boring. Watching it in movies is a little more exciting. But to play a game and interact really brings history alive.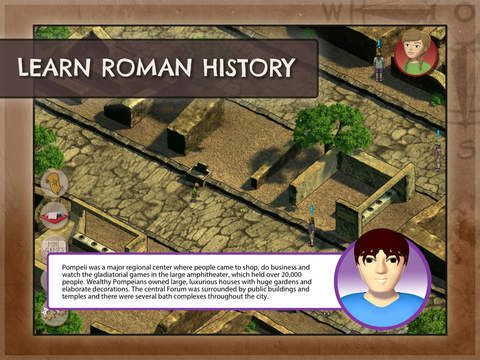 Roman Town is an app that is available for iTunes that encourages students to dig into ancient Roman history. Your student becomes a character walking exploring the streets of Pompeii learning facts and history of life in that city. It features 35 different puzzles and it even recreates games that were played in ancient Rome.
As the student interacts with tourists, they learn facts about daily life in Pompeii and they can earn puzzle items. They also play mini-games where they learn how to identify artifacts, Roman numerals, and codes. There are lots of puzzles and concentration games.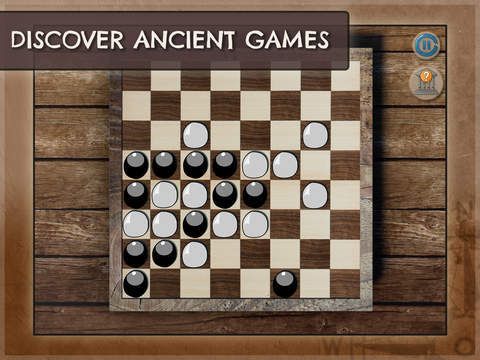 Lydia has sat and played this game for hours. This is a great addition to any family who is learning about Ancient Rome, or just any family that is looking for a fun way to sneak in extra schooling as a fun for free time. If you are heading on a road trip, I would definitely recommend this.
Caty did struggle a bit since she is an early reader, so I would recommend this as an independent game for roughly 2nd/3rd grade through middle school, depending on your student's reading level.
Roman Town is only available through iTunes for use on iPad devices that have iOS 8.0 or later. We have been using it on my iPad mini and it runs fine. Full game is only $3.99.

We were also given the chance to review another game from Dig-It Games called Mayan Mysteries. This fun, online game swept us to Central America.
Mayan Mysteries is another great archaeology game, but with a twist. You are chasing looters who have been digging up and steeling artifacts. Team Q need to help Professor Alex Quinn and his niece and nephew Fiona and Charlie to solve the mystery.
In this game, you explore Mayan sites, look at artifacts, learn about the technology of the Mayan culture, such as their calendar and advanced math, all while uncover clues to solve the mystery. The Mayans have such a fascinating culture.
You will get a chance to explore 7 different Mayan sites, and there are 25+ puzzles to go through. You will be decoding glyphs and learning about scientific advancements. So multiple subjects are being reinforced in just once game.
Mayan Mysteries is available only through online game, at the Dig-It Games website. You can play both on your computer and also through the iPad app. It has been specifically designed for grades 5-9, but Lydia was able to play it with help at her 4th grade level. If you are studying Mayan culture at a younger age, your child will have fun playing this game. Children may need help with reading and answering questions, if they are easily frustrated. Lydia was able to get some early "researching" skills in as she had to look up the answers that she was not sure on.
You can purchase Mayan Mysteries in the single player version ($3.99) or a classroom version for use in a co-op setting (30 students $189.00). You can view a demo of Mayan Mysteries by visiting the Dig-It Games website.
We haven't been studying Mayan culture or Ancient Pompeii right now, but both of these games have been a wonderful addition to our school weeks. When Lydia is waiting on me to finish with one of her siblings, I have been assigning her play time on the tablet or laptop to play both Mayan Mysteries and Roman Town. The apps have been great for trips and wait time at the doctor's office. Play can also be adjusted easily. They can easily pick back up where they started in either game. I liked that part, because then I wasn't sitting and waiting on her to finish a level.
Lydia has given both games two thumbs up!!
Several members of the Schoolhouse Review Crew were given the opportunity to review games from Dig-It Games. Take some time to visit the Schoolhouse Review Crew Blog to see how they worked in their homes.