It's no secret that we enjoy to use interactive and online programs. Sometimes it's nice to sit back and allow an online program take over the majority of a specific subject we may be studying. For the past few weeks we have been studying Habitats of the world and during this time we were given a chance to review the Rainforest Journey from EdTechLens.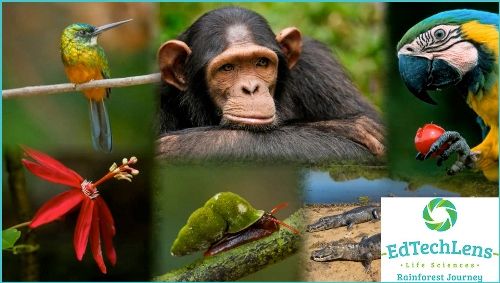 Rainforest Journey has been created for grades Kindergarten through 5th grade levels. The same material on the rainforest is covered with the addition of more difficult elements added for each grade level. This is done throughout 34 online, interactive lessons. Hands on activities and experiment suggestions are given as suggestions at the end of each lesson.
Downloadable teacher and student guides are provided also to help out parents. The student guides provide questions that students can practice their literary skills answering. They are open-ended and created to make your students think. EdTechLens has also provided lesson planning guides and information on how to get the most out of the course with your student. Encouraging you both to get down and "Think like a scientist". There are also question/start up guides to help out parents if they are having troubles. EdTechLens wants to make sure that you have success with your Rainforest Journey experience.
We had the opportunity to try out a couple grade levels, including 2nd, 4th and 5th grade. Lydia and Caty were the main ones using the program as we were finishing up their life science program. The 4th grade level includes 5 units. They include topics on adaptation, the layers of the rainforest, the water cycle, animals and plants, fungi, and the ecosystems. Vocabulary is provided for each unit, as well as assessments that help check your child's comprehension of the material they just covered.
I found each lesson that the kid's worked through to be well written and packed full of information. There were bright photographs that kept their attention, especially for my animal lovers. There are short videos included in some of the lessons that really bring the rainforest to life to the kids. They can be emerged into the sights and sounds. The closest you can be without actually being there in person.
I did also like that lessons can be read to your child if they struggle with reading. Caty is an emerging reader, so this allowed me to help the other kids while she was going through her Units.
It was very fun then to go through and see pictures of the creator's journey through the rainforest as they gathered information for this unit. The students could also read interviews with various scientists who are working in the rainforest to learn more and about their conservation discoveries. This takes Rainforest Journey a step above just textbook study. It can open their eyes to the real world, and maybe even encourage a possible career choice for them some day.
You can view samples of the various grade levels by visiting the EdTechLens Rainforest Journey website. They have samples for all 6 grade levels.
We have enjoyed our study through Rainforest Journey. You can sign up by visiting the EdTechLens Shop. The cost is $50.00 for one student - one grade level. The cost for up to 5 students (in the same grade) is $75.00. I really liked how all the planning was done for me. I didn't need to do any extra work, just help them log into their accounts.
Several members of the Schoolhouse Review Crew were given the opportunity to try out EdTechLens Rainforest Journey. Take a little bit to see how they enjoyed using this program in their homes.