Flashcard after flashcard. Then there's whining. More whining. You start to beat your head against the table. You just want to be able to help your child memorize their multiplication tables. But seriously, who likes boring flashcards? There has to be a better way to help your child learn these important facts. Especially one that doesn't require you listening to hours of them whining. Well The Trigger Memory Co. has develop Times Tales Digital Download to help you alleviate the whining.
Times Tales is a creative math program that takes those hard to remember multiplication facts and makes them fun and easy to remember. Using a mnemonic-based program, Times Tales has short and cute stories that students are easily able to recall and repeat. They do not even realize they are learning their multiplication facts at first. Times Tales was created especially for those hard to remember upper times tables facts. It was created for elementary aged students, but we have used it with our special needs older kids and they were able to use the program easily also.
For a few years now, The Trigger Memory Co. had the Times Tales DVD available for parents to purchase. But they now offer this same program as a Digital download. For only $19.95, parents can purchase the digital download and within 24 hours they will receive the downloadable link. This easy to download program includes the stories and PDF files of worksheets, flashcards that go along with the system. There's no waiting for shipping or processing of your product. You have it right away, and you have a child learning their facts right away.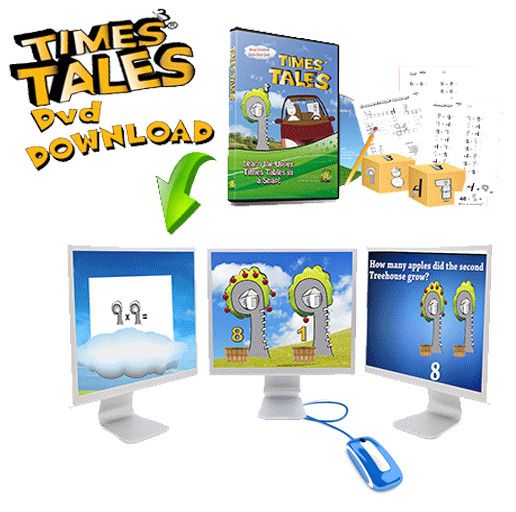 Times Tales is broken down into two parts. You start with Part 1 and then on to Part 2 when your child is able to retell the stories. You can practice the facts in the stories you are learning by printing the worksheets and flashcards. These worksheets and flashcards are much different than the normal ones you are used to. These products match up to the stories.
Each Part is roughly 30 minutes long. So it's the perfect length for shorter attention spans.
We have used Times Tales before with out children and it has worked. So I was pretty excited to allow Caty to follow in her older siblings' footsteps. The download links were very easy to use. Even with the size of the file, my download went smoothly and quickly. I was easily able to put all files into a special desktop file for this product.
Caty is in the early multiplication stages. The digital download is only viewable from a laptop or other computer device. I started up the program for Caty to watch after math, and she was really enjoying the stories. And like I mentioned earlier, Caty had no idea that she was learning her math facts while watching a video. At the Question & Answer section, she was able to retell the stories. That is when she realized that she was actually learning her math facts.
She was very proud of herself and has requested to watch the program several times. These cute and creative math stories have really given Caty the confidence she was lacking in her math facts.
Lydia is fourth grade level and just needed a refresher as she is working through her math program. It was great to see them repeating the stories as the voice asked them questions during the review. She was also easily retelling them.
Times Tales Digital Download takes so little time, only an hour. And your kids can have their upper multiplication facts memorized in no time. This program does not interfere with the math program that your student is currently working through. Instead it only helps them to memorize what their current program is teaching.
I highly recommend checking out Times Tales Digital Download for your students. It's better than the plain black and white flashcards that we had to use when we were younger. And even though there are printable flashcards for Times Tales, they are made in a way to bring the stories back to life. All the printable materials are created that way. It's a way to bring fun back into math!
You can use this program with multiple students in your home. And the digital download makes it available to you quickly. Also if you live outside the United States, you can easily get your materials without the extra shipping costs and waiting time.
Several members of the Schoolhouse Review Crew were given the opportunity to try out times Tales Digital Download with their families. Take some time to check out how the program worked for their students. You can visit the link below to read more.
See what is new with Times Tales by visiting their Facebook page.