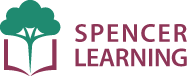 One of the most common learning delays that parents face is that of reading. It's the one that I read most about, and it is one that we have experienced with both of our girls. We still struggle with it. We recently had the chance to review the Ultimate Phonics Reading Program from Spencer Learning.

The Ultimate Phonics Reading Program contains over 250 reading lessons that were created to help to improve and build confidence in readers of any age. You could use the Ultimate Phonics Reading Program for students with learning disabilities, ESL, or even those who need some spelling help.
Each lesson is broken down by the sound that your student is working on mastering. It teaches all of the rules of English that are difficult to keep track of for most students. Parents do not need to have special training to use the Ultimate Phonics Reading Program. It is very easy to use, even by the student independently.
Each lesson, which you can easily choose your child's starting level based on your own knowledge of them or using the reading assessment provided on the Spencer Learning site. Each lesson is broken down like this:
1) A Pattern or Idea page
2) A set of Word List pages
3) A set of Word pages
4) A set of Sentence pages
You can see a short demonstration by viewing this video:
The Ultimates Phonics Reading Program is not an online program. It is downloaded to your computer, so it can be used at anytime. This was nice, because I could turn the wireless off on my computer while Caty was doing her lesson. Then instead of her pretending to do her work, but really be playing an online game, she had to actually do her lesson!!
There are no distracting cartoon characters that needed their houses built or new clothes to dress them in. This is not her favorite part of the program. She likes the cartoon characters, but I find them that she plays but not in a good way.
Each lesson in the Ultimate Phonics Reading Program was short and did not take a large amount of time, which is great for those with short attention spans. Because this is where the the non-flashy can come into an issue, especially with Caty. She needs to have a bit of flash to keep her attention, since her brains moves at such a fast speed. At first she thought this program was boring. But after a few lessons, she realized how much time it really was and she complained less about no cartoon characters.
The Ultimate Phonics Reading Program can be used with any reading program or as a stand alone program. I like how it reads the words to the child when they hover their cursor over it. The voice is not hard to understand. We have purchased some programs and it was horrible. You could barely understand what the voice was saying and this caused issues with children who already have speech issues. So I was pretty happy with how easy it was for Caty to hear the sounds and words.
The Ultimate Phonics Reading Program is very user friendly. Easily downloadable and can be used by a wide variety of students of all ages. For only $69.95, it is on sale Until Friday, September 30th for $49.95, you get a full phonics program that you can use repeatedly with your entire family. No subscription fees. With 262 lessons, that can be full printed, and free lifetime updates, this is really a great purchase for your family.
Caty will continue to use the Ultimate Phonics Reading Program since I have seen an increase in her ability to remember letter sounds. We will also use this along with our spelling program to have her remember her spelling words.
Several members of the Homeschool Review Crew were given the opportunity to try out the Ultimate Phonics Reading Program. See how they used this program in their homes by visiting their sites below.