There is a lot of concern over kids using the internet. There are many places that children can easily find themselves in great danger. Predators and adult material can pop up without warning in some cases. It shocks even us as adults how easy it is. As parents we know what to watch for, but our children in their innocence can be too trusting. So how can you protect your children and family from the dangers lurking on the internet. We recently had the opportunity to review the Accountable2You - Family Plan from Accountable2You. They work hard at keeping your family safe online.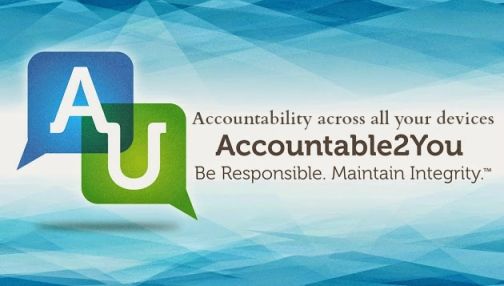 Designed by Ben Lawrence and his wife to keep themselves accountable to each, Accountable2You has created a system that tracks the internet usage on many different devices, including not only laptops and desktops but also portable devices such as phones and tablets. It is available for use on almost all systems that are being used today including,

Windows, Mac, Android, iOS and Chrome.
Once you set up your login, you can easily add the family members that will be using the program. Your next step is to download the software on the devices that the individuals will be using.
Accountable2You offers real time text alerts so that if your child does stumble upon material that is questionable, you will be alerted right away. You can hopefully help them to steer away from inappropriate content immediately.
You can also set up accountability partners for family members. They won't be notified immediately what you are looking at, but they will be able to see what you have been looking at. The idea being that when you are surfing around, even as an adult, if you don't want someone to know you are looking at it....then maybe you should not be looking at it.
Full activity reports are sent including both regular viewing and questionable viewing activity. The activity log even tracks private browser viewing. The history is collected and kept for 15 days, so you do not need to check it daily unless you are having trouble. You can also download the activity reports into Excel and save the information if needed.
Also available for portable devices is GPS tracking. I have watched enough CSI to see how this sometimes could come in handy. It wasn't a feature that we used, since the kids are with us almost all the time. But it is a nice addition if your children are out and about, and you are having concerns with where they are going.
We have found Accountable2You Family Plan to be very helpful in allowing the kids to be able to move around the house. Our kids are pretty internet conscious, so our only real concerns are with some of the videos that they watch on Youtube. We were able to see a report though with any activity that was considered questionable. I did really like this feature.
We didn't see a ton of questionable activity, maybe a few websites that might have been tagged due to research. Joe didn't work from home during our review period, so I am curious to see if anything he uses for work might be flagged for content.
Accountable2You offers Time limit alerts, which can help you if you need to restrict your child's internet usage. You can prevent them from using the internet after bed, or if you are having trouble with them sneaking on during times in the day they are not supposed to be on. This could also be helpful if you find yourself feeling addicted to using the internet, whether on a tablet or your phone. You could get your own internet usage under control using these time limits.
The cost of Accountable2You family plan is $9.99 per month. Very reasonable for a family to keep their internet usage in check.
They also offer an Individual Plan that allows one person to monitor, with up to six devices attached and three individuals including the monitor. The cost of this plan is $6.99 per month
They also offer other plans for larger groups:
Group Plan: Do you have a homeschool group, or a youth group at church? This could be the plan for them. Each user in the plan can have up to 6 devices. Note that the administrator of this plan does not have access to the reports for all of the users, unless set up as an accountability partner.
Small Business Plan: If you own your own business, and your employees have online access, this is a great option. The administrator does have access to all of the reports with this plan.
Accountable2You really takes into account that many families are not computer literate, and might struggle with use. They make this program very easy to use.
Several members of the Homeschool Review Crew were given the opportunity to try out different plans from Accountable2You. Take some time to check out how they used it by clicking the link below.