Computers are really an intricate part of our everyday lives. We recently had the opportunity to review the
Digital Savvy
program from
Compuscholar, Inc
. What a great stress reliever that has been for me.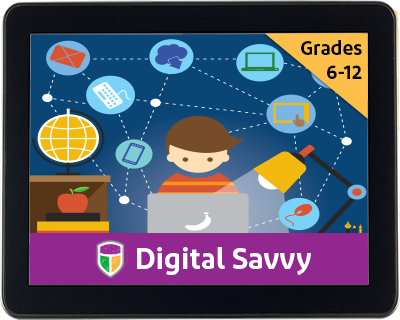 Compuscholar, Inc.
is an online computer science company. They specialize in providing programs that help students to not only learn necessary computer skills to use in everyday life, but also computer skills that would introduce students to new careers such as Web design.
Parents do not need to be digital experts for their child to take courses from
Compuscholar, Inc.
It is very user friendly, and created with instructional videos and step-by-step self-study lessons.
We had the opportunity to try out their
Digital Savvy program
. The recommended ages are grades 6 - 12. Lydia is just below that recommendation in 5th grade. But if your child is familiar with the basics of how computer's work, this is not a big deal. With our daily life, Lydia is very familiar with using her computer for research, and even light programming. So I was excited to see how she would do with the
Digital Savvy
course that teaches the behind the scenes of how her computer works and also takes her more indepth into her word processing program.
The
Digital Savvy course
covers topics on:
Hardware and operating systems
Managing folders and files on the computer
Basic networking
Online safety and security
Using Word Processors, databases and spreadsheets
Image editing
Using social media and email communication
Intro to website design
Simple programming concepts
Computer career options
Each course includes automatically graded lesson quizzes, chapter tests and an electronic gradebook. Hands-on programming and computing projects with easy to use instructions. There are also teacher's guides available for you to follow along if your student needs help. But
Compuscholar, Inc
. does not leave you alone while using their online program. They have a support portal for frequently asked questions, as well as you can contact them for help on topics that your student may be struggling with.
The
Digital Savvy
course also includes a syllabus that gives you a planning timeframe suggested for each chapter that your student will be doing while taking this course. Some chapters they will proceed through quicker than others. The length of the course time recommended is at minimum two semesters. So depending on how long your child spends on each section, they could finish this program in a "regular" school year or roughly 36 weeks.
You do not need a brand new computer to take courses from
Compuscholar, Inc
. For
Digital Savvy
, you do need a computer with either Window or Mac operating system. The course material can be accessed from any HTML5-compliant web browser on standard computers, laptops, or tablets with an internet connection. Hands-on projects will require the use of a computer with one of these operating systems: Windows, 7, 8 or 10 or Mac OS Version 10.7 or higher.
Our account was very easy to set up. I quickly setup our teacher account. Lydia had her own login. And it's so user friendly. I literally just let her know what chapter she should be working on, and she login and starts her work.
This is a screenshot from her chapter two page. Even if I wasn't familiar with computers, the interface is simple to use.
I can easily print the teacher's guide so that I can follow along with her video lesson and textbook. After the student goes through each of these, there is a lesson quiz available for the student to take.
So far I have been very impressed with the knowledge that Lydia has been exposed to using the
Digital Savvy
course. She has also been taking programming classes with a local co-op, and programming is very important. But I also knew that she really needs to learn using software such as word processing and databases. Her father and I use these all the time. But with his work schedule he hasn't had the opportunity to sit down and teach her those (nor have I). Compuscholar, Inc. has taken the stress out of teaching these items along with so many other fun computer skills like image editing.
If your student needs a computer science course, I highly recommend checking out
Compuscholar, Inc
. Not only does the
Digital Savvy
course meet requirements for graduation, but can really help your child to become more comfortable using a computer. A parent could also sign up to take programs so that they could be more comfortable using their own computer. Compuscholar, Inc offers so many other programs. The offer programs in web design, Introductory Programming (C#), Java Programming (AP), Unity Game Programming, Game Programming with VB, and Android Programming.
The price for taking
Digital Savvy
is actually very reasonable. You can choose to do the self-study for either $15.00 a month or $120.00 per year. This is the option that we reviewed. But you can also sign up for a teacher-led study. This option is $35.00 per month or $300.00 per year.
I highly recommend starting out with this computer science course -
Digital Savvy
. It really has been a great resource for Lydia. By taking it at home, it has saved me time in driving to a computer science center. And she can work on it at her own pace. If you take longer to do one section over another, then that is your student's choice. The planning style is flexible to your student's needs.
Several members of the Homeschool Review Crew were given the opportunity to review other programs from
Compuscholar, Inc
, including
Java Programming
and
Web Design
. Visit the link below to see how they used these programs in their homes.