We recently had a chance to review
The Story of the Thirteen Colonies & The Great Republic Set by H. A. Guerber
and also
200 Questions About American History Set compiled by Sean Brooks
and published by
Memoria Press
.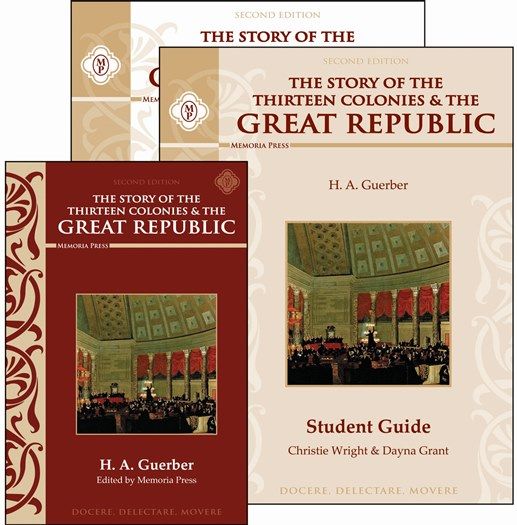 I will admit openly that I do not love modern history books. It's really hard to find history that doesn't leave out important details, but also is not overwhelming with details.
The Story of the Thirteen Colonies & The Great Republic Set by H. A. Guerber
was originally published in two separate volumes in the late 1800s is a great example of how history should be taught.
Memoria Press
republished both volumes written by H. A. Guerber into one soft cover book. Created also for this great history book is a Student Guide and Teachers Guide. Written to be used with Grades 5 - 8, you can purchase the print set from
Memoria Press for $48.00
.
The Story of the Thirteen Colonies & The Great Republic
student textbook is broken down into 85 easy-to-read "chapters". They are short, so those who are attention span challenged can easily handle the brief reading assignment either together or on their own. The chapters cover Pre-Columbus American history through the Spanish-American War. In the beginning of the book, suggestions are offered to parents on how to use the material so that their children can get the maximum benefits. The suggestions follow the classical education approach, so famously promoted by Memoria Press publications.
After you determine your child's speed in working their way through the material, the Student Guide comes in very handy for review. Roughly three chapters are connected together in each Lesson. Vocabulary terms are explored, and important facts/persons are also reiterated. Short answer comprehension questions are also included, as well as map work, timeline suggestions and also extra research project ideas.
We have been studying American history for a couple of years now, and I wish I would have had this set when we first started. The brief, yet thorough material in each chapter would have been great for our boys short attention spans. It just shows that the new way of teaching things is not always the right way. We have read through the final chapters of the book, and it went so smoothly with the boys in their understanding. Since there was not an overabundance of material being thrown at them in each chapter, they didn't feel overwhelmed. Thus the feeling of anxiety was avoided. Let me emphasize, that less doesn't mean they were missing out on anything. It simply means that it was presented in an easier-to-understand form and there were no facts missing.
We also had the opportunity to try out
200 Questions About American History Set compiled by Sean Brooks
($27.90). This resource can be used right alongside your American History studies using
The Story of the Thirteen Colonies & The Great Republic
. Along with the question cards, there is also a student workbook and teacher's guide. These contain a schedule of drill questions to go along with the reading from
The Story of the Thirteen Colonies & The Great Republic
. Included also in the student workbook is a timeline, quote guide of sayings of famous Americans in history and also a President guide your student can fill out through President Barack Obama.
The durable review cards feature the drill questions from the Student workbook. So your student can lay out the questions and play a game to help them remember the facts they have been studying. They contain 150 drill questions, 30 timeline dates, and presidential information.
I really wish that we would have had both of these resources when we first started studying American History last year.
The Story of the Thirteen Colonies & The Great Republic Set
and
200 Questions About American History Set
have been wonderful. I only wish that it went through modern history. I know that would not have been possible due to the publishing date, but hey, I could dream. As we begin to prepare for the next round of American History study soon, I plan on starting out and using both of these resources from
Memoria Press
for our study. The ease of use. The economical cost. And the fact that it kept our kids attention so makes it worth it!! The only thing I will need to add is our use of historical movies, which is easy to do. Thanks for another great addition to our homeschool
Memoria Press
!!!
Several members of the Homeschool Review Crew were given the opportunity to review various products from
Memoria Press
, including
First Form Greek Complete Set
and
Iliad and Odyssey Complete Set
. Be sure to click on the link below to see how they used these resources in their homes and how they liked them.