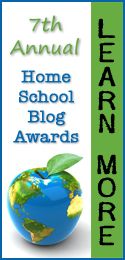 The Homeschool Blog Awards will soon be here!
Nominations start tomorrow!!! They will run from October 10-21, 2011.
Make sure to read through the descriptions carefully for each category and give us ALL the information required (if you nominate someone in the methods category, you MUST tell us what homeschooling method the blog advocates).
Be taking notes as you surf the web from now until nominations begin and make a list of your favorite blogs that fit these descriptions below.
You'll be able to nominate them together – all in one comment – when we open nominations on
October 10th!
2010 Homeschool Blog Award Categories:
1. Best Homeschool Mom Blog
2. Best Homeschool Dad Blog
3. Best Blog Design
4. Best Photos
5. Best Crafts, Plans & Projects Blog

6. Best Family or Group Blog
7. Best Encourager
.
8. Best Current Events, Opinions or Politics Blog
9. Best Homemaking or Recipes Blog
10. Best Teen Blog
11. Funniest Homeschool Blog
12. Best Special Needs Blogger
13. Best Curriculum or Business Blog
14. Best Variety
15. Best Thrifty Homeschooler
16. Best SUPER-HOMESCHOOLER
17. Best Nitty-Gritty Homeschool Blog
18. Best NEW Homeschool Blog
19. Best Homeschooling Methods Blog
20. Best Homeschooling Nature/Field Trip Blog
Be sure to visit
HSBA
to nominate your favorite blogs under one of these categories!!!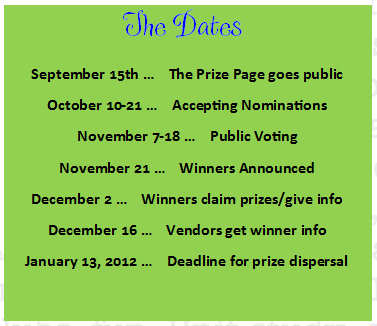 Be sure to check out some of the awesome prizes that can be won!!!