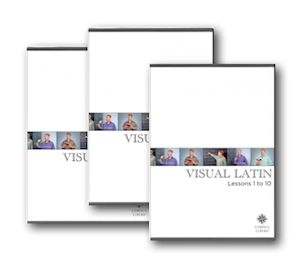 Quomodo es
hodie?----How are you today?
Meum
est nomen
Renita.---My name is Renita.
We are encouraging all the kids to learn a basic foreign language. Currently, Joey is learning conversational Spanish, and he has been picking it up quickly. We are encouraging this so that he can understand and can communicate with others in our area. But we were not sure about Latin. I have heard from several homeschool parents though how beneficial learning Latin is.
Benefits of Latin:
1. It helps to understand vocabulary by breaking down the origin of words
2. Helps to know the meaning of common Latin sayings
3. Helps to strengthen reading skills
4. Helps you to understand medical and science terminology
5. Helps to boost standardized test scores.
We were privileged to receive Visual Latin on DVD for review from
The Compass Store
. This wonderful series provides an auditory and visual approach to learning this language. The instructor Dwane Thomas has a quirky sense of humor that allows a child to warm up to him.
Each lesson is broken down into 3 separate smaller lessons and printable worksheets. First part of each lesson is the introduction of one or two grammatical concepts. The second part of the lesson is using the concepts in sentence form. The third part is reading and translation. Dwane reads Latin, and then your child can repeat the sentences thus actually using the Latin themselves.
I would have struggled more with this (yes...I am working on this program right along with Joey) if it would not have been for the visual and auditory benefits of this program. I could watch him use the word in a sentence and hear him use the phrases properly. We could practice and repeat right along with him. That helped to get the connections going in my brain.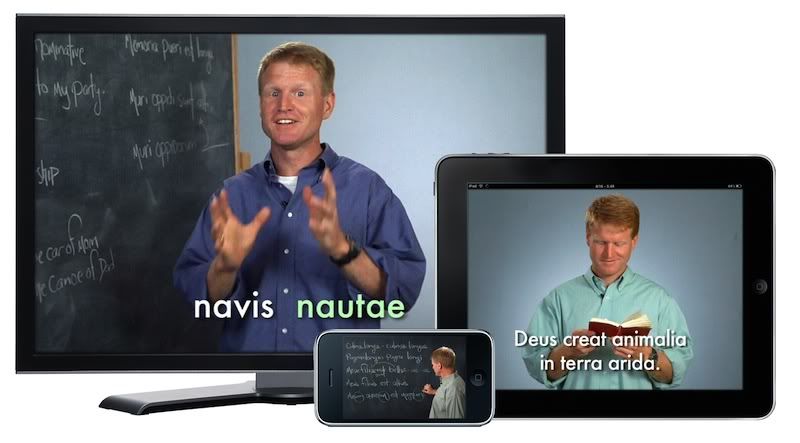 Joey does enjoy the DVDs and likes the person teaching (Dwane). Using the DVD approach allows for children that really need an auditory learning style to get the correct pronunciation. The easy to download lessons though can be used on the computer or many other mobile devices such as the iPhone and iPad.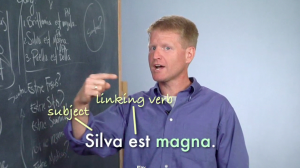 This program is a wonderful addition to any home trying to learn Latin. Dwane is a wonderful teacher and you can tell that he enjoys what he is teaching. The DVDs and downloadable content are all very user friendly. The
vocabulary reference sheets
that your can download at no cost are a wonderful bonus. To be truly beneficial, I would suggest a basic understanding of grammar elements such as verbs, nouns, etc. Joey struggles in this area, so I believe this is may have frustrated him a bit.
Visual Latin - Lessons 1 to 10 info:
A.
Why Study Latin?
B. Latin Then & Now
C.
How to Learn a Language
D.
Stuff You Should Know About Latin
(Each lesson includes 3 videos: Grammar, Sentences, & Reading and 3 PDFs: Instructions, Worksheets, and Answers.)
1.
Being Verbs Basics | To Be and Not to Be
2. Being Verbs Basics | Predicate Nominatives and Adjectives
3. Gender | Boy Words and Girl Words
4. Singular and Plural | E Pluribus Unum
5. Declensions | Meet the Cases
6. Adjectives Learn to Agree with Nouns
7. The Case Files | Nominative and Genitive
8. Counting to 10 in Latin
9. Active Verb Basics | Indicative Mood
10. The Case Files | Accusative
(Each of the 3 videos are less than 10 minutes each, so you get between 15-25 minutes of video per lesson.)
Includes PDF worksheets and lessons as files accessible on the DVD or via the Internet.
_______________________________________
The Compass Store also offers
online Latin Classes
for students of all skill levels.
You can view download
Six free lesson
s
online to see how your children will enjoy Visual Latin.
Visit Dwane's daily on
Facebook

.
He has a Latin Word of the Day.
Visual Latin information:
Visual Latin
Product Reviewed: Visual Latin Lessons 1 to 10 DVD
Price:
$30.00
Age Range: Recommended for Ages 9 and up (even us parents!!)
Check out what other Crew members thought of Visual Latin....click
here
.
Now for the legal jargon...
*****I received this DVD from Compass Cinema free of charge. I was not required to write a positive review. The views I have expressed are my own and are real experiences with my family. I am disclosing this is accordance with the Federal Trade Commission's 16 CFR, Part 255
http://www.access.gpo.gov/nara/cfr/waisidx_03/16cfr255_03.html>:"Guides
Concerning the Use of Endorsements and Testimonials in Advertising."