I love to cook. Some days the fancier the meal, the happier I am. Now I hate clean-up (but really unless you are Monica from Friends...who does?). I am one of those people who would have the cooking channel going constantly in the background during the day. That was a few years ago, before we had 4 kids and started homeschooling. With children who have special needs, I am presented with new challenges everyday on top of what I already need to get done. My love of cooking hasn't gone away, but after 14 years of marriage and all the daily hurdles, menu planning has been getting to be a tedious chore.
So each week in desperation I would do internet searches for recipe ideas. I have a favorites folder (and now Pinterest folders) dedicated to future meal ideas. But I lose those files on my laptop or just forget about the recipes within a few days. I found that most menu planning websites used ingredients that I didn't find healthy or our family did not like. Then a little over a year ago I started developing food allergies and had to make a lot of adjustments in my diet. Finding allergy menu suggestions is even harder, and eating the same things over and over weekly has been getting boring. I came to dread planning our food ideas, and it has caused me to dread the grocery store and even cooking.
Then we were offered a trial to E-mealz Menu Planning. This is truly the Meal time Makeover. The easy to use format is really as simple as:
You choose your meal plan from a selection depending on the grocery store you prefer to shop at and also if you have specific food allergies. After selecting this information (I chose Any Store and Gluten Free), you can print out a menu with recipes for the week. No more 'What's for Dinner?' questions. This 7 day menu provides even the side dish for each day. A well balanced meal for each night.
And even better yet.......
When you print the week out, it includes the shopping list!!! Just add the other staples needed to your shopping list and you are set to go. If you are a coupon person, match up your coupons and head to the store for your meals.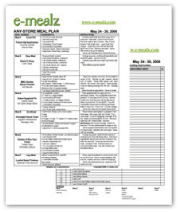 Each week's meal suggestions were unique and in the time that I have been checking this program out, have not seen a repeat yet. The
website
says that some menu ideas will randomly repeat every 5-6 months. Even changing gluten-free status among the different store options gave different menu ideas each week.
Planning meals is a great way to save money and a time saver so you can spend more quality time together as a family. There are plans available for most major retailers, including Kroger, Ralph's, Publix, Aldi, and even Walmart. They have several different options that include low-fat, budget, portion control, picky eaters, gluten free, low-carb and even vegetarian. They are constantly working on adding stores and more menu options.
The only thing that I wished for was possible full day menus. As homeschoolers, we eat 3 meals a day at home. Sometimes our lunches are actually dinners and dinner is leftovers as we are running between sports. I have to say I pick and chose a few items from each menu because even choosing the gluten free menu proved to be a challenge for me. I cannot eat chicken or pork also. So I still had to make a lot of adjustments for myself. If not for the food allergies, I would have been set though having everything layed right out in front of me. I also wished that you had the option to change your meal plan choice more than once during the 3 month subscription. I would have liked to have checked out the Vegetarian meal plan for a couple weeks. I can see why they choose to not allow this, so I will have to chose Vegetarian when we renew.
I like the flexibility in using these menus. I can pick and choose what we can eat and adjust the ingredients to our diet. This is a product that I will continue using to help to simplify my life a bit more. If you would like to check out this wonderful "mental maid" as they call themselves, visit
E-Mealz
.
They are a wonderful low-cost time saver for families.
For $15.00
you can have access to a new menu each week for 3 full months, which means it only costs you $1.25 a week to have your meals planned for you. Click
here
to check out all the subscription options. You can even purchase
Gift Subscriptions
for those who have everything.
You can visit their blog, E-Mealz Make Time for Dinner by clicking
here
.
Check them out on
Facebook
.
Check out what other
Crew members
thought of E-mealz.
Now for the legal jargon:
*****I received a 3 month trial to E-mealz free of charge. I was not required to write a positive review. The views I have expressed are my own and are real experiences with my family. I am disclosing this is accordance with the Federal Trade Commission's 16 CFR, Part 255
http://www.access.gpo.gov/nara/cfr/waisidx_03/16cfr255_03.html>:"Guides
Concerning the Use of Endorsements and Testimonials in Advertising."