Many of you know that we are struggling in the phonics area. Lydia has a short....short.....did I mention minute attention span. Did I mention short?!?! She wants to change phonics work as much as most people change their socks. She'll do a few lessons, and then just refuse or not pay attention any longer.
I was very excited about trying an online program of games that would help her learn her sounds and reading. She really needed "fun" work as she called it because some of our stuff was getting "boring". Yeah she comes and goes when it comes to workbook activities.
We downloaded the program, which if you do not have high-speed internet will take quite a bit of time. Took us a while to get it downloaded. But she enjoys this program every time she gets to play. I don't hear whining when I say, "Go and get on your
Ooka Island
program." But usually hear quite a fuss when I say, "Go and grab your reading books."
The one thing she does not like is the repetition that is required when reading the books. She is the type of child that once she has gone through it once...forget it. Once is enough. I usually step in at this point, redirect her attention to the screen and have her practice words.
Minus her frustration with that, Lydia has been enjoying playing the games and gets very excited when she answers right. I thought the positive encouragement each time was a great self-esteem booster for her in this area that she is struggling in. The games varied and included one with a railway car that would stop at gates and only be allowed to pass if the correct sound was heard to a sound search in a cave. They all seem to keep her attention, and she played this game without whining or complaint. That is saying
a lot
when it comes to Lydia's play time!
Here's a short tutorial video:
This program provides 24 levels of guided play reading adventures that allow your child to collect Ooka Mist (which is the currency on the island). After completing adventures, your child will then be guided through comprehension and vocabulary activities in the Popcorn Library, where they can open new books to read. After completing the comprehension part, the child can play and buy items for their Avatar or play in Pencil Playground. The game play time is limited to 8 minutes. This cycle then repeats through all the levels.
The Ooka Island Adventure is a downloadable hero-mission in 3D designed to teach young children how to read fluently and well. The Ooka Island Adventure combines the highly engaging components of a state-of-the-art virtual world with the scientifically proven OokaMethod that builds literacy skills.
Carefully embedded within the Ooka Island Adventure are dozens of interactive instructional activities that captivate the child and motivate them as they learn essential pre-reading, reading, spelling, and writing skills. After completing the Ooka Island Adventure, children will be on their way to reading fluently and well for life.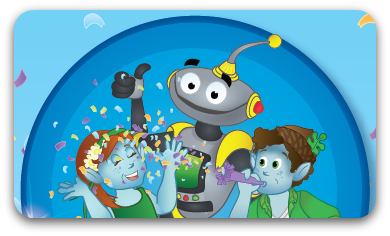 They offer affordable pricing for families:
They are running a special for families on the cost. When ordering, enter the code below for 30% savings!!!

Check out what other
Crew Mates
thought of this product.

*****I received a subscription free of charge from Ooka Island.. I was not required to write a positive review. The views I have expressed are my own and are real experiences with my family. I am disclosing this is accordance with the Federal Trade Commission's 16 CFR, Part 255
http://www.access.gpo.gov/nara/cfr/waisidx_03/16cfr255_03.html>:"Guides
Concerning the Use of Endorsements and Testimonials in Advertising."