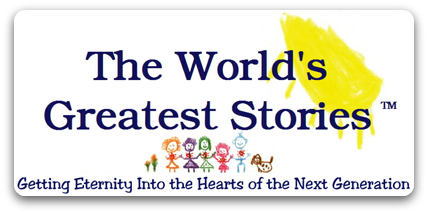 The

World's Greatest Stories

is a great CD series that brings the Bible to life. Read by Actor George W. Sarris, Bible stories are told with live animation and make a real impression as your family listens to them. They are taken word-for-word from the Bible, there are no changes made to "fix" the story. The animated voice is what really creates the excitement in listening to these stories.
The current series has a total of 23 Bible stories on 6 cds or cassettes that are about 1 hour each. You can purchase either the New International Version or the King James Version.
These are a great break from listening to the radio on a car ride. They can be included in schoolroom for free time while playing games. The list of opportunities for using this series in your life is endless.
Our kids enjoyed

World's Greatest Stories

very much, and I appreciated the fact that they were not re-written stories. In each reading you experience not only great storytelling, but also some extra music and special effects to really make it stand out in your mind. And nothing "made up", everything is being accurately told from the Bible.
We listened to Volume #1:
The Prophets
The Blazing Furnace

The Handwriting on the Wall

Daniel in the Lion's Den

Elijah & the Prophets of Baal

The Prophecy of Jonah
With these above subject matters, there were a couple parts where the voice was very intense and a bit on the scary side for our 6 year old. But other than those times, we thoroughly enjoyed listening to this masterful storyteller.
Where to buy:

World's Greatest Stories
Cost:

$7.95

for each volume, whether CD or Cassette
Creator:

George W. Sarris

*****I received a CD from World's Greatest Stories
free of charge for the sole purpose of this review. I was not required to write a positive review. The views I have expressed are my own and are real experiences with my family. I am disclosing this is accordance with the Federal Trade Commission's 16 CFR, Part 255
http://www.access.gpo.gov/nara/cfr/waisidx_03/16cfr255_03.html>:"Guides
Concerning the Use of Endorsements and Testimonials in Advertising."