Just knowing how to say words in another language is helpful, but what is really helpful is to know conversational skills in another language. Homeschool Spanish is an awesome program that really allows you to immerse yourself in a conversational style.
I really love
Homeschool Spanish
for this reason. Conversations are encouraged, along with vocabulary and phrases. In fact, due to Joey's Autism diagnosis, conversations are a difficult thing for him to have. So I really like that a script if provided for him to follow along with. No guessing. So really we are not only getting some much needed social skills, but learning a new language all at the same time. How Awesome!!!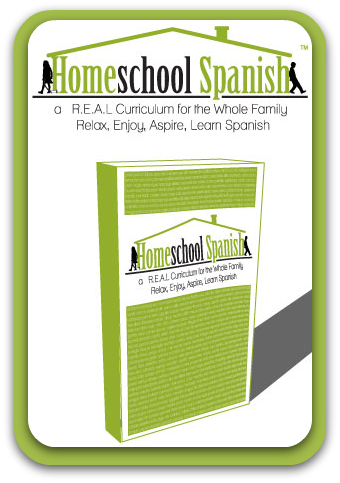 The Curriculum Guide has all the planning completely written out. Each week is broken down into daily reminders about what we should be practicing or tasks we should be completing in order to advance in our learning. It provides suggestions so that this curriculum can be used on a wide age/skill range. You can really use it in a group, just simply adjust and follow suggestions for various ages.
The suggestions for activities that are provided really encourage Joey's learning potential with grasping the Spanish language. It definitely helps parents to start thinking outside the box when working with learning a foreign language. Yeah, you can practice with just flash cards....if you want. But I had never thought of using puppets to bring conversational Spanish more alive to the kids. We have watched shows that have used puppets and cartoon characters, but when using puppets to act out the conversation it seemed to take the pressure off of him. He really spoke through the puppet and didn't realize how well he was actually doing. I applaud this suggestion.
Joey enjoys the activity workbook, and it is not too easy, which is what I like. It provides him with a good challenge and makes him think. Other Spanish workbooks that we have used previously were on too easy of an age level for him. The activity book includes dialogue completion sentences, cryptograms, word search, matching lessons and put the conversation in order activities. Some of these were a bit over his comprehension level, so we chose easier activities for each lesson. Another wonderful example of the wide age/level range that this curriculum can be used with.
You can choose to follow the schedule they suggest, or spread the lessons out a bit. We have chosen the latter route because Joey is grasping the language slowly. But I have to say we have had much success with him using this program. I plan on using it with Lydia and Caty also, and we'll probably start it soon on the younger level.
The
Homeschool Spanish
website also offers some wonderful links to allow you to learn more about the culture of Spanish speaking areas. The culture section gives wonderful links for quizzes, history, and other important topics. A wonderful area to expand learning into.
I am very happy with this program and plan on recommending it to homeschool and public school friends. I would even feel comfortable recommending this system to adults to help them pick on Spanish. I'll be refreshing my skills while working with the kids! You can view samples at their
site
.
Product information:
Creator-- Dr. Karyn Williamson-Coria
Price-- Price Ranges from 49.95 to 99.95 depending on the package that is chosen.
Where to Buy--
Homeschool Spanish
Check out what other
Crew Mates
thought of this product.
*****I received Real Spanish
free of charge for the sole purpose of this review. I was not required to write a positive review. The views I have expressed are my own and are real experiences with my family. I am disclosing this is accordance with the Federal Trade Commission's 16 CFR, Part 255
http://www.access.gpo.gov/nara/cfr/waisidx_03/16cfr255_03.html>:"Guides
Concerning the Use of Endorsements and Testimonials in Advertising."