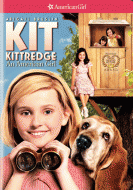 I remember doing a paper for a Composition class, that defended the use of television and movies as educational tools. That was 10 years ago, and I still see some educational benefits from TV. You have a wide range of non-fiction history and science shows, and even educational cartoons that cover a wide range of topics that include history, science and math. Now I'm not saying to use TV for everything, and only use the TV to educate your children. But there are some really cool shows out there.
When I told the boys that we were watching Kit Kittredge: An American Girl, I got a couple strange looks. After all, it's Lydia who likes girly shows and movies. But they really enjoyed it. Joey watched it twice. And then with the help of the

Z-Guides to the Movies

, we were really able to turn the movie into a historical education experience!!!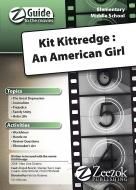 From the
Zeezok
Site:
Zeezok Publishing's Z-Guide to Kit Kittredge is an original way to incorporate media into your study of the Great Depression. This guide contains a topic overview, movie synopsis, and ten learning activities based on this family-friendly film. Learn more about the hardships families faced in the Great Depression. Decipher coded messages using hobo signs. Design your own Depression era fashion show. Be a journalist, like Kit, and write a newspaper article. Play "Who Am I?" with your family and friends. Learn Depression-related vocabulary. Distinguish irony from foreshadowing. Determine whether prejudice is ever acceptable. Share personal responses to the "For Family Discussion" questions and experience life in middle America during the worst economic depression in American history.
This guide allowed me to get some wonderful conversations going about the experiences and life style changes that so many faced during the Great Depression. There was 10 fun activities that can be spanned out over a 5 day period. Activities ranged from research questions, short-answer questions, how to read hobo, the fashion of that time period, and family discussion activities. The nice thing about this this wide range of choices, is that you can choose whatever is at your child's level. Great for teaching multi-age families!!!
This activity guide though allows for not only historical educational opportunities, but also the strengthening of Language Arts skills. All of this for the low price of

$12.99

. They offer levels from elementary school through high school. I am going to gauge this guide for upper elementary to middle school. Some of the questions could easily have fit into high school level essay material.
Zeezok

offers dozens of guides that cover various times throughout history. This collection continues to grow at they plan on releasing 25 more this Spring. I personally can't wait to incorporate more of these helpful guides into our classroom. How awesome to have the hard work all done for you. I was able to enjoy the movie with the children, and yet still able to make it a learning experience. To me, that is worth it.
Product information:
Publisher:

Zeezok Publishing
Cost: Each movie guide is individually priced. The one that we reviewed was $12.99. You can even purchase some of the DVDs from Zeezok also.
Where to buy:

Z-Guides to the Movies
Check them out on

Facebook

.
Check out what other

Crew mates

thought of the Z-Guides to the Movies.
*****I received the Kit Kittridge movie guide
free of charge from Zeezok for the sole purpose of this review. I was not required to write a positive review. The views I have expressed are my own and are real experiences with my family. I am disclosing this is accordance with the Federal Trade Commission's 16 CFR, Part 255
http://www.access.gpo.gov/nara/cfr/waisidx_03/16cfr255_03.html>:"Guides
Concerning the Use of Endorsements and Testimonials in Advertising."