We are always looking at new ways to learn math. Math is a very weak subject for Joey. We were excited to get the opportunity to try this program.
What is ALEKS......
ALEKS

is a Research-Based Online Math Program:
Complete Curriculum Solution for Math with Access to Full Course Library

No Textbook Required

Artificial Intelligence Targets Gaps in Student Knowledge

Assessment and Individualized Learning for Grades 3-12

Master Account - Monitor and Direct Learning Progress

Unlimited Online Access - PC & Mac Compatible
After taking a quiz on their skill level, the child is given a Pie (chart) that shows their skill strength in various areas of their grade level.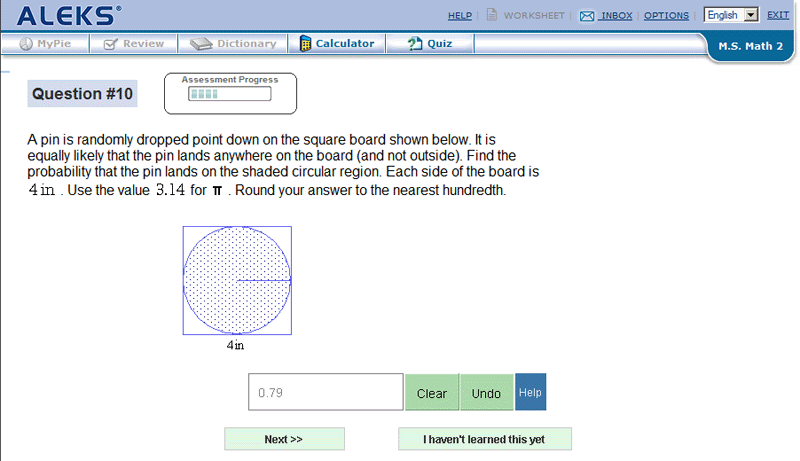 They can click on each slice of the pie and practice the various skills that they need improvement on. Once they have answered enough questions properly, that skill is marked off in their Pie.
During the Pie selection, the child can receive a detailed explanation of the problem that they are working on.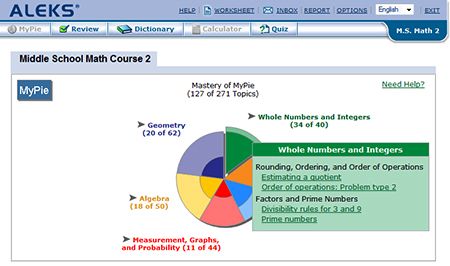 There is a section called Quick Tables where kids can practice their math facts.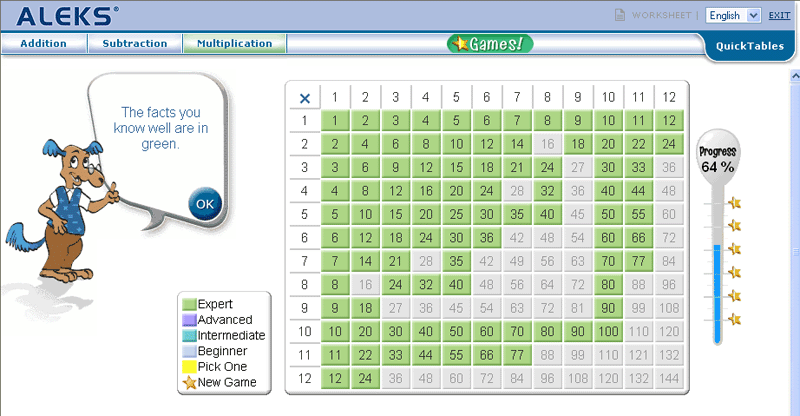 They work through problems and can earn games to help reinforce the skills that they are learning.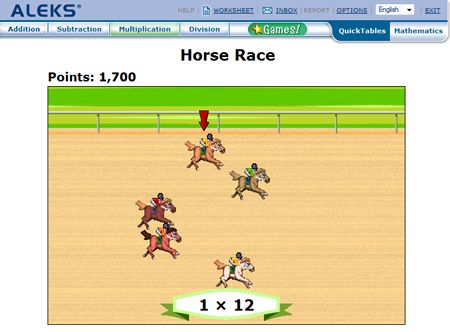 ALEKS

provides a wide variety of curriculum options.
Our experience was a bit of a mix. I thought the program did a good job of reviewing math topics that Joey really needed to work on. I liked that it tracked the mastered areas and encouraged work on the weak areas. I didn't have to track that, the program checked each "mastered" area off the Pie. It is a very comprehensive curriculum whether you are looking to supplement your current curriculum or looking for a full math curriculum. My only problem with this program is the cost. With 4 kids that would eventually be using the program, it is a little pricey for our budget.
Joey felt overwhelmed by the placement quiz. I reminded him several times that there was an option to choose if he did not understand or had not tried that type of math problem yet. Joey gets completely overwhelmed with any math program. I wasn't surprised with his reaction. It was not anything to do with the material. Once he got past the placement test, he was better. He doesn't test well at all. He seemed to enjoy this program, but found the plain white background on most of his areas a bit boring. He likes color and sometimes something as simple as bright colors distracts him from 'math frustration'. I asked him if he would like to continue to use the program, and he said that he would like to continue to use it. He has shown improvement in some of the areas on his Pie so far that he has been using. I do like that he can choose a slice of pie that he wants to work on. That allows him to feel in control of his learning.
If you are not quite sure, then sign up for a free 2 month trial.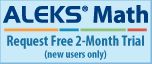 Product information:
Where to buy:

ALEKS
Cost:

$19.95 per month with many options available for payment
Creators:

ALEKS Corporation

is headquartered in Irvine, California and is a Delaware corporation formed in November 1996 by Jean-Claude Falmagne

, the Chairman of the Company's Board of Directors,

Nicolas Thiéry

, the Company's Chief Technology Officer,

Eric Cosyn

, the Company's Director of Applied Research, and their fellow researchers.
Check out what other

Crew Mates

thought of ALEKS.
*****I received ALEKS Math for two months
free of charge for the sole purpose of this review. I was not required to write a positive review. The views I have expressed are my own and are real experiences with my family. I am disclosing this is accordance with the Federal Trade Commission's 16 CFR, Part 255
http://www.access.gpo.gov/nara/cfr/waisidx_03/16cfr255_03.html>:"Guides
Concerning the Use of Endorsements and Testimonials in Advertising."