After almost 3 years of homeschooling, I am realizing that I cannot do it all. I have 4 kiddos at 4 different levels. There is so much to keep track of, I have even broken down and started to write out a lesson outline weekly because I think things were being overlooked. Not much, but I am still afraid of someone losing out on an educational opportunity!
So what better way to teach science....than let someone else help with the explanations!!??!!!
Boy did I get a chance to try something that was soooo cool!!!

Very little prep on my part. I did take the time to watch each short episode before we did the experiment. It gave me a chance to gather supplies and know ahead what to expect. Science was never a strong subject for me in school, so I need to be prepped for Joey and Lydia throwing questions at me since they both love science!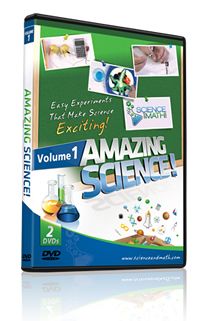 This 2-disk set includes 23 science experiments that take roughly 15 minutes each. Who couldn't spare that much extra time each week to bring more fun back into your science class. I was going to try and make sure to time the experiments around something we were studying, but then decided...WHY? The kids love little experiments. Throwing something unexpected at them like coloring changing milk or unburnable money on a non-science day will make that project really stand out to them. And again...very little extra prep from me!!!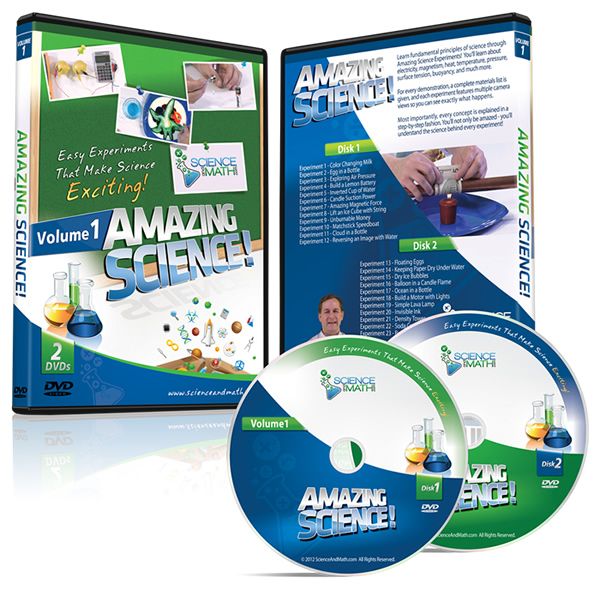 We did the color changing milk, and the kids had fun.
The explanations were very clear. And another wonderful thing about it being on DVD...you can replay it over and over.
Not sure if this is right for your family... then check out this trailer.
Experiments included
:
1) Color Changing Milk

13) Floating Eggs
2) Egg in a Bottle

14) Keep Paper Dry Underwater
3) Exploring Air Pressure

15) Dry Ice Bubbles
4) Build a Lemon Battery

16) Balloon in a Candle Flame
5) Inverted Cup of Water

17) Ocean in a Bottle
6) Candle Suction Power

18) Build a Motor with Lights
7) Amazing Magnetic Force

19) Simple Lava Lamp
8) Lift an Ice Cube with String

20) Invisible Ink
9) Unburnable Money

21) Density Tower
10) Matchstick Speedboat

22) Soda Can Fizz
11) Reversing an Image with Water 23) Build a Motor #2
Detailed Description
Learn fundamental principles of science through Amazing Science Experiments! You'll learn about electricity, magnetism, heat, temperature, pressure, surface tension, buoyancy, and much more.
For every demonstration, a complete materials list is given, and each experiment features multiple camera views so you can see exactly what happens. Most importantly, every concept is explained in a step-by-step fashion. You'll not only be amazed - you'll understand the science behind every experiment!
Our kids love this DVD and we will be including it in our lesson plan outlines. We will also be watching for the next volume. I like that it is an easy science lesson and an attention grabber.
I admit it is definitely an optional item for most homeschool classrooms. But this is definitely a great item to have on the shelf for a time where you you need some educational options, but not alot of time. The kids can actually do most of the experiments on their own under supervision. So great for times when part of your family may be sick or the kids are looking for something fun to do and they are on break.
If you are interested, be sure to check this out at

Science and Math.com

.
List price is $24.95. The ages for this product would range greatly. Most would be upper elementary to junior high for complete understanding of the explanations. But our younger kids just enjoyed the experiments and being allowed to make hypothesis.
You can also

download the experiments

for just $17.99.
You can also have

free science videos

sent directly to your inbox, by signing up for their newsletter.
Don't forget to check and see what other

Crew Mates

thought of this product.

*****Disclaimer......I received Amazing Science 1
free of charge for the sole purpose of this review. I was not required to write a positive review. The views I have expressed are my own and are real experiences with my family. I am disclosing this is accordance with the Federal Trade Commission's 16 CFR, Part 255
http://www.access.gpo.gov/nara/cfr/waisidx_03/16cfr255_03.html>:"Guides
Concerning the Use of Endorsements and Testimonials in Advertising."