What's small enough to fit in your purse and opens up an eye widing view of the world?????
It's the Discovery Scope! Discovery Scope is a handheld, wide-field microscope. The key word there....handheld!!!
The Discovery Scope was designed by the late Jim Harvey, Sr. and his teaching partner Bruce Russell as an alternative to a traditional microscope. They wanted a way to view things in their natural environment.
Our girls love exploring outside and I am always bringing tons of little things home from our nature walks so they can look at them under the microscope at home. That is until Discovery Scope!! This small, handheld device gives them a big view almost instantly, 25X normal view. We can carry this on our walks and I don't have to drag home tons of leaves, twigs, dead bugs, etc. I can leave it all where it belongs...outside in nature!
We can use this at the park....
Or at home. Caty was even able to use our pre-made scope slides in our Discovery Scope.
The Discovery Scope has many advantages:
Small size makes it very portable

Great to pass around between the kids

Very easy to "add" more light--Just simply turn your head toward a bright light source and you adjust the light (cannot do that with our regular microscope).

Sturdy---The kids have dropped it a couple times and the think keeps going (Discovery Scope will even replace broken parts that may break in the field with normal use.)

Child Friendly---Even our 4 year old has figured out how to clip on the item in the holder and adjust it for viewing....super easy.

There is no stray light that comes through to obstruct your view. The optical pathway is a dark tube, capped with an eye cup.

Once you have the item clipped into the clamp tool and adjusted, it's there to stay until you remove. No need to readjust.
My favorite things about this item though is the portability. I can leave it in the console of our van to use when we go to the park, on a walk, or just stop and see something cool. This has opened up a whole new world for the girls. Caty thinks she is an "explorer scientist" while she is using the Discovery Scope.
We were fortunate to receive the above Discovery Scope model. We received the Discovery Scope, along with one mini-clamp, one multi-use chamber holder, two 1" x 3/4" clear view chambers, and one water dropper. It was all wrapped in a small plastic tub which I keep ours packaged in and store in the van. Then I can grab it on our impromptu trips to the park or just when we see a cool leaf or bug in a parking lot.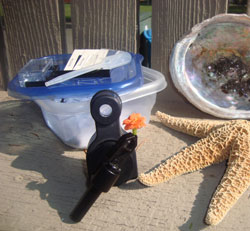 Some accessories that you can purchase include:
A travel bag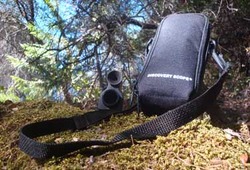 For only $20.00
A Camera Adapter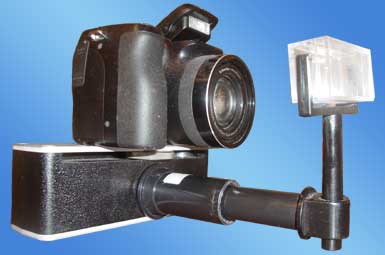 For only $50.00
We have used the Discovery Scope to look at flowers, bugs, leaves, rocks, twigs, small food pieces, and much more than I can remember. The girls are loving this newest addition to our homeschool and they are loving that it is so easy for them to use by themselves.
I am loving the portability (with as much as we travel at times....this will pack up easy and not take up space!). I love the clear view that it provides. The detail that we can see in the objects is truly amazing. I really didn't expect this high of quality. I would say with confidence that the Discovery Scope has done a wonderful job and will continue to be used regularly by all of us in the house.
This is not just an items for young children, but the whole family. Joe and I even enjoy using it. If the girls were playing in the park, I would find myself several times looking for objects to view with it. I so wish I would've had one of these when I was younger!!!
The Discovery Scope would make a great gift if you are looking to buy an educational "toy" for your child or one for someone else. This would be a gift that would be loved for many years. What better way to encourage a love of the outside world!
You can purchase the Discovery Scope for only $40.00.
Visit their page on Facebook.
Read about other Crew Mates experiences with the Discovery Scope.
I think our review may contain the word "loving" too much....but we really are loving this new product in our school. Nothing is safe....ants put on your pants and bugs you better hide under your rugs.....the girls are on the rampage with their Discovery Scope!
*****Disclaimer......I received Discovery Scope
free of charge for the sole purpose of this review. I was not required to write a positive review. The views I have expressed are my own and are real experiences with my family. I am disclosing this is accordance with the Federal Trade Commission's 16 CFR, Part 255
http://www.access.gpo.gov/nara/cfr/waisidx_03/16cfr255_03.html>:"Guides
Concerning the Use of Endorsements and Testimonials in Advertising."