Every time there is a writing project to tackle in our house, I cringe. Lydia's thoughts flow from her mouth at higher speeds than most hurricanes blow across the ocean. She of course is just getting started in sentence structure. She is still working on reading, and I haven't enforced sentence structure yet. Just kindly remind her of changes she could make as she dictates her stories to me. Joey and Brayden though need constant reminders about structure. What they say does not end up being what they type or write on paper. So this iPad app was a welcome addition to our review list!
Rainbow Sentences, by Mobile Education Store, is another incredible learning tool brought to you by the award winning developer Kyle Tomson.
Rainbow Sentences is designed to help students improve their ability to construct grammatically correct sentences by using color coded visual cues.
The who, what, where, and why parts of sentences are color coded to help students recognize and understand how combinations of these parts create basic sentence structure.
Students will learn how to recognize the parts of sentences such as nouns, verbs, and prepositions, improve their understanding of how combinations of these parts create basic sentence structure. Students have the opportunity to record their sentences in their own voice to improve their receptive and expressive language skills.
Rainbow Sentences offers a unique environment for improving a student's ability to create grammatically correct sentences.
FEATURES
-168 images to create sentence from
-Intuitive drag and drop to create sentences
-Words are spoken as they are being dragged for non readers
-Words can be color coded for added visual support
-Word groups can be selected to simplify sentence construction
-6 levels of sentence complexity
-Pictograph lessons to help students learn proper sentence construction
-Record feature allows students to record sentences in their own voice
-Save and email recorded sentences
-Students earn puzzle pieces during play to encourage continued play
-Puzzles come to life once level is complete
There are 3 levels of play. There are 55 sentences in each level with 6 different levels sentence complexity in each one.
The first level in Rainbow Sentences concentrates on the who and what of the sentence. The second level address the what and where. The third level incorporates the who, what, where and why, with some of the sentences incorporating the what.
Teaching the W's to a child with autism is very difficult.
Joey actually flew through Level 1 and 2. Level 3 made him slow up and think about it. The color coding helped him in that level quite a bit. I had to keep an eye on him though to make sure that he wasn't just matching colors, but actually reading the words.
Brayden wouldn't let me take his picture. He moved through a bit more slowly. He continues to struggle with the W's. But the color coded cues really helped him out alot.
The sentences are spoken, so it helps the struggling reader. The student also has the option to record themselves reading that sentence and then they can hear themselves read it.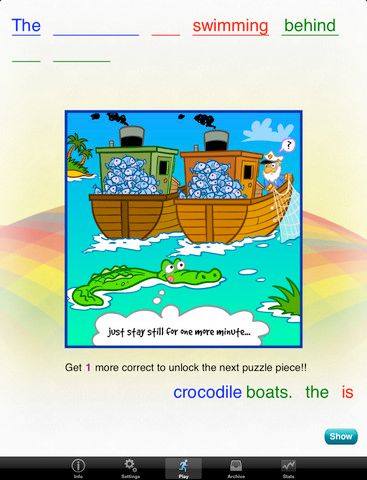 As they progress through the level, the student is rewarded with puzzle pieces. They can continue to guess what their puzzle is as they work to solve it.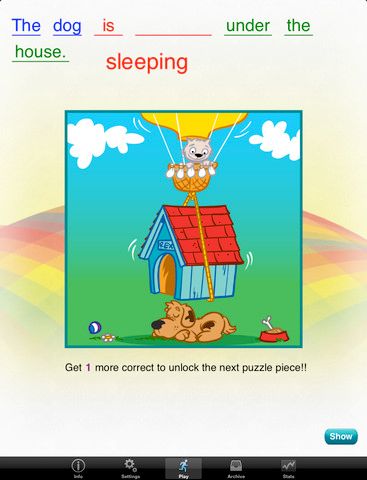 The boys enjoyed this program, and said they would recommend it for kids. They liked the colors, graphics, puzzles, and it was easy for them to use. I really was able to let them work on their own. I just watched over their shoulders once they knew how to use the program. We will start working with the girls more on this program. Lydia has just started learning parts of vocabulary, so we will be getting this on her schedule also. This is a great way to reinforce those grammar lessons!
Not sure if it will work for you, check this short video out to decide:
We test the Rainbow Sentences version available on the iPad. The cost is only $7.99 and is recommended for kids ages 3-10. This is a great program for struggling learners or those with special needs.
Check out what other Crew Mates thought of this product.
*****Disclaimer......I received Rainbow Sentences
free of charge for the sole purpose of this review. I was not required to write a positive review. The views I have expressed are my own and are real experiences with my family. I am disclosing this is accordance with the Federal Trade Commission's 16 CFR, Part 255
http://www.access.gpo.gov/nara/cfr/waisidx_03/16cfr255_03.html>:"Guides
Concerning the Use of Endorsements and Testimonials in Advertising."