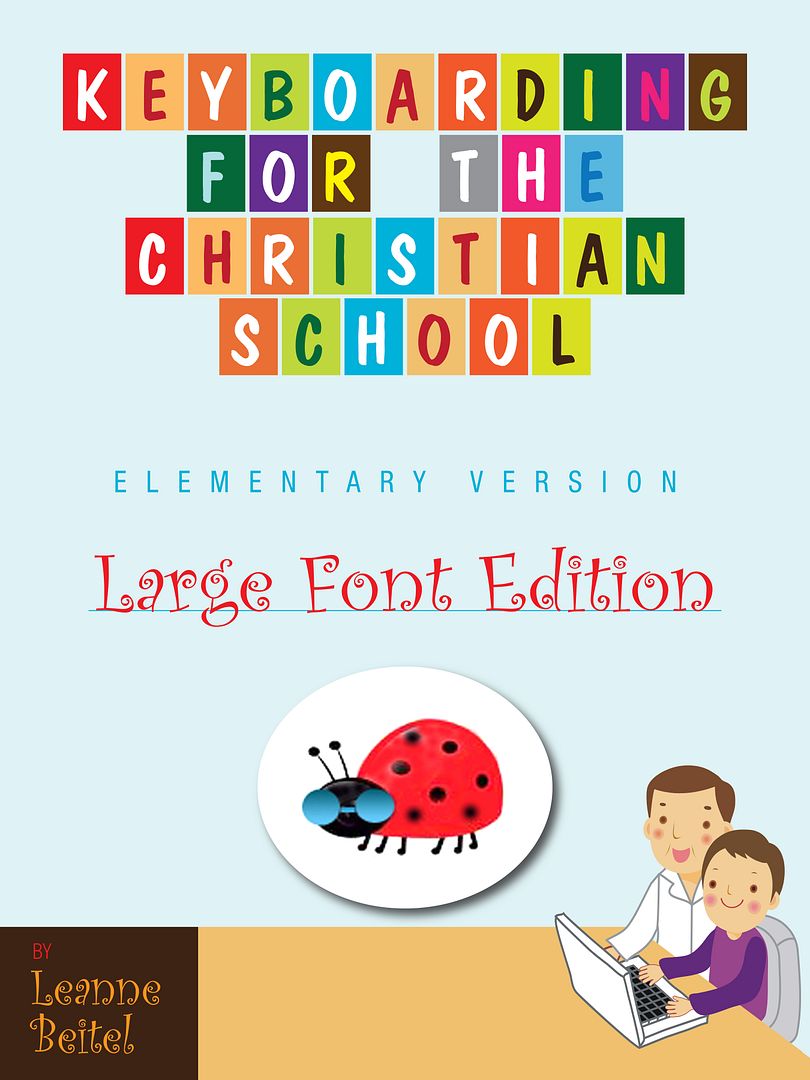 I really taken my keyboarding for granted. I learned how to type in high school, even went to competition. I forget most days that I am not even staring at the keyboard. It amazes the children. I sure didn't learn with the fancy keyboarding programs that kids have access to now. There were no cutesy cartoon characters or dancing animals. The only music I listened to while typing was whatever I was playing on my cassette player...yes I said cassette player. I could type 95 words per minute then. I have lost a bit of speed over the years, but still use that keyboarding skill even more now. Makes me wonder though, do kids really need all the extra bells and whistles?
I wasn't sure what to expect from Joey when we first started using Keyboarding for the Christian School. Joey has shorter fingers, so holding the standard finger position for keyboarding can be difficult for him. Needless to say flashy dancing computer game typing classes leave him frustrated then. Because he isn't always able to move as quickly as they may require. So really him just learning proper finger position
I basically just included this in his workboxes. I included the book every other day. At first he didn't know what to expect, because there was no extra flashy bells and whistles. Kind of think he expected a song if he turned the page.
He did very well using it though. The lessons each are very short in time frame. So perfect for his extremely short attention span. Miss Mabel the ladybug guided him through the lessons. A brief scripture is listed at the top of each lesson. Even better, the practice pages are scripture excerpts. So if you are looking for a non-secular keyboarding curriculum for your family, this would make a good fit for your needs.
There are 32 lessons broken down by the alphabetic keys, numbers and symbol keys, number pad, centering, enumerated lists, and of course timed writings.
You could either use this as a curriculum for a full year or allow your child(ren) to move at their own pace doing multiple lessons each week. The age group for this curriculum is elementary school, so you could use this with as young as a child who recognizes letters through the recommended 5th grade level. You judge your child's abilities. Lydia will be beginning this program also. She is at a good age is start learning correct typing.
This will definitely be included in our workload to keep their keyboarding up and teach those who still need to learn.
Keyboarding for the Christian School Elementary Edition is available in e-Book format for the low price of $12.95!!!! You can choose standard print or large - print (which is the one we chose to use).
But right now, if you order through August 29, 2012 and use the code SUMMER2012 you will get 20% off your purchase.
This is a great addition to your homeschool day and great for anybody in the family to use. So even if you need a little help yourself in keyboarding skills, check their program out! You can check out the ease of use by viewing some of their sample chapters.
Check them out on Facebook.
See what other Crew Mates thought of Keyboarding for the Christian School and other products from Christian Keyboarding.
*****Disclaimer......I received Keyboarding for the Christian School free of charge for the sole purpose of this review for the TOS Review Crew. I was not required to write a positive review. The views I have expressed are my own and are real experiences with my family. I am disclosing this is accordance with the Federal Trade Commission's 16 CFR, Part 255 http://www.access.gpo.gov/nara/cfr/waisidx_03/16cfr255_03.html>:"Guides Concerning the Use of Endorsements and Testimonials in Advertising."