Putting thoughts into written form is so hard. How many times have your irritated someone or there was a misunderstanding through email communication? It happens all the time. Just the absence of a couple words, adjectives, and even punctuation could cause a major misunderstanding! Writing is an extremely difficult art form for most people.
Joey has all of these stories in his head. And he has trouble getting the words out write. I have tried to emphasize writing more in our homeschool simply because Joey has so many interesting things coming out of his brain....literally at all hours of the day.
But the really hard part is finding a program that doesn't require me to hold a degree in Journalism in order to teach it. So in comes
Create Better Writers.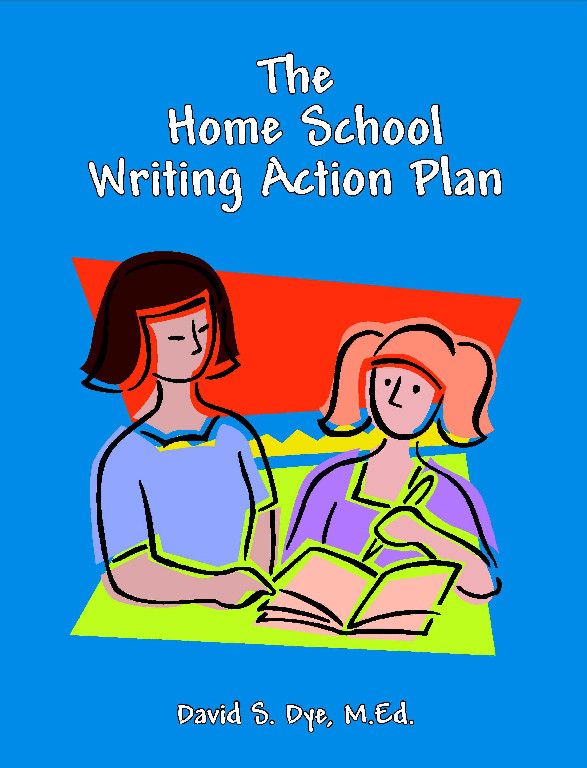 This step-by-step guide helps you to cover every aspect of writing. It helps you to lay a foundation that you can continually build up.
This program starts by showing you simple tricks to help you teach your children how to write a paragraph. Because once they can write a strong paragraph, they can then use similar tricks to write essays, and those tricks then carry over into the next writing avenue.
This gives you an inside view of
The Homeschool Writing Action Plan
:
Part I –
Summary of the Steps
: We will begin with a summary of each step. The summaries of the steps are listed on a few pages. This will help you know, at all times, where you should be, where you are headed, and where each step fits into the big picture of your child's writing.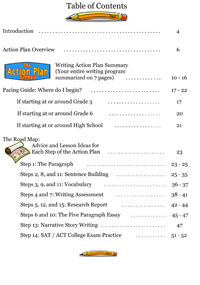 A helpful placement guide is included so that you can place your child at a level that is not to difficult or too easy for them to stick with. What a great idea!!! What is more frustrating to a child than to have something too hard or too easy to work with. Now you can avoid that issue.
Part II –
Pacing Charts
: Part 2 gives you sample pacing charts that will help you decide where and when to begin and how much time to spend on each activity. If you are beginning this program with an elementary school student, you will see how to slowly build you child's writing skills over time. If you are beginning this program with a high school student, you will be shown how to quickly, but effectively, deliver the same information.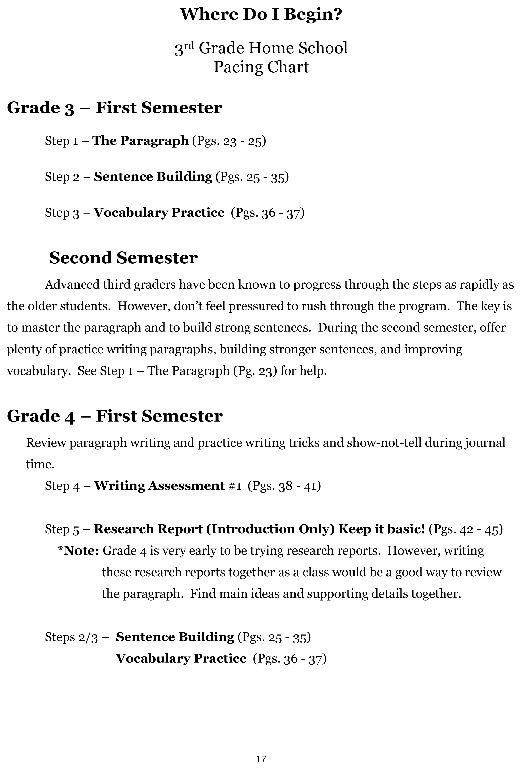 Part III – The Road Map: Part 3 will show you how to implement each step and give you strategies to help reinforce the writing concepts. However,
this
section will not give you specific lesson plans. While Parts 1 and 2 tell you what t
o teach and when to teach it, this section points out key aspects of each section and provides sample worksheets and lesson plans. One of the greatest advantages of this section is that it will point you to high quality and low cost lesson plans for each step. Even better, it will show you how to make sense out of writing instruction using your existing curriculum.
Every thing is completely laid out for you as the teacher. Goals and time periods are given. You can adjust this to your student.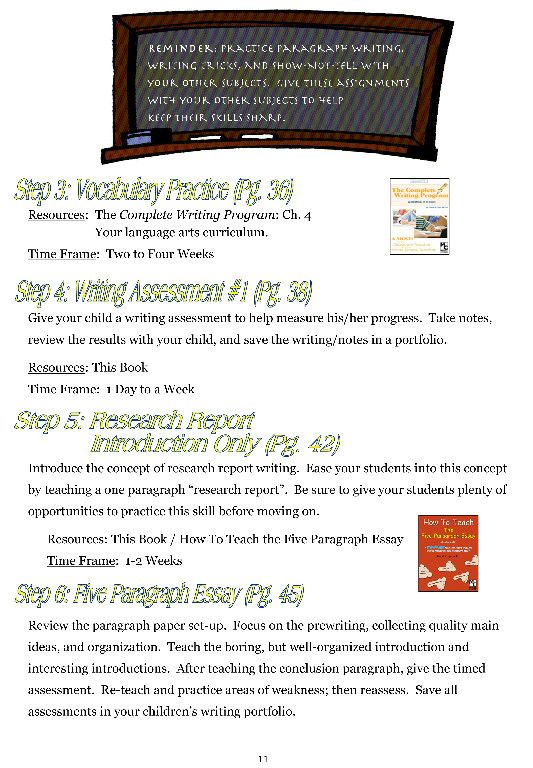 The Homeschool Writing Action Plan
is available for only $15.95 for the ebook and $19.95 for softcover.
I like that the time frames given are a suggestion, and you can move through this at as fast or slow of a pace that is needed for your children. Everything is here for Grades 3-12. So this program really turns into your whole writing plan....and for such a low price.
Joey is not a confident writer. He feels overwhelmed by the sheer thought of just "writing" that to actually form the words into sentences is very difficult. It actually causes anxiety issues. We do encourage typing though to overcome some of the issues. The pacing guide was very useful for me to set him up at where he should be, and then make adjustments for him.
This program refers to other books in the writing program and those books build upon the foundation laid out by
the Homeschool Writing Action Plan
. As you child develops mastery over sentence building and vocabulary you can add in more material, including:
How to Write a Paragraph.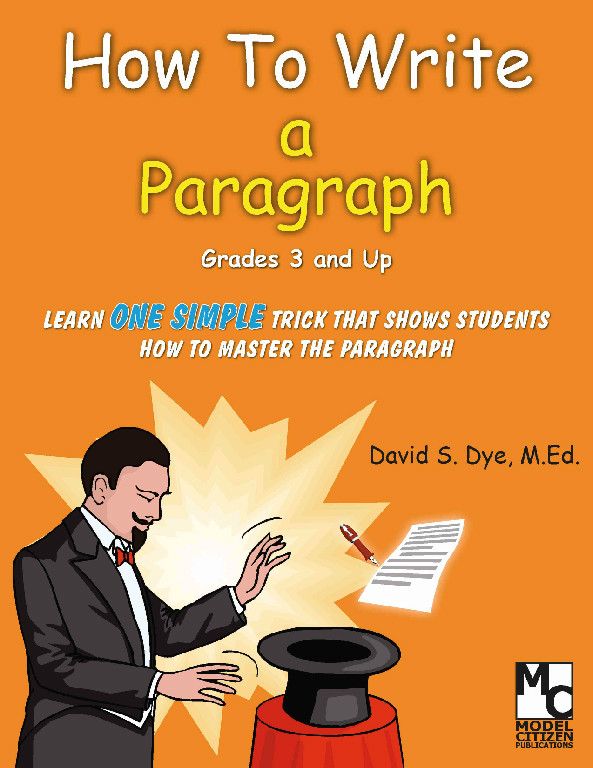 Writing instruction does NOT need to be difficult. If your student can write a paragraph, your student can write anything from an essay, to a research report, to an in-depth story.
It all starts with one simple trick. Teach this trick in minutes, have your students practice it several times, and your students will have a solid grasp for writing paragraphs. Use this trick to write stories, summarize stories, write reports, and more. No assignment is too difficult. And reluctant writers are given the extra confidence needed.
Watch this video on how easy it is to teach:
The breakdown on this program is extremely easy. The way it breaks the information down, does not overwhelm either the parent or the child. Joey is very stubborn about writing. But even allowing him to break down a paragraph into steps, he whined a bit less. He realized that a paragraph is just a group of sentences. Even the word paragraph can cause anxiety for him.
How to Write a Paragraph can be purchased for only $7.99 for the Ebook. But it is included with a couple of program combinations, including The Complete Writing Plan, which can be purchased for $54.80 for the ebook download or $59.00 for the softcover.
We also had a chance to view the title Teaching the 5 paragraph Essay. ($17.95 for ebook, $19.95 for soft cover). We were not quite able to make it to this title during the review period. But it is laid out and as easy to use as the two previous titles that I shared with you.
Joey is a slow writer. We have made some progress that has yet been seen with previous programs used. I also love the fact that the work is done for me. Tons of research is not required for me to do before I attempt to teach. This program does everything but physically sit with your child to teach them. And I have to say how shocked I am at the reasonable price for that much curriculum. This program is good through high school. How many programs can share this honor?
You can purchase all the titles separately, but the best deal is to buy the Complete Writing Program for only $54.80 for ebook, and $59.00 for softcover. All you will need for Grades 3-12.
*****Disclaimer......I received this writing program from Create Better Writers
free of charge for the sole purpose of this review for TOS Crew. I was not required to write a positive review. The views I have expressed are my own and are real experiences with my family. I am disclosing this is accordance with the Federal Trade Commission's 16 CFR, Part 255
http://www.access.gpo.gov/nara/cfr/waisidx_03/16cfr255_03.html>:"Guides
Concerning the Use of Endorsements and Testimonials in Advertising."