I feel like saying that so many times everyday. Either one of the boys is asking me how to spell something or Joey is asking me what a word means. Now we do have unique circumstances when it comes to a child asking what a word means. Their autism causes them to misunderstand how some words are used in sentences. Now that Brayden has learned how to use a dictionary, he can look more words up either using the old-fashioned one or even using one online. But I worry as they get older how they will be able to test on some of the SATs if they choose that option when they get older.

Doing well on the vocabulary sections of college entrance test is of major importance to many families with children seeking higher education. After working with tens of thousands of students from a wide range of backgrounds, the team of educators at Vocab Videos and a team of standardized test experts came to realize the importance of vocabulary for reading comprehension and scoring well on high-stakes exams. They understand that just being drilled over and over about the meanings of word is very boring. So to help students, the concept of Vocab Videos
was born!
Vocab Videos uses hilarious short
videos
to illustrate the meanings of 500 high value, frequently tested SAT, ACT and junior high/high school vocabulary words. In addition to vocabulary
videos
featuring entertaining characters and outrageous plotlines, our website contains extensive review material including digital quizzes and worksheets, a multimedia flashcard maker, and downloadable crossword puzzles for each episode.
Parents, school teachers or even homeschoolers can comfortably use this program for multiple students or just one. It can be used for afterschool study or in the regular classroom.
To start with a parent/teacher is assigned a dashboard with their information.
You can add students to the dashboard where you can view finished assignments, and quiz results. There are worksheets that can be printed to go along with each video. Really the teacher/parent can set the pace for their student.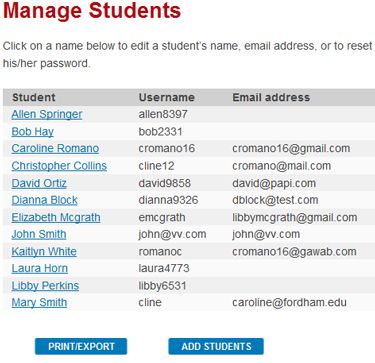 Each video has about 20 words to learn. You can watch samples of the videos by visiting their Vocabulary Samples page. The videos were written in parody style of shows like The Office, Lost, 24, and Gossip Girl. They were written to draw students attention in order to make learning easier. The students are basically watching the words used in what could be a daily life setting.
Flash cards can be printed to go with each video. Along with Crossword puzzles and other worksheets.
At the end of each video session, when the student feels comfortable they can take an online quiz to let them know what they have learned.
The Vocab Videos workbook can be purchased also to give extra work. This companion guide for the videos is only $11.99. It has the flashcards and other extra information available that you do not need to print from the site.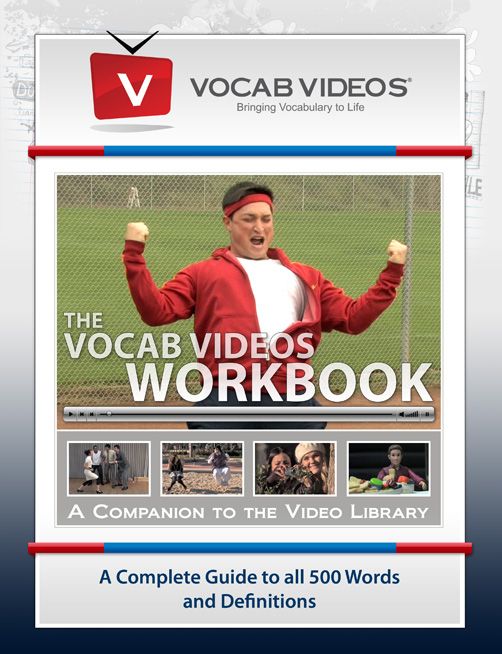 The age group for this program is late middle school into high school. I would highly recommend to stay within those age limits. There is some secular material that younger students may not understand. In fact, because Joey has a tendency to repeat inappropriate material, there were some sections of the videos that I would not allow him to watch due to the possibility of him repeating it. I actually think that this material is really only appropriate for high school level. I did prescreen everything that Joey did watch to be able to skip around material that he should not be repeating.
The concept of using videos to allow students to see words used in everyday conversations is a great idea. Vocab Videos has done a great job at introducing this concept to homeschoolers and school systems. My only wish is that some of the situations were not inappropriate, as if some of this was to be repeated even in an adult office setter, the individual could be terminated.
We had the opportunity to use the Small Educators Subscription for our Review. We were given access to all areas (so the more parents you can get into a co-op if you are a homeschooler..the cheaper the program would be for you). A small educators subscription offers parents the ability to monitor student progress, access all videos and study material, and that ability to create individual student accounts. The cost for our subscription is $74.99 for 12 months.
Student Subscriptions are available in increments of 6-month for $24.99 and 12-month for $39.99. This gives the student access to the entire video library and all the printables.
Vocab

Videos is offering a 1 - month free trial. for you to check out all they have to offer.
Vocab
Videos
is brought to you by
A-List Education
, a leading educational services company based in New York City. Our services include test preparation for the SAT, ACT, GRE, GMAT and LSAT, tutoring for academic subjects, admissions counseling, professional development and materials licensing services, and creating customized educational programs for educational institutions and nonprofit organizations.
Check out what other Crew Mates thought of Vocab Videos.
*****Disclaimer......I received Vocab Videos Small Educator Subscription
free of charge for the sole purpose of this review for TOS Crew. I was not required to write a positive review. The views I have expressed are my own and are real experiences with my family. I am disclosing this is accordance with the Federal Trade Commission's 16 CFR, Part 255
http://www.access.gpo.gov/nara/cfr/waisidx_03/16cfr255_03.html>:"Guides
Concerning the Use of Endorsements and Testimonials in Advertising."