Here ye....here ye.....Do you have a struggling reader? Do you have a child that is frustrated? Do you have a child that has a short attention span? .....I could keep asking questions, but what I really want to do is tell you about this great program called Reading Kingdom.
As many of our blog readers know....I have a struggling reader who is easily frustrated and has zero attention span. I am almost positive that her attention span is non-existant, that is unless someone wearing a Justin Beiber costume is standing in front of her. Hey wait...I may be on to something there.
We started Reading Kingdom a few weeks ago, and I was shocked the first few days that we worked with it. The lessons were manageable, even for Lydia! Actually she finished 3 lessons one day in about half the time it would've taken her to do her old lessons. And the amount of information covered was great. I love the fact that Reading Kingdom encourages typing skills. We haven't used a program or gotten far enough in a program for those typing skills to be encouraged yet.
So how does Reading Kingdom work? It's different from other programs. Instead of encouraging phonics or whole language programs, it uses the 6 skill model of reading instruction that incorporates elements of phonics and whole language while teaching additional skills required for reading and writing success without requiring kids to learn over 600 complicated reading rules.
In fact, the Reading Kingdom is the only system that teaches these six skills.
When children are taught all six skills, they easily master both reading and writing. By focusing on these skills,
Reading Kingdom teaches children 4-10 years of age how to read and write at a third grade level.

The program continues to build on the skills your child currently has. And after a few lessons, a child can work independently with this program. It also doesn't make them repeat skills they already know. Which can leave kids bored.
Your child starts out taking a skills survey. The program customizes itself to how your child completes this survey. I liked that it kept reminding parents to sit and not answer the questions for their child. It reminded Lydia that I couldn't help her in any way. This skills survey allows the program to be fit to your child so that time isn't wasted "re-teaching" them skills they already have.
As a child is working their way through the lessons, they are able to to get help reading....just in case they are not sure. The program doesn't leave them hanging and frustrated. I noticed a couple of times, even though I was in the same room with her, Lydia was having trouble with a word. The program helped her figure it out. She was pretty excited.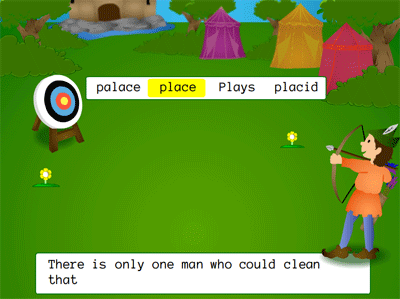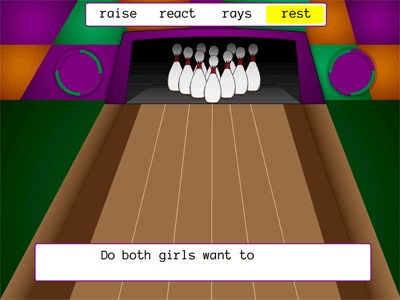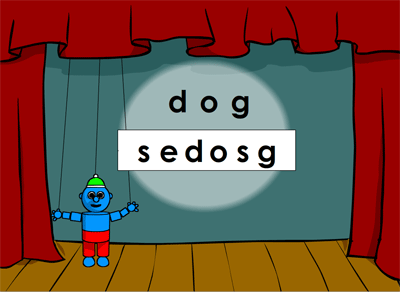 I get an email progress report, but I can also log in at any time and see where she is making progress.
Here is a video that you can watch explaining how it works:
Reading Kingdom wants to ensure your child's success. They have plenty of extra resources on the site to keep you going. They provide extra printable worksheets and a recommended booklist for you and your child to enjoy together. There are videos to help you learn how to use the program better.
How is it working for Lydia? Well like I said earlier, we are struggling and have been struggling. We have only been using the program a short time. I really like the fact that with this program I do not feel as stressed about her mispronunciation of words. I am trying the laid back approach and letting her guide herself through the program (ok...not totally by herself). She likes the short lessons and the "Guess what I just typed!!!" screams I get from her computer area are very encouraging to me. She hasn't been grumbling as bad about doing her lessons. And she said it is because they do not last as long.
I am strongly encouraged by this product and we are planning on continuing to use Reading Kingdom for Lydia. She seems to be recognizing more words and this is definite progress for her.
Not sure if it's a fit for your family, Reading Kingdom is offering a 30 day free trial to their program. This program is great for kids 4 - 10 who are either working at grade level or struggling.
Interested in purchasing it? Reading Kingdom is $19.99 per month or $199.99 a year. They do offer scholarship programs and you can apply here.
*****Disclaimer......I received a Reading Kingdom subscription
free of charge for the sole purpose of this review. I was not required to write a positive review. The views I have expressed are my own and are real experiences with my family. I am disclosing this is accordance with the Federal Trade Commission's 16 CFR, Part 255
http://www.access.gpo.gov/nara/cfr/waisidx_03/16cfr255_03.html>:"Guides
Concerning the Use of Endorsements and Testimonials in Advertising."