We love watching documentaries. There is always so much to learn. There are so many wonderful TV/Movie programs out there to help learn more about history, science, and so many other topics. Trouble is.....the kids attention span is not made for what are usually written for adults.
Marshall Publishing
has really stepped up in this area. We had the wonderful privilege to watch the
Historic Expedition of Lewis and Clark
.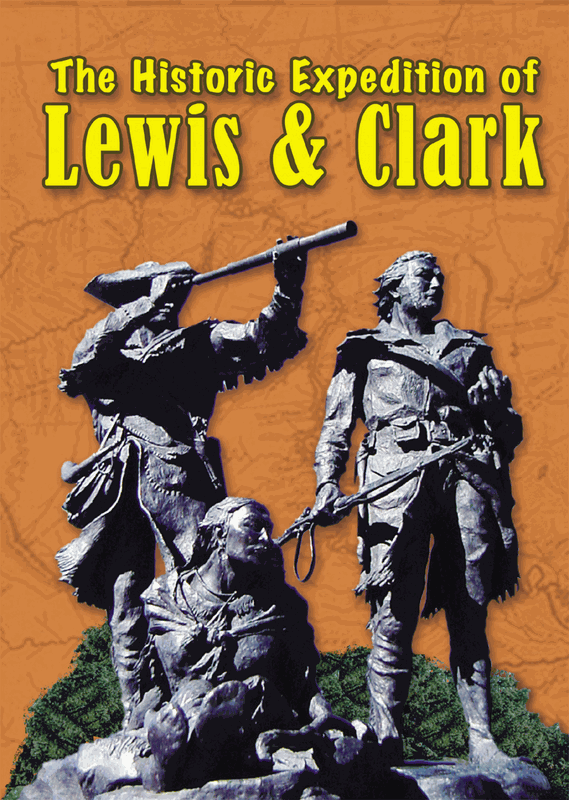 We are working our way through American History this year. Currently we are studying the American Revolution, but we had the opportunity to visit St. Louis with my hubby. So I jumped at the chance to actually go inside the Gateway Arch....the Gateway to the West. At the Gateway Arch there is a really nice Westward Expansion Museum, and one of the theaters was showing a movie on Lewis & Clark.
We worked our way through the museum, all along knowing that I had this movie to watch when we got back to the hotel room. I had to laugh because in the Gateway Arch Gift Shop, Brayden is looking at movies about how the Arch was built and then he looked over and said "Lewis & Clark. Look Mom!" He still didn't know I had a movie in the hotel and said, "If you want to watch a movie on them, we can do it when we get back to the hotel. I have a movie for us already." I looked up and he was holding this title by
Marshall Publishing
. They sell this title in the Gateway Arch Gift Shop!!!
We also visited The Magic House in St. Louis and they had a Lewis & Clark exhibit set up. So the kids got the opportunity to be an explorer like Lewis & Clark or even Sacajawea. They had an obstacle course to go through to get a feel for what the men had to face daily. There were tents set up similar to what could have been set up. They even had the samples that were collected crated up similar to what the expedition would have done as they collected them.
Now we did have an advantage by visiting these exhibits and the National Park, but the kids have now watched this movie a few times. And they continue to pick up new points. It is written so that Lydia in 1st grade, and Joey in 6th grade all can learn something. The kids were excited when they saw the peace medals, since there is a whole section at the museum about these items. I was surprised that even after visiting the museum, I learned a few new points about this duo.
This dvd has opened up conversations with Joey about why the expedition took place, and even some extra details about the men's lives. Which were handled I thought in a great way for kids. That is the one thing about watching History Channel documentaries with kids, there are some details that are just not needed to be known as kids. This dvd covered the journey and it's hardships in a wonderful way. It has definitely enhanced our study of Lewis and Clark.
You could easily expand out from this dvd by not only following a map while watching the movie or even having the kids create their own peace medals. Another activity is to build an obstacle course to show the difficulties that were faced as they walked through areas that were dense with forest or cross a river where no one had ever crossed before.
From the
website
:
One of the most significant and dramatic explorations in American history, the journey of Lewis and Clark, stands as a true epic in documented exploration of the West. From 1804 to 1806 Meriwether Lewis and William Clark led the Corps of Discovery on an 8,000 – mile journey into the unknown. Starting at the meeting of the Missouri and Mississippi Rivers, they traveled by foot, boat, and horseback – all the way to the Pacific Ocean and back.
This is the story of that exploration, complete with diary excerpts, encounters with Indians, the sometimes beautiful and sometimes threatening landscape, and a summary of the objectives and accomplishments of this extraordinary team.
Beautiful photography, live re-enactments, illustrated maps and rare photographs make this historical adventure come to life and one that will entertain and educate all age groups for years to come.
The
DVD
is roughly 35 minutes long, so even packed full of information, it made it very attention span friendly for our kids. They actually asked to watch it again....it wasn't me just forcing them to. We have really enjoyed this addition to our study.
Would I recommend this movie to other families? Yes!! The information included really did enhance our study. Even if you do not live near any Lewis & Clark exhibits, you could still visit other history museums to get a feel for this era. But to be very honest, we could have easily just watched this movie and read a couple books on this expedition and our "visual" learners would have learned more about Lewis & Clark than I did in school.
You can purchase
The Historic Expedition of Lewis & Clark "We Proceeded on..."
as well as browse many of the other wonderful Marshall Publishing products by visiting the
Marshall Publishing
website. The title that we reviewed on
The Historic Expedition of Lewis & Clark
is sold for $24.95, but is currently on sale for $19.95. And if you use coupon code TOS27...you'll receive free shipping!!!!
Marshall Publishing
has many wonderful titles to offer from transportation to animals to historical figures. Check out their titles and visit them on
Facebook
.
The
Crew Mates
on Schoolhouse Review Crew had the wonderful opportunity to try out several different titles from
Marshall Publishing
, be sure to visit the Schoolhouse Review Crew blog to read what other
Crew mates
thought.
*****Disclaimer......I received The Historical Expedition of Lewis & Clark
free of charge for the sole purpose of this review. I was not required to write a positive review. The views I have expressed are my own and are real experiences with my family. I am disclosing this is accordance with the Federal Trade Commission's 16 CFR, Part 255
http://www.access.gpo.gov/nara/cfr/waisidx_03/16cfr255_03.html>:"Guides
Concerning the Use of Endorsements and Testimonials in Advertising."