Anyone that follows my blog knows that we have been having a rough time with reading and reading comprehension. Lydia struggles and so does Joey. We have tried super flashy to just plain simple flashcards. I think we having finally found a solution.....
(Enter now)
Samson's Classroom
......
Samson's Classroom
is a new approach to educational software. It includes access to all three programs as your child takes on new skills, they can advance to harder work.

Sight Words with Samson
is proven to help beginning readers learn 224 of the most commonly used words in the English language.
Spelling with Samson
has more than 5,000 words and an ever growing list of words that helps children gain those ever important spelling skills.
Reading with Samson
helps students with their comprehension and skills in drawing conclusions.
Lydia has been trying Sight Words with Samson. And at first she absolutely did not like it.....she thought the first level of just trying to listen to the words was boring, but she came to that conclusion way to quickly!!! I sat down and showed her how to advance and work at earning the stars. And she is now in love with Samson.
We are working with the program trying to increase the amount of levels we do each week, without frustrating her. Now that I have found a program online that she is responding too, I don't want to lose the momentum that she is having. She starts out learning what 8 words each lesson holds for her. We make flash cards out of the words and put them in our little table top easel. She also copies them on either her dry-erase board, her journal, or just on a piece of paper. Lydia likes to do copywork on her own terms. We go back to the program then, and keep working our way through Step in the lesson.
These screen shots give you an idea of some of the games: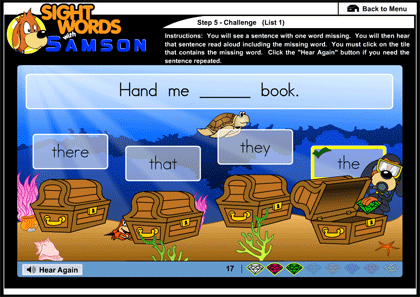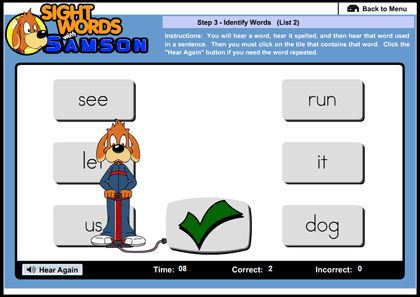 It could be the dog, the fact that it will repeat the words if she needs it, but this seems to work. She is learning her sight words. I like that I have been able to adjust how we use this program along side her other phonics program. The amount of repetition seems to be perfect for her.
The only thing that frustrates Lydia is if she misses a question. Currently there is little room for error, so she needs to repeat that Step in the level. The benefit of this feature (although it has caused her much frustration), is that I am able to really show her that taking her time to complete her work and really listen to the instructions is a very important skill.
Samson's Classroom
also provides
extra lesson plan ideas
to go along with the sight word program. These includes games that help kids to use words repeatedly in a fun way.
The boys are working their way in these levels. Samson's Classroom also features a spelling and reading comprehension program.
Spelling with Samson has several fun games as well as more traditional styles to learn those spelling words. Their current word bank is around 5,000 words, but you may submit words that need to be added.
This is a definite break for the boys from their regular spelling. I really like that all I need to do is create a few lists out of their spelling books. It is not just online game though, because the first "game" they must do to master the level is copy their spelling words onto paper or you can print their list from the site.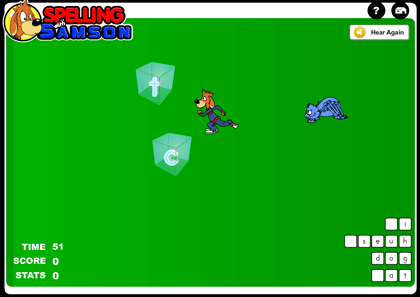 The Reading with Samson Section is wonderful comprehension site. This was really a nice side to the program. The questions not only encouraged the children to read to remember, but I like the hidden drawing conclusions. These hidden skills for Reading were so nice to have put together in one "package". The boys hate workbooks, so having it included in more of a game style program made it easier for me to include for them.
This program is very user friendly for both teachers and students.
Several videos
are provided to help with anything from setting up student profiles to creating spelling lists. And if you still have questions or problems...they don't leave you hanging, there are plenty of ways to
contact their office
.
I love that all my kids were able to be included in this program. It touched on skills they need to improve upon or just need some practice with. I like that not just "online" was encouraged. Writing and actually games that required interaction with people such as the games in the Lesson Plans section were encouraged. I also like the fact that it was online, and no program to download onto various computers. That could also be a negative if the internet was down, but we do not experience that much so I really like that there is no downloading that needed to be done.
The only thing that I really wished that the program would do, is in the Reading with Samson section. I wish the option was available to have the sections read to the student. With kids with Reading Comprehension issues, having the text read to them can really make a difference in how their brains accept the information. It also gives another option to present to the child to use. Maybe they are having trouble reading the screen, which all of us must admit we have trouble with at times, or they just need to have a section read to them again. This option would be nice for the questions too. I know that my boys would have benefited even more from the program if the stories and questions were read to them. (And yes, I know I can read it to them too....but sometimes it's nice to have the passages read to them)
Samson's Classroom
has been a nice fit for our family, and we have enjoyed using it. It will definitely remain as part of our regular weekly curriculum.
Still not sure, You can make sure this is a right fit for your family. Try the
demo of Samson's classroom
with your family. Why buy
Samson's Classroom
?
Pricing
:
Home Level - allows 1 user is $30.00 a year (each user has their own log in ID for tracking of skills and assignments)
Family Level - allows 4 users is $50.00 a year
Classroom Level - allows 30 users is $80.00 a year.
The
Schoolhouse Review Crew
was given the opportunity to try out Samson's Classroom with their families. Find out what the other
Crew Mates
thought of this product and read how it fit into their school days.
*****Disclaimer......I received Samson's Classroom Family Subscription
free of charge for the sole purpose of this review. I was not required to write a positive review. The views I have expressed are my own and are real experiences with my family. I am disclosing this is accordance with the Federal Trade Commission's 16 CFR, Part 255
http://www.access.gpo.gov/nara/cfr/waisidx_03/16cfr255_03.html>:"Guides
Concerning the Use of Endorsements and Testimonials in Advertising."