I have two favorite subjects that I love to teach the kids. One is History and the other is Geography. While we are studying either I am learning right along with the kids! I spend a lot of time for each country looking for neat projects and food that will make them remember that unique fact about whatever country we are learning about.
We had the wonderful privilege of receiving Growing up Wild Volume 1 and 4. These DVDs are part of a 5 part educational series developed by the Wild Family who are missionaries in Indonesia.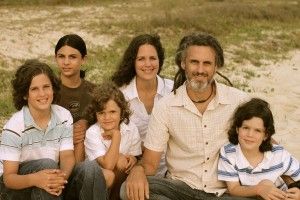 The Wild Family (be sure to follow the link to meet their family) take you to the remote jungles of Indonesia and show you everyday life and how they have assimilated into this new culture. Each episode will share an aspect of missionary life and offer activity ideas that will cause your children to explore their world and connect with ours.
These videos take you to remote Indonesia where the Wild Family are living and working with the local villagers and teaching them. Each DVD takes you through areas of the Wild Boys daily life and include lessons in how they built their home home, how they get running water, their electricity, supply trips, and tribal culture.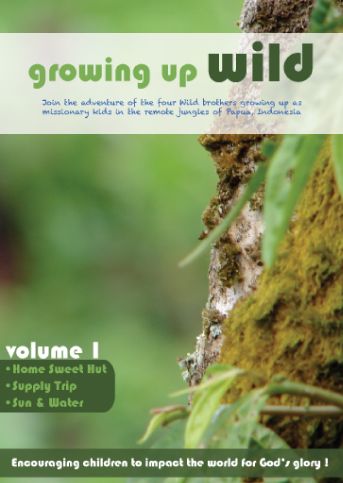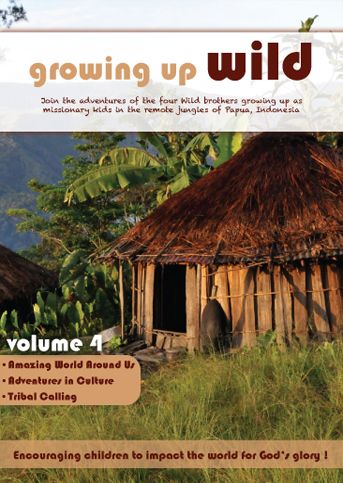 Each DVD is accompanied by an activity guide that is packed full of suggestions for each episode. There are suggestions for science, geography, and math activities. For example in the episode for "Supply Trip" the suggestion is to track your family's food consumption for a week. Then figure it for a month, and then three months. The activity guide has a handy chart to print and allow the children to figure the math. We attempted this, and came to the conclusion that it is very difficult and we spend a lot of money on food.
I have a lot of respect for this family and absolutely love these movies. We have watched them several times since we received them.
Each DVD sells for $18.99. I definitely want to add the remaining DVDs in the series to my wish list for our homeschool. The episodes are perfect in length, usually around 15 minutes per episode, but so packed full of information about that area. The Wild Family has done a great job of finding a good balance between simplicity of living in the jungle and still having "modern" conveniences of life.
These DVDs have been a wonderful addition to our homeschool! And I have been very grateful for their introduction in our family.
Many on the Schoolhouse Review Crew were also privileged to receive these in their homes also, please take a few minutes to see how other families used Growing up Wild with their families.
*****Disclaimer......I received Growing up Wild DVD 1 & 4
free of charge for the sole purpose of this review. I was not required to write a positive review. The views I have expressed are my own and are real experiences with my family. I am disclosing this is accordance with the Federal Trade Commission's 16 CFR, Part 255
http://www.access.gpo.gov/nara/cfr/waisidx_03/16cfr255_03.html>:"Guides