Like most preschoolers, ours has the attention span of zilch. And I have a hard time finding the right balance between making sure she is getting the education she needs and not getting enough. After all, she's just barely 5. There's a lot of playing left to do.
I have been trying to allow the kids to learn subjects they are most interested in, and slyly throw in more "learning" without them realizing it. So I was wondering how this program was going to work. Would it be too structured or even allow any learning? I have to say I was impressed with how well it has worked.
This young age group definitely learns a lot through play and interaction. The activities included are play based and allow for a lot of interaction with your child. Most activities suggested require very small amounts of time, which was awesome for our attention challenged daughter. In fact, I was able to easily make adjustments to suggested items to fit our daughter's interests. Such as when we were counting, we did it while hopping. She didn't even realize she was doing Math. Most days, we would work for 10-15 minutes at various times throughout the day.
We have been using this program for a month now, and I am enjoying the simplicity of planning lessons for Caty with the help of Flowering Baby curriculum. Basically I take the daily suggestions, and I add in an outside phonics program. They do recommend outside Math and Phonics programs for your child, as their suggested activities are meant to reinforce other programs you would be using for these subjects.
A typical week for us might go like this.....
Changing the shape on the floor of our living room weekly. This week was a triangle. She would practice walking on the tape like it was a balance beam. Or hop around it on one foot.
We have been following the book suggestions from Flowering Baby on books about shapes. And we even practiced cutting triangles and made a flower with triangles.
Each day a math reinforcement activity is given. The one for this day was counting items. So I adjusted it to counting cereal. We used fruit cereal and laced them onto pipe cleaners marked with the numbers she needed to count. This was a favorite and got some important fine motor skill thrown in.
For Science we discussed healthy eating and exercise habits. I easily was able to include library materials to go with this activity.
This was a following directions activity for making a snowman to go with the book suggestion for The Snowman.
Of course we followed the suggestion of leaving out art materials for her to use whenever she wanted.
Learning about the eye using The Eye Book and color paddles:
Some of the stories suggestions we have been enjoying are:
Snowflake Bentley
Jack and the Beanstalk
The Snowy Day
The Snowman
Jack and Jill
The Little Red Hen
For parents of multiple children or even those who need a guide to get them started homeschooling their child, Flowering Baby is a wonderful place to get started. Easy-to-follow lesson plans are provided. The only real prep work I had was ordering materials from the library. Prep for "Caty" school really took 15-20 minutes of my weekly planning time. That makes my life so much easier.
Flowering Baby offers curriculum levels for Ages Birth to 5.
$30.00
Birth to One Sample Page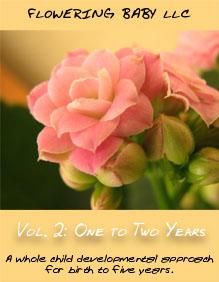 $30.00
One to Two Sample Page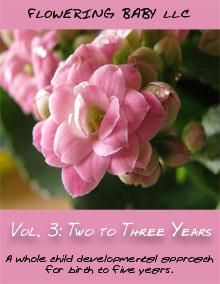 $30.00
Two to Three Sample Page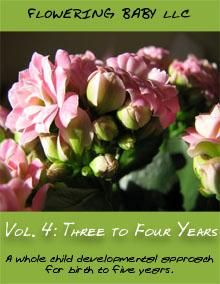 $38.00
Three to Four Sample Page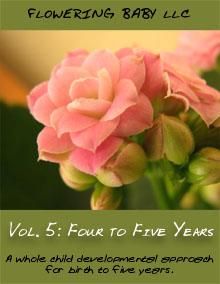 $38.00
Four to Five Sample Page
Would I recommend this product for families with young children? Without a doubt yes!!
The cost of the program is very reasonable. I really wish I would've have this program 10 years ago. The suggestions each day require little or no cost to you. I have been able to use the library for book suggestions and can easily substitute one that is close to the book that is suggested if our library does not have one.
You use materials from around the house. I splurged for one purchase so far, and that was the color paddles that we used to go with learning about the eye. We could've easily done this activity with just paint or food coloring, but I got a good deal and bought the paddles. I have to say that this is the least I have spent on "extras" for any program we have used!!!
I cannot emphasize how easy this program was to use. The program allowed for very....very easy lesson planning for myself. The only "extra" you need is in the last year program when you might want to start adding in a phonics program for your child. They point out that if your child is big into math, you might even add in a structure math program also.
Caty has really enjoyed using this program, and we are going to continue using this to help me finish "preschool" with her.
And for our readers, Flowering Baby is offering a 10% discount when you order. Just enter the code "Blog10".
Many on the
Schoolhouse Review Crew
had the privilege of using the Flowering Baby curriculum with their families. Be sure the visit the
Schoolhouse Review Crew Blog
to see how they used this product in their homes and what worked for them.

*****Disclaimer......I received Flower Baby LLC product downloads
free of charge for the sole purpose of this review for TOS Schoolhouse Review Crew. I was not required to write a positive review. The views I have expressed are my own and are real experiences with my family. I am disclosing this is accordance with the Federal Trade Commission's 16 CFR, Part 255
http://www.access.gpo.gov/nara/cfr/waisidx_03/16cfr255_03.html>:"Guides
Concerning the Use of Endorsements and Testimonials in Advertising."