Lydia loves....loves.....LOVES anything to do with animals. So we do a lot of unstructured reading about animals for science and then a weekly experiment. So I was super excited to get to try out a Creation-based Science curriculum centered around animals!! But this isn't just any curriculum....this science curriculum from Apologia is making me think and learn right along with Lydia.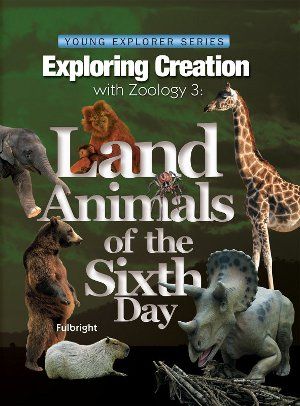 From the Apologia Website:
This third book in the zoology series takes students on a safari through jungles, deserts, forests, farms, and even their own backyard to explore, examine and enjoy the enchanting creatures God designed to inhabit the terrain. Exploring Creation with Zoology 3: Land Creatures of the Sixth Day will have your Family snuggling together as you discover amazing animals from primates to parasites, kangaroos to caimans, and turtles to the terrifying T-Rex!
We have been using
Exploring Creation with Zoology 3
($39.00 Grades K - 6)) by Jeannie Fulbright for a few weeks now, and have fallen in love. This is the 3rd in a three-part animal science series. Exploring Creation with Zoology is a creation based science education. It teaches how God created our plant and animal kingdoms to work well together. We have been using the companion Junior
Notebooking Journal
($24.00 Grades K - 2)) right along with our textbook.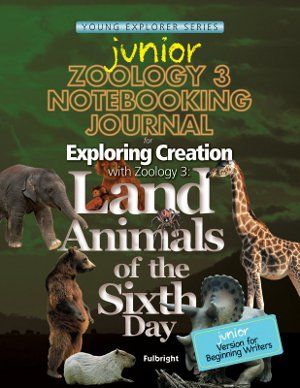 There are two different levels of notebooking journal, depending on your student's work level. This journal includes copywork, coloring pages, science experiments, book/movie lists to go with each chapter material, lapbook sections, and fact journals. Suggested lesson plans are also included.....which is a favorite for me.
Lydia really likes the coloring pages. These coloring pages have been nice to have her focus on while I am reading the chapter material to her. I usually give her a sticker book or drawing pad while we are doing reading, but these pages allow her to do a coloring activity that goes along with what we are learning about.
We have been able to take our science anywhere. Actually this program packs up well. We bring it along when we have sports practices for the older boys. We read and color while the boys are doing their activities. It only requires me packing the two books and a set of crayons.
Included in each chapter are Try-it experiments. In one of our more recent chapters, the discussion was about what it would be like if we didn't have thumbs. What would be have trouble doing? The Try-It test was tape down your thumbs and see what you could and could not do. Was anything easier or more difficult?
Another fun experiment that Lydia really liked was the M & Ms candy experiment to show the importance of camouflage. I forgot the candy at the store that day, and had some leftover red and green ones. So we were easily able to adjust the experiment.
We hid M&M candies in crumpled strips of construction paper, and then she had to find the candies.
All experiments in this series are easy to follow and do not require any exotic materials.
Also included are Mapping activities. Included in the Junior Notebooking Journal are several stickers of animals that you are learning about. You can put these on a World map to remember when on our planet the animals that you are reading about live. We are out of wall space, so we look these locations up on our globe. She has been using the Map stickers to help in her Journaling pages.
There are manuscript and cursive copywork pages.
Fascinating Facts areas. Since she is still working on "reading" and "spelling", I write her sentences for her. She is trying though.
Lapbooking sections also.
This curriculum really makes me think. I cannot believe the amount of information that I have learned in just a few short chapters. I know I took Science in High School....even Life Science, but it obviously did not cover any of this material.
The lesson plans are broken down into a schedule of two days a week. I have been very easily able to adjust the "suggested" material into smaller sections. If you only do science one day a week, it might take you a bit longer to get through the book, but you can easily do it. Since there is a lot of information, Lydia and I have chosen to do Science four days a week. So we break down the reading and writing into smaller sections. It makes it a lot easier for shorter attention spans. This has allowed to complete our Science in 4 lessons of roughly 15-20 minutes each week. Again though, if it is a rough week, you can adjust easily again.
You do not not need to have the Notebooking Journal to use the textbook, but it is definitely an added benefit. Everything is completely laid out for me. Less prep time for me, makes the cost definitely worth it.
Lydia and I actually look forward to doing science together each week since we have started using
Zoology 3
Exploring Creation Land Animals from Apologia. She loves the bright pictures, and I love the depth of information that we are learning. We'll definitely continue with this Science program, and will backtrack to
Zoology 1 Exploring Creations with Flying Creatures
and
Zoology 2 Exploring Creation with Swimming Creatures
over the next couple years.
Apologia has really made Science an easy subject to teach. This package has really drawn out Lydia's love of Science!!!
If you still are not sure, please
visit the Apologia site
. They have chapter samples from all of their books, so that you can get a feel for all of their different products. We started in the Land Creatures, which is Book 3, and even though they are all connected you do not need to start in any particular order.
There is only one wish that I have for this curriculum. I really wish they had the text available on MP3 files. We could listen in the van or follow along at home. Lydia loves to listen to books, and I try to get books when they have audio files. This won't deter me though from purchasing the other books in this series.
The
Schoolhouse Review Crew
had the opportunity to try all 3 parts of the Zoology Series, as well as the Anatomy & Physiology Science from Apologia. Please take a few moments to see how other families from the Crew were able to use this science in their homes, and what worked for them.
*****Disclaimer......I received Exploring Creation with Zoology 3
free of charge for the sole purpose of this review. I was not required to write a positive review. The views I have expressed are my own and are real experiences with my family. I am disclosing this is accordance with the Federal Trade Commission's 16 CFR, Part 255
http://www.access.gpo.gov/nara/cfr/waisidx_03/16cfr255_03.html>:"Guides
Concerning the Use of Endorsements and Testimonials in Advertising."