*****Disclaimer......I received A Sea Queen's Sailing from Salem Ridge Press free of charge for the sole purpose of this review. I was not required to write a positive review. The views I have expressed are my own and are real experiences with my family. I am disclosing this is accordance with the Federal Trade Commission's 16 CFR, Part 255
http://www.access.gpo.gov/nara/cfr/waisidx_03/16cfr255_03.html>:"Guides
Concerning the Use of Endorsements and Testimonials in Advertising."*****
I recently needed to step back and take a new look at the way Lydia is learning. All four of kids learn in different ways, and it's a daily challenge to match the material to their style. What I think they will find exciting, might just be a flop. Lydia is definitely a Charlotte Mason learner. She enjoys history this way. We were very excited to get the opportunity try out a book republished by Salem Ridge Press called A Sea Queen's Sailing (softcover $14.95, hardcover $24.95).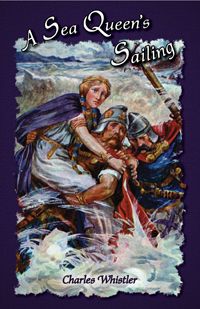 Salem Ridge Press is a publishing company started by a Homeschooler who saw a need to republish classic books from the 1800s and early 1900s for the new generations to enjoy. They really strive to publish modest and appropriate materials to help today's generations to have good morals.
We had the opportunity to ready A Sea Queen's Sailing (Ages 12 and up). Originally published in 1906 by Charles Whistler, it is the story of:
Story Synopsis
Early one summer morning in 935 A.D., Malcolm the Jarl's home in northern Scotland is attacked by Viking raiders led by Heidrek the Seafarer. Struck down during the brief battle that follows, Malcolm is taken captive and imprisoned on what was once his own ship. Refusing to join the murderous Vikings, he manages to escape with two of the other prisoners, only to end up lost at sea. Through a strange series of events, the three young men come upon the young queen, Gerda, who is alone and desperately in need of help. Together, the three friends, Scottish jarl, Irish prince and English thane, pledge themselves to protect Gerda and seek to restore her kingdom which has been usurped by her evil cousin Arnkel. But first they must escape from Heidrek who is pursuing them across the northern seas. Adventure and danger abound in this exciting tale of brave manly men fighting to uphold the honor of a woman.
How has our reading been going.....
Well this title, was very exciting. We have enjoyed reading this together. But Lydia has been struggling with the "old English" style in it. She definitely learns better through reading Historical Fiction, but when it's in more modern language.
That being said, though....it is a wonderful story. One of the things I really liked about this book is even if she might not (or I might not understand) what a word means or is, there is an explanation/definition for many terms at the bottom of the page.
You can even view a sample of the first chapter by viewing here.
This has been a wonderful benefit. Actually even with her bit of frustration, and this is really due to her inexperience in reading since she is just starting, we are looking ahead at what title we are going to read next.
Some days her attention lasts longer than others. We have been working on this title about a month, so depending on how long your read aloud time usually lasts....there is a lot of good material here!!
Classic books are really a great way to introduce your child to history and allow their imaginations to explore.
Other members of the Schoolhouse Review Crew also had the privilege to try out many different titles from Salem Ridge Press. Take some time to read about their experiences. Salem Ridge Press offers a wide variety of titles that allow the timeline to become alive in your home. They have titles ranging from 1500 BC to the 1700s AD.