*****Disclaimer......I received Phonics and Reading with McGuffey App free of charge for the sole purpose of this review. I was not required to write a positive review. The views I have expressed are my own and are real experiences with my family. I am disclosing this is accordance with the Federal Trade Commission's 16 CFR, Part 255
http://www.access.gpo.gov/nara/cfr/waisidx_03/16cfr255_03.html>:"Guides
Concerning the Use of Endorsements and Testimonials in Advertising."
Anyone who follows our adventures knows that Lydia is struggling with reading. She does well in all subjects, and would actually be a grade ahead of where she is if not for her struggle in this area. We have tried so many fancy options...and finally I decided to go back to the basics. People learned for many year using McGuffey readers, why don't we try it. Lydia started making progress....and more progress. Bingo!! And then we got the opportunity to try the Phonics and Reading with McGuffey ($19.99) from Literacy Soft.
Phonics and Reading with McGuffey on the iPad was such a wonderful addition to our reading program. We homeschool on the go a lot. So this was a great portable reading program for Lydia. It has allowed her to feel like she is getting extra bells and whistles, without getting away to far from the old-fashioned way of teaching phonics and reading.
At first Lydia was really hesitant to use the program. Fun and reading are two words that do not go together for her. Now I wanted her to "play" a reading game.....yeah right. She and I sat down and started doing her "schoolwork" on the iPad, and she really liked it. In fact, it didn't take long before I realized that she was practicing lessons without me telling her. She has enjoyed using the program very much. When we are spending half the day in our van driving between events, it's nice to tell her to please do a reading lesson on her iPad.
I was skeptical at first, because I have been burnt on pricey applications for the kids iPads before. Basically I have spent money and been very disappointed. To me, the cost of this application made me nervous. But I was very happy with this program. I think one of my favorite parts of the program was when kids are encouraged to experiment with sounds to create new words. Lydia thought this was hilarious and would spend so much time "creating" new words.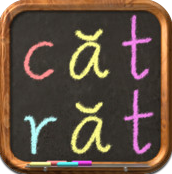 Things I liked about this program:
*User friendly- even Caty enjoys sitting down with this program and doing school
*Portable....she can do her lessons almost anywhere we are!
*Good use of old-fashioned reading program.....adding a modern twist to a classic
*Ability to repeat lessons if desired and no time limit set for the kids in areas they enjoy.
Lydia enjoyed this section....the program gave her the word she needed to spell out. She would choose from the letter options to fill in the sounds she was looking for. The truck would drive away when she spelled it right.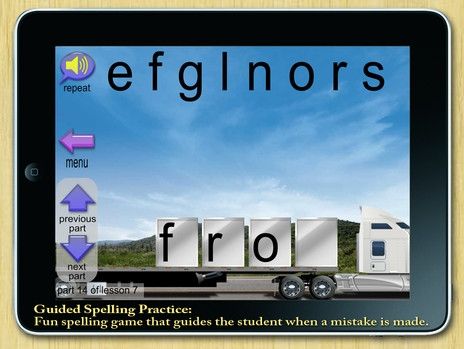 This is her all time favorite part though of the Phonics and Reading with McGuffey program. She loves "making up" or creating her own words. She would just play this the whole time if I didn't catch her and ask her to move on to the next area. But at the same time, this section really reinforces letter sounds.
Phonics and Reading with McGuffey was created to be used with children and adults who may be struggling with reading or learning English. Adults can work in the privacy of their own home if they need a bit of help in the reading arena. But even older students can feel like they are getting extra help that they may be needing. That is another nice thing about this program.
Most reading programs are written for younger children, at some point the pretty rainbows and fairy wands are not appreciated by older children and adults. Phonics and Reading with McGuffey does a wonderful job presenting this information to all age levels. You can use this is early readers or adults, and attention is kept at all levels.
This app includes:
• All 52 McGuffey Primer lessons
• All 44 letter sounds of English and their graphemes
• 60+ letter sound animations
• 400+ practice word vocabulary
• 9000+ nonsense word audio dictionary
We had the opportunity to try this on the iPad, actually a Gen 1 iPad...so not even a new generation iPad. But you can also get this for iPhone and even download the application on your computer. You can also download this program to use on your computer. In fact you can try the first 10 lessons with the need to purchase, so you can see how it will work for your little (or big) one. You can also try out the iOS Lite version for free.
We will definitely be continuing with Phonics and Reading with McGuffey. It has been a great benefit to Lydia and I will continue encouraging Caty to use this program also. Millions of have learned to read using the McGuffey Primer, so this modern twist has really been a great addition to our homeschool program.
Several members of the Schoolhouse Review Crew were able to try out Phonics and Reading with McGuffey in their homes, please take some time to read how it worked out for their families. Visit the Schoolhouse Review Crew Blog.